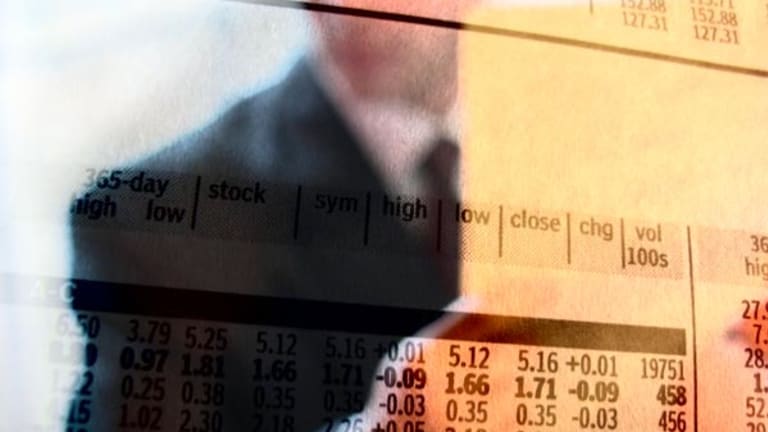 Market Update: Ahead of the Fed, Dow Rises but Nasdaq Slides
Blue-chips end higher, but trading is very light before tomorrow's decision on interest rates.
Blue-chips end higher, but trading is very light before tomorrow's decision on interest rates.
(Updated from 4:04 p.m. EDT)
Investors kept the major stock market averages quiet ahead of the
Federal Reserve's much-awaited policy meeting Tuesday, when it will decide whether and how much to lower interest rates.
The
Nasdaq Composite Index slipped 26 to 2082 on Monday. The
Dow Jones Industrial Average creeped higher much of the day and then moved up to add 56 to 10,877 at the close. Volume was light. Today's action extends last week's market trend, when the major indices drifted down in one of the lightest trading volume weeks of the year as Wall Street took a breather from April's runaway rally and looked ahead to the Fed meeting.
"There is a little bit of nervousness about whether the Fed will go 25 or 50, but the real issue is whether the market will rally if the Fed cuts 50 basis points," said Tony Cecin, head of U.S. equity sales and trading at
CIBC World Markets
. Strong consumer confidence figures and
retail sales
data released last Friday sparked fears the Fed may cut interest rates by only 25 basis points, or a quarter of a percentage point, when it meets tomorrow instead of the half-point cut Wall Street had been expecting.
Still,
federal funds futures, a good proxy of how the bond market expects interest rates to move, were pricing in 90% odds of a half-percentage point cut as of today. The Fed has already reduced rates four times this year, dropping the rate member banks charge each other for overnight loans to 4.5% from 6.5%.
Even if the Fed cuts by 50 basis points, it could suggest in a statement accompanying the rate decision that it is done with its rate-reduction activity for the summer. "They should be encouraged by the lack of collapse in consumer spending," said Tobias Levkovich, senior institutional U.S. equity market strategist at
Salomon Smith Barney
. "But gas prices and unemployment are high, and the Fed is going to be vigilant to keep things from going down."
Economic figures released today show continued weakness in the business sector, but they are not expected to have much impact on the Fed's decision given how much data is already available for the decision.
Business inventories
fell 0.3% in March, government data released this morning showed. And
industrial production
fell 0.3%, compared.
Cecin expects any rally on the heels of the Fed decision tomorrow to be challenged by technical resistance levels. "If we trade down into the meeting, we could rally, but any rally is going to be met with strong overhead resistance at 2250 on the Nasdaq and 11,000 on the Dow," said Cecin. Technical resistance levels are key psychological points past which it is often difficult for the indices to trade. On the Dow, that level has been
tagged at 11,000 for the recent trading period. On the Nasdaq, it is near 2200.
Volume will be key tomorrow. Levkovich thinks the market could sell off whether the Fed cuts 25 or 50 basis points. "The interesting test is whether it sells off with heavy volume tomorrow," he said. That's because heavy trading activity is an indication of conviction and it can indicate the market will continue moving in the direction it's headed.
Banking on it
Bank holding company
Wachovia
(WB) - Get Report
ended up 6.3% to $64.75 after financial services outfit
SunTrust
(STI) - Get Report
made an unsolicited offer for the company. SunTrust's bid, at $14.7 billion in stock, exceeds an earlier deal by
First Union
(FTU)
to pay $12.46 billion in stock for Wachovia.
Energy stocks were also on the move.
Kerr-McGee
(KMG)
said it is buying
HS Resources
(HSE)
for about $1.7 billion in cash, stock and assumed debt. That shakes out to $66 a share -- 70% in cash and 30% in stock -- plus $450 million of debt. HS Resources rose 21% to $64.43, while Kerr-McGee was off 0.7% to $70.09. The sector has had a spate of mergers and acquisitions.
The
American Stock Exchange Natural Gas Index
was up 1.5% and the
American Stock Exchange Oil & Gas Index
gained 1%. The biggest losers of the day were chip stocks, biotech and e-commerce stocks.
A few less-than-dismal earnings reports in April inspired hopes in some camps the slowdown in corporate profits had bottomed and a second-half turnaround was in the cards. But doubts about that turnaround and caution ahead of the Fed meeting tempered earlier optimism last week, and investors began to fear the monthlong rally had gotten ahead of itself. To be sure, it's been quiet.
The Dow lost 1% last week, but is still up 15% from its March 22 low. The Nasdaq slipped 3%, but remains 29% above its recent low of 1638.80, which it hit April 4. The
S&P 500 gave up 1%, but is still up 13% from its April 4 low. Treasuries sold off Thursday and Friday as strong economic data inspired worries the Fed will be less aggressive about its rate cutting. They were moving lower again today.
Back to top
International
Foreign markets were weaker across the board today as investors in Asia and Europe worried the Federal Reserve will be less aggressive about cutting interest rates than earlier expected. Hong Kong and Tokyo's key market indices closed with three-digit losses overnight, while Europe's major stock market averages are weaker.
London's
FTSE 100
closed down 206.3 points to 5690.5, mostly because of a huge program trade that hit right before the market close. The index had been down just 70 points shortly before the close. Because the program trade happened so late in the trading session, there wasn't enough time for buyers to come in and pick up the shares. Traders predicted the market would bounce 100 points or more at Tuesday's opening, reversing the impact of that trade. Program trades are computerized to take effect when certain equity holdings reach previously decided prices.
The Paris
CAC 40
closed down 79.5. to 5487.7. Frankfurt's
Xetra Dax
, which is still trading, was down 73.3 to 6067.7.
The euro was lately trading at $0.8742.
The
Nikkei 225
dropped 170.9 to 13,873.0, while Hong Kong's
Hang Seng
fell 377.4 points, or 2.8%, to 13259.2.
The dollar was trading at 123.24 yen.
Back to top