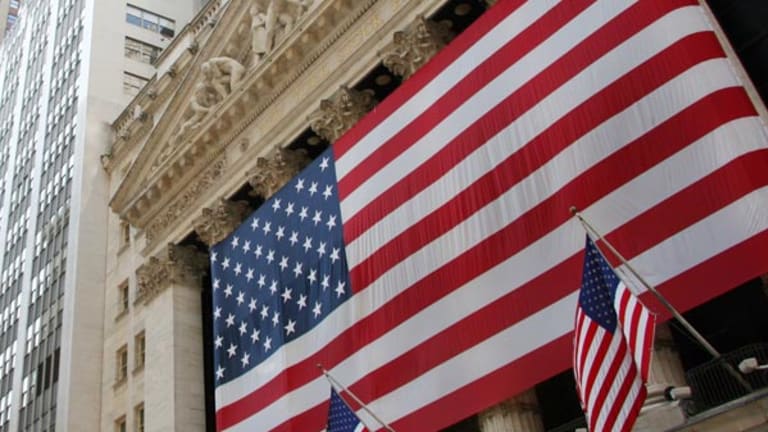 Market Set to Open Mixed
The market is looking mixed this morning, as investors set to take yesterday's rally on the
Nasdaq Composite Index
higher. The market is less enthusiastic about Old Economy stocks, however, with
futures essentially flat.
At 7:52 a.m. EDT, the
S&P 500 futures were up 1.3 points, about 3 points above fair value and not much of a clear indication for the open. The
Nasdaq 100
futures were 12.5 points higher, indicating some buying sentiment for the early going.
Nobody on Wall Street wants to be left out of a summer rally in tech and if optimism over interest rates or corporate earnings continues, the market could see more buying today. Summer starts tonight, after all.
Yesterday, bullish comments on the economy by analysts including
Goldman Sachs'
influential Abby Joseph Cohen, as well as upbeat analyst comments about
Intel
(INTC)
fueled an afternoon rally on the
Nasdaq Composite Index
. It almost finished above the 4000 level, up 129.29, or 3.4%, to 3989.85, its highest level since April 11 of this year. The Nasdaq is now down only 2% for the year.
The
Dow Jones Industrial Average
was a little more sluggish, as the market is more worried about Old Economy earnings, particularly in retail and manufacturing. The Dow finished up 108.54, or 1%, to 10,557.84.
So what will the market be watching today? Though not usually a market moving number, April
international trade figures
are due out at 8:30 a.m. EDT. There isn't any other big data this week, so these numbers could have some influence on the market. According to
Reuters
consensus estimates, the April international trade deficit is expected to narrow to $20.9 billion versus the previous $30.176 billion.
And software giant
Oracle
undefined
will report fourth quarter earnings today.
Of course, if the market does continue to rally ahead of the Fed meeting on June 28, it may have to pullback post-meeting as it looks ahead to the Fed's next get-together. Many market watchers expect this market will continue to bounce around until investors are really certain the Fed is through raising interest rates.
In other major company news today, a much anticipated merger between Canada's
Seagram
(VO)
, France's
Vivendi
undefined
and Vivendi's cable unit
Canal Plus
(AN)
was finalized, which will create the world's second largest media conglomerate behind AOL-Time Warner.
And
Publicis
undefined
of France has agreed to acquire London-based advertising group
Saatchi & Saatchi
undefined
, in a stock deal valued at about $1.92 billion, creating the world's fifth-largest advertising company.
Bonds/Economy
The Treasury market was riding higher this morning, with the 10-year note up 3/32 at 103 16/32 and yielding 6.015%.
Back to top
International
European markets were moving higher at
midsession on strength in tech and media stocks after the Nasdaq's rally on Monday and confirmation about the Saatchi & Saatchi deal.
The Paris
CAC
was up 56.07, or 0.86%, to 6561.23, while Frankfurt's
Xetra Dax
was up 56.07, or 0.86%, to 6561.23.
Across the channel, London's
FTSE
, meanwhile, was 28.7 higher, or 0.44%, to 6518.9.
The euro was lately trading down at $0.9543.
Asian markets were mixed overnight.
Large cap tech plays in Japan were all the rage again on Tuesday, thanks to the near 3.4% bounce in the Nasdaq overnight. A mildly optimistic June economic report also helped sentiment in Tokyo.
The
Nikkei 225
index rose 316.20 points, or 1.9%, to 16,907.55,
In currency trading, the dollar lost ground against the yen and fell to around 105.60 after the EPA said Japan's economy was one step closer to a self-sustaining recovery. It was recently higher at 105.87 yen.
Hong Kong's
Hang Seng
index lost 180.73 points, or 1.1%, to 16,086.74 as bank and property shares got hit by profit taking
Back to top