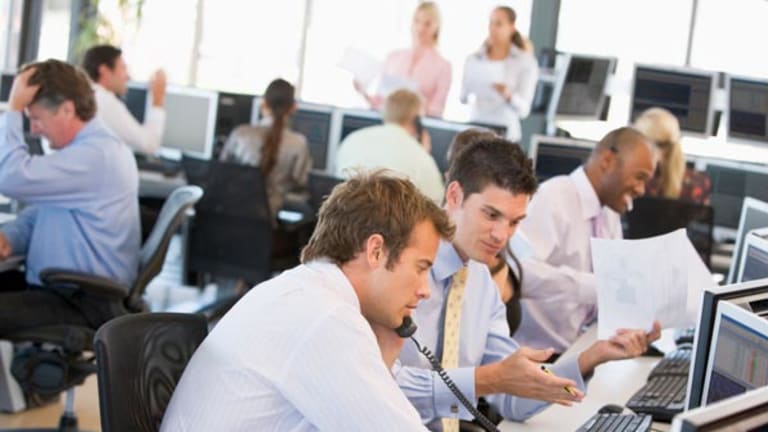 Market Says 'Me Too' to Black Friday Buying
Retailers tack on some gains as the Dow finishes the week with a triple-digit advance.
Retailers tack on some gains as the Dow finishes the week with a triple-digit advance.
Updated from 12:23 p.m. EST
Stocks finished with decent gains on the first major shopping day of the holiday season.
In an abbreviated session, the
Dow Jones Industrial Average added 125 points, or 1.3%, to 9960. The
Nasdaq gained 28 points, or 1.5%, at 1903, and the
S&P 500 was up about 13 points, or 1.2%, at 1150.
For the holiday-shortened week, the Dow was up 92 points, while the Nasdaq was virtually unchanged.
Anecdotal evidence pointed to fairly brisk traffic at retail stores across the country.
Kmart's
(KM)
stock gained 28 cents, or 4.3%, to $6.85, while
Sears
(S) - Get Report
gained 85 cents, or 1.9%, to $45.12 and
Federated Department Stores
added $1.10, or 3%, to $38.21.
European markets finished mixed, with London's FTSE 100 losing 1% at 5293 and Germany's Xetra Dax up 0.1% at 5133. In Asia, Japan's Nikkei index closed up 0.3% at 10,697, while Hong Kong's Hang Seng rose 0.6% at 11,322.
Enron
(ENE)
was lower following reports the company is negotiating more asset sales in a bid to raise $2 billion. The stories say the potential investors included industrial companies and leveraged buyout firms. Enron closed down 33 cents, or 6.59%, to $4.68.
General Motors
(GM) - Get Report
led blue-chips higher, finishing up $1.45, or 3.1%, to $47.69.
Amgen
(AMGN) - Get Report
enjoyed a strong session, climbing $2.47, or 4% to $64.45.
Among the major sectors, banks, biotech and Internet stocks are fared well.
The price of oil fell on reports that Russia plans a smaller-than-expected output reduction. Nevertheless, U.S. oil stocks generally held up well, with
ExxonMobil
(XOM) - Get Report
gaining 56 cents, or 1.5%, to $38.44 and
ChevronTexaco
(CVX) - Get Report
gaining 50 cents, or 0.6%, to $86.58.
In Afghanistan, Northern Alliance forces and U.S. planes bombarded the city of Kunduz, where an estimated 15,000 Taliban soldiers are making a final stand.
The 10-year Treasury note was down 9/32 to 99 31/32, yielding 5%, in late-session trading.