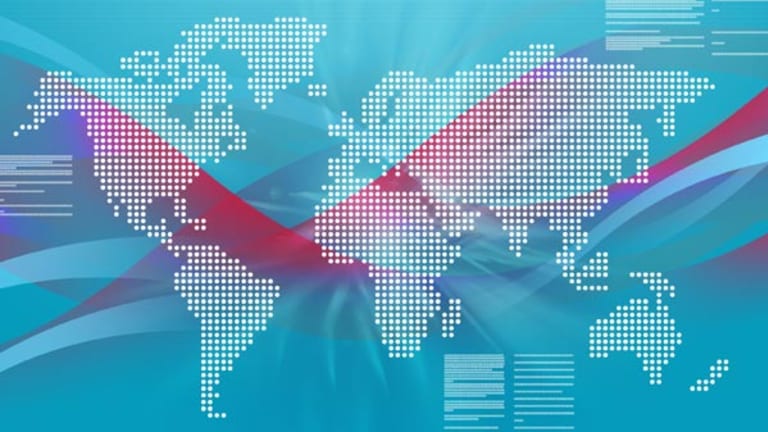 Market Preview: Up for Debate
The first presidential debate should provide some solid clues to which candidate Wall Street thinks will be best for stocks.
The first presidential debate should provide some solid clues to which candidate Wall Street thinks will be best for stocks.
NEW YORK (
) -- The big-cap stocks --
Apple
(AAPL) - Get Report
,
Google
(GOOG) - Get Report
etc. -- may get all the attention but it doesn't hurt to take note of the prevailing sentiment about small- and mid-cap names as well.
After all, the
Russell 2000
is up more than 13% so far in 2012, outpacing
Dow Jones Industrial Average's
10%-plus gain.
Credit Suisse discussed the results of its most recent survey of investors who concentrate on what's going on in smaller side of stocks in commentary on Wednesday, saying the group is "generally constructive, with some signs of increased risk tolerance, as well as an inclination for sector rotation and a desire for new ideas."
The firm's poll of 100 mostly small-cap portfolio managers took place on Sept. 24-28, and it found 75% are bullish about the next 6-to-12 months, a level of optimism that far exceeds the optimism of retail investors, who came up 36.1% bullish in
last week's sentiment survey from the American Association of Individual Investors
, which asks its members what direction they expect stocks to head in over the next six months.
There was a small comedown when the timeframe was shrunk to the next three months with only 56% of those polled by Credit Suisse saying they're bullish about the final calendar quarter of the year. The expected weakness in corporate earnings contributed to the relative glumness.
"The optimism among investors does not detract from our own constructive stance, as the last 2 major R2000 peaks have been preceded by declines in short term bullishness," the firm said. "60% say small/mid cap valuations are fair while just 11% say they are pricey. Hopes aren't high for reporting season."
On a sector basis, technology, energy and housing got the most love, while the financials received a neutral review and materials remained "deeply out of favor," according to Credit Suisse, which also flagged a decline in bullishness about health care as worrisome.
When it comes to broad issues, the majority of the small-cap set -- 69% -- expect the
Federal Reserve's
quantitative easing efforts to help stocks but opinion was more split on how much of a boost the economy will see with 56% seeing no impact at all from the central bank's bond buying binge.
As for the big political questions that will move to the forefront of national concerns later tonight when the first presidential debate of the 2012 race for the White House takes place, nearly three out of every four respondents are expecting four more years from the incumbent.
"74% say an Obama win is likely, a big jump from 2Q12; but just 37% expect a related stock market pullback (31% say mild) vs. 56% in 2Q12," Credit Suisse said. "65% expect the dividend/capital gains tax cuts to expire, but 62% say any pullback would be mild. 66% are a little worried about the fiscal cliff."
Moving over to the big debate, Sterne Agee Chief Market Strategist Sharon Stark is hoping the candidates will be prodded to elaborate on their respective fiscal policies. In emailed commentary on Tuesday, she alluded to the disastrous stand-off over the debt ceiling last year with respect to the need for decisive action by legislators to avoid the fiscal cliff, saying "The devil is always in the details, but at least decisions will be made---we hope."
President Barack Obama's lead in the polls would seem to put the pressure squarely on Mitt Romney tonight, though the Republican candidate's campaign has stabilized of late and even made up some ground.
If perception truly is reality, expect this to be the biggest factor in Thursday's trading as it will be the first chance for investors to see the candidates face off directly, and get a sense of whether Romney can start to build some real momentum. Wall Street's reaction will provide the first solid clues to which candidate the so-called smart money thinks will be best for the stock market.
TheStreet
plans to live-blog the debate, starting at 8:30 p.m. EDT.
As for Thursday's scheduled news, the earnings docket is thin once again, featuring just a few names like
International Speedway
(ISCA) - Get Report
,
Robbins & Meyers
(RBN)
, and
Sycamore Networks
(SCMR)
.
The economic calendar includes the Challenger layoffs report for September at 7 a.m. ET; weekly initial and continuing jobless claims at 8:30 a.m. ET; factory orders for August at 10 a.m. ET; and the release of the minutes of the Sept. 12-13 meeting of the Federal Open Market Committee at 2 p.m. ET, which will provide some color on what kind of debate went into the launch of QE3.
While the claims and layoffs data will provide more insight into the employment picture ahead of the Friday's big September jobs report, the FOMC minutes may be more of a market mover, providing some insight into how Ben Bernanke & Co. decided to be so aggressive about their accommodation.
Paul Ashworth, chief North America economist at
Capital Economics
, is expecting the non-voting hawks within the Fed will have had their say about the decision. He's also wondering if buying more government bonds, rather than mortgage-backed ones, was an option on the table.
"It will be interesting to see if there was a discussion about whether to buy more Treasury securities too, and/or if those purchases could be added once Operation Twist finishes at year-end," he said.
The internal debate about the outlook for inflation was also on Ashworth's mind.
"The Fed also extended its conditional commitment to leave its policy rate unchanged until at least mid-2015, from the previous late 2014," he explained. "And in another change, the statement noted that the FOMC would be willing to leave rates at near-zero for 'a considerable time', even once the recovery strengthens. This implies the FOMC is now willing to let inflation run above target temporarily in order to bring the unemployment rate down. The hawks will presumably have argued vigorously that such a shift risked the inflation-fighting credibility that the Fed had built up over the past 30 years. "
Thursday also brings central bank news from across the pond with the European Central Bank's rate decision and the conclusion of the Bank of England's monthly policy meeting. Dales is expecting few fireworks on either front.
And finally, it was a busy after-hours session on Wednesday with
Nuvasive
(NUVA) - Get Report
playing the role of biggest loser. The San Diego-based medical device maker issued a weak revenue guidance and saw its shares drop nearly 27% on volume of more than 400,000.
The company said it now sees third-quarter revenue of $147 million vs. its prior projection for a flat performance from its second-quarter total of $154.4 million.
Also making headlines was
Applied Materials
(AMAT) - Get Report
, which said it plans to cut its global workforce by 900 to 1,300 positions, or 6-to-9%, as part of its restructuring program. The chip maker said a voluntary retirement program would be part of the restructuring, and that it expects to record related charges of $180 million to $230 million. Shares saw a slight dip in the extended session.
Marriott International
(MAR) - Get Report
was getting a boost after its third-quarter report with shares gaining nearly 2% in late trades. The hotel operator said it earned $143 million, or 44 cents a share, in the three months ended in September, ahead of Wall Street's consensus view of 40 cents.
Revenue totaled $2.79 billion, also beating the average analyst forecast of $2.65 billion, with revenue per available room rising 6% worlwide and 7% in North America from year-ago levels.
--
Written by Michael Baron in New York.
>To contact the writer of this article, click here:
Michael Baron
.
Disclosure: TheStreet's editorial policy prohibits staff editors, reporters and analysts from holding positions in any individual stocks.