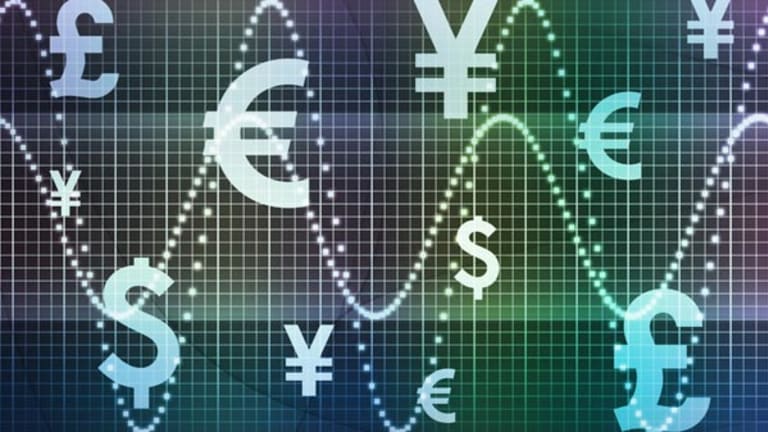 Publish date:
Market Preview: One Bad Apple
That's all it takes to spoil what was already a pretty spotty earnings season.
That's all it takes to spoil what was already a pretty spotty earnings season.
NEW YORK (
) -- One bad
Apple
(AAPL) - Get Report
. That's all it takes to spoil what was already a pretty spotty earnings season.
The iconic gadget maker
the consensus view for its quarterly results late Tuesday; rather badly if truth be told. The company cited a slowing global economy on its conference call, namely Europe, and that's sure to cast a major pall over tomorrow's trading.
But there's also an argument to be made that Wall Street is simply expecting too much of the company. After all, Apple's own outlook was for earnings of $8.68 a share in its fiscal third quarter on revenue of roughly $34 billion, so it did fine by that measure. Unfortunately, the sell side and Apple have been dancing an awkward dance for a long time now, one where the company's outlook is always, well, overlooked, so the situation is what it is.
Even Apple itself is starting to react to the mammoth demands the market has placed on it with Chief Financial Officer Peter Oppenheimer essentially speculating on the conference call that consumer speculation about new Apple products had likely delayed purchases, contributing to the shortfall. The problem with that is it makes it seem like Apple agrees that its quarter was a disappointment, which shouldn't be the case if the company's original forecast was sincere.
This quarter could end up being a watershed moment for Apple as it moves further into the post-Steve Jobs era. The game the company has been playing with the sell side for years -- soft pedaling its numbers so it can blow away an even higher consensus -- needs to end. It's embarrassing to see analysts almost apologetic for the company missing. This is the world's biggest company by market capitalization and the direction of its stock goes a long way toward determining how the broad market fares.
Meanwhile, the summer of uncertainty wears on. The biggest headlines -- the presidential election, the resolution (or not) of the fiscal cliff -- may be yet to come in 2012 but we still seem to be closing in on a crossroads of sorts here in the good old United States with the Dow posting three consecutive triple-digit declines just as the yield on the 10-year Treasury bond breaks below 1.4%.
Both
and
published analysis pieces Tuesday that basically interpret recent comments from
Federal Reserve
officials as indicative of the central bank getting closer to opting for additional stimulus, although there was very little new information in either piece.
In other words, the drumbeat for QE3 is getting louder whether Ben Bernanke likes it or not, and there's very little in the latest headlines for the bulls to hang their hats on. Wherever you look, corporate earnings, U.S. economic data, China, Europe, the positives all have caveats and the negatives are unremitting.
As for Wednesday's scheduled news, two Dow components --
Boeing
(BA) - Get Report
and
Caterpillar
(CAT) - Get Report
-- are slated to report their quarterly results. Wall Street is looking for earnings of $1.12 a share on revenue of $19.37 billion from Boeing, while Caterpillar is expected to deliver a profit of $2.28 a share on revenue of $17.11 billion.
A quick word of warning on Caterpillar, courtesy of
Thomson Reuters
, which notes sentiment on the sell side has soured significantly (say that five times fast) in the past few weeks.
"Analysts expect that slowing construction and mining activity will finally catch up to Caterpillar, and they are lowering their estimates accordingly," the firm said. "One area of strength for Caterpillar is its equipment rental business. However, since customers can rent equipment as needed instead of purchasing the same equipment, this is likely reflective of the lower demand for equipment in general."
Greg Harrison, corporate earnings research analyst at Thomson, said earnings estimates for the Peoria, Ill.-based heavy equipment maker have come down 3% for the second quarter despite a strong track record of beating the consensus view with seven of its past eight quarterly reports. This turn in Wall Street's opinion only heightens the importance of the company's outlook tomorrow.
"When Caterpillar reports on July 25, all eyes will be on their outlook to see whether the negative change in analyst sentiment is indicative of future struggles for the company or a temporary downturn in an otherwise strong record throughout a challenging economic environment," Harrison wrote.
Caterpillar shares closed Tuesday at $81.43, down nearly 10% so far in 2012. Since hitting a 52-week high of $116.95 in late February, the shares have lost X%. The valuation is favorable though with the stock's forward price-to-earnings ratio at 7.4X.
Check out TheStreet's quote page for Caterpillar for year-to-date share performance, analyst ratings, earnings estimates and much more.
Whole Foods Markets
(WFM)
also gets the headliner treatment here. The average estimate of analysts polled by
Thomson Reuters
is for earnings of 61 cents a share from the Austin, Texas-based specialty supermarket operator in its fiscal third quarter ended in June on sales of $2.73 billion.
The stock has been a big winner in 2012, rising more than 20%. It hit a 52-week high of $97.25 on June 26 and closed Tuesday at $84.00.
Fourteen of the 26 analysts covering the stock are at either strong buy (5) or buy (9) but the 12 hold ratings and a median 12-month price target of $100 speak to some concern about valuation.
Williams Capital downgraded Whole Foods to market perform, the equivalent of a hold, from outperform last week while reiterating an $88 price target. The firm cited the stock's richness at the time (shares were still above $90), suggesting investors take profits.
"We believe that the upcoming earnings season could be challenging due to slowing consumer spending," Williams Capital wrote on July 18. "We continue to believe that Whole Foods Market is a best-of-breed company. We simply suggest patience in waiting for a more attractive entry point in a better consumer environment."
The firm is a penny below consensus for the third quarter, forecasting earnings of 60 cents a share and lifting expectations for fiscal 2012 to a profit of $2.36 a share from $2.34 a share.
"Whole Foods has long traded at a significant premium to the S&P 500, a reality we expect to continue based on its competitive positioning and superior growth rate," Williams Capital said. "We believe that high growth, large cap consumer staples companies, which are clearly early in their growth curve, are fairly difficult to find."
Check out TheStreet's quote page for Whole Foods Market for year-to-date share performance, analyst ratings, earnings estimates and much more.
Elsewhere on the earnings docket is a busy morning lineup featuring
AOL
(AOL)
,
ARM Holdings
(ARMH)
,
BankUnited
(BKU) - Get Report
,
Bristol-Myers Squibb
(BMY) - Get Report
,
Carter Holdings
(CRI) - Get Report
,
ConocoPhilips
(COP) - Get Report
,
Corning
(GLW) - Get Report
,
Delta Air Lines
(DAL) - Get Report
,
Dice Holdings
(DICE)
,
Eli Lilly
(LLY) - Get Report
,
Ford Motor
(F) - Get Report
,
General Dynamics
(GD) - Get Report
,
Hess Corp.
(HES) - Get Report
,
Hudson City Bancorp
(HCBK)
,
JetBlue Airways
(JBLU) - Get Report
,
Jones Apparel
(JNY)
,
Motorola Solutions
(MSI) - Get Report
,
Nasdaq OMX
,
Northrop Grumman
(NOC) - Get Report
,
PepsiCo
(PEP) - Get Report
,
RadioShack
(RSH)
,
Southern Co.
(SO) - Get Report
,
T. Rowe Price Group
(TROW) - Get Report
,
Tupperware
(TUP) - Get Report
,
US Airways Group
(LCC)
,
W.R. Grace
(GRA) - Get Report
and
Wellpoint
(WLP)
.
After the bell comes
Akamai Technologies
(AKAM) - Get Report
,
Ancestry.com
(ACOM)
,
Angie's List
(ANGI) - Get Report
,
Cheesecake Factory
(CAKE) - Get Report
,
Citrix Systems
(CTXS) - Get Report
,
Crocs
(CROX) - Get Report
,
Las Vegas Sands
(LVS) - Get Report
,
LSI Logic
(LSI) - Get Report
,
Morningstar
(MORN) - Get Report
,
Skechers U.S.A.
(SKX) - Get Report
,
Tesla Motors
(TSLA) - Get Report
,
Tractor Supply
(TSCO) - Get Report
,
Visa
(V) - Get Report
and
Zynga
(ZNGA) - Get Report
.
Wednesday's economic calendar includes the Mortgage Bankers Association's weekly mortgage application index at 7 a.m. ET; new home sales for June at 10 a.m. ET; and weekly crude inventories at 10:30 a.m. ET.
And finally,
Netflix
(NFLX) - Get Report
seemed to be running a re-run late Tuesday, once again showing a failure to communicate. Last year, the company got itself in trouble with its ham-handed handling of its price increase. Now the executive team of CEO Reed Hastings and CFO David Wells has unveiled an
outlook full of contradictions
that prompted a wave of selling in extended session,
This one would be almost impossible to script. The company gives an official guidance for between a loss of 10 cents a share to earnings of 14 cents a share for the third quarter yet makes this statement: ""Q3 has begun strongly for us, and we expect to be profitable again in Q3. In Q4, we will launch our next international market, which will drive us temporarily back into the red."
So do they expect a profit in the third quarter or not? With the stock down more than 15% in heavy after-hours action, it seems like many investors are unwilling to hang around and see how the whole mess turns out.
--
Written by Michael Baron in New York.
>To contact the writer of this article, click here:
Michael Baron
.
Disclosure: TheStreet's editorial policy prohibits staff editors, reporters and analysts from holding positions in any individual stocks.