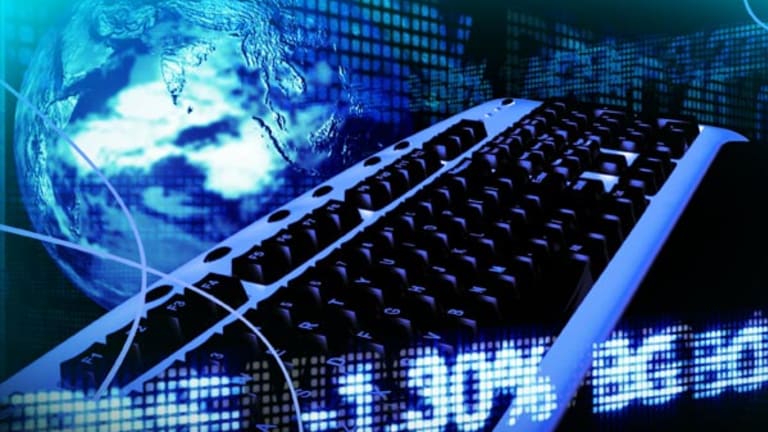 Market Preview: Nowhere to Hide
Negative headlines are sinking nearly all ships these days, illustrating the prevailing skittishness that's dominating the markets right now.
NEW YORK (
) -- It's hard to be bullish about stocks at the moment. Even if you go big picture and try to filter out the day-to-day noise from abroad.
The rally that began June was mostly Fed-fueled but after last week's policy meeting, the prospect of more quantitative easing is effectively off the table for summer, so no soap there. Most of the economic data of late -- May new home sales not withstanding -- has been underwhelming, and the dreaded R word, recession, is starting to crop up again. No good.
What about corporate profits? Well, the upcoming earnings season isn't likely to be anything special. According to the latest data from
Thomson Reuters
, analysts are currently looking for growth of 6.3% from the
for the second quarter, down from a growth estimate of 9.2% on April 1.
And then there's Europe, which has been in one step forward, two steps back mode for more than three years now. Monday's
didn't have a single, overarching catalyst. It was more the product of a collective realization that there's no reason to believe this coming summit of Europe's leaders is going to any different than the umpteen summits before it.
After the bell, Moody's
downgraded a slew of Spanish banks
, so the negative headlines from across the pond are already piling up for tomorrow.
Aside from
Wal-Mart Stores
-- the only Dow component to book a gain on the day -- there was nowhere to hide on Monday. It was a broad decline, a flood of sell orders that sank nearly all boats. The valuation argument still carries some water for stocks -- the S&P 500 was trading at a forward price-to-earnings multiple of 12.8X as of Friday's close and it's even cheaper now -- but it takes real conviction to stick with that belief when the entire quote screen is bathed in red.
Sam Stovall, chief equity strategist at
S&P Capital IQ
, explained early Monday that the all or nothing trend has become a fact of life for U.S. equities of late.
"Thus far in 2012, investors have had to endure extremes of emotions, as the S&P 500 rosenearly 13% year-to-date through April 2, only to fall nearly 10% as of June 1," he wrote. "The market is still 6% above its 2011 close, but investors have paid for this advance with elevated volatility."
He noted that the S&P 500 has fallen by 2% or more in a single session 21 times in the past 12 months, compared to an average of 15 times since 2000 and five since 1960. Because of that, he argued that investors need to work that much harder to stay the course with regard to their long-term goals.
"When the pilot comes over the loudspeaker to announce upcoming turbulence, he suggests returning to your seats and fastening your safety belt," Stovall said. "He does not say 'please don your parachutes and assemble by the door.' The same goes for history. When looking at periods of seasonal strength or weakness, the implication is not to be encouraged to engage in excessive market timing, but to be prepared for the likely upcoming volatility and not let it cause you to deviate from your investment plan."
One additional factor that has to be accounted for this year is the presidential election. According to S&P Capital IQ data, since 1945, the S&P 500 has managed an average gain of 0.1% for the third quarter of an election year, rising half the time. The good news is that the fourth quarter has tended to pick up the slack.
"This lack of direction
in the third quarter is understandable, in our opinion, as investors are bombarded by the hype from the conventions, speeches and political advertisements, as they await the outcome of the upcoming election," Stovall wrote. "Once the election is over, however, so is the uncertainty. In Q4, while the S&P 500 posted a modest price advance of 1.9%, it recorded the second highest batting average of 81%."
As for Tuesday's scheduled news, it's a thin earnings day with
LDK Solar
(LDK)
,
H&R Block
(HRB)
and
Sealy
(ZZ)
among the few brand names reporting.
The economic calendar features the Case-Shiller home price index for April at 9 a.m. ET and consumer confidence for June at 10 a.m. ET.
The consensus is calling for consumer confidence to tick down to 64.0 for the month from 64.9 in May, according to
Briefing.com
, which sees a deeper dip itself down to 63.0.
Monday's after-hours session saw
Coinstar
(CSTR)
take a hit after the company announced it expects to take an earnings hit of 40 to 50 cents a share in fiscal 2012 on its deal to acquire
NCR Corp.'s
(NCR)
DVD rental kiosk business.
Shares of Coinstar, which are up more than 40% so far in 2012, were last quoted at $62, down 5.1%, on volume of nearly 60,000, according to
Nasdaq.com
.
A big mover to the plus side was
Apollo Group
(APOL)
, which reported fiscal third-quarter adjusted earnings of $1.20 a share on revenue of $1.13 billion, beating Wall Street's consensus view for a profit of 97 cents a share on revenue of $1.12 billion.
The operator of the University of Phoenix said new degreed enrollment came in 51.500 and forecast revenue of $4.2 billion to $4.3 billion for the whole of fiscal 2012. The stock was last quoted at $34.80, up more than 7%, on volume of roughly 620,000.
And finally, another change to the S&P 500 was announced with
Seagate Technology
(STX)
to replace
Progress Energy
(PGN)
in the benchmark index after the close of trading on June 29.
Duke Energy
(DUK)
is acquiring Progress, opening up the spot for Seagate, a Dublin-based hard disk drive maker with a market capitalization of $9.9 billion.
--
Written by Michael Baron in New York.
>To contact the writer of this article, click here:
Michael Baron
.
Disclosure: TheStreet's editorial policy prohibits staff editors, reporters and analysts from holding positions in any individual stocks.