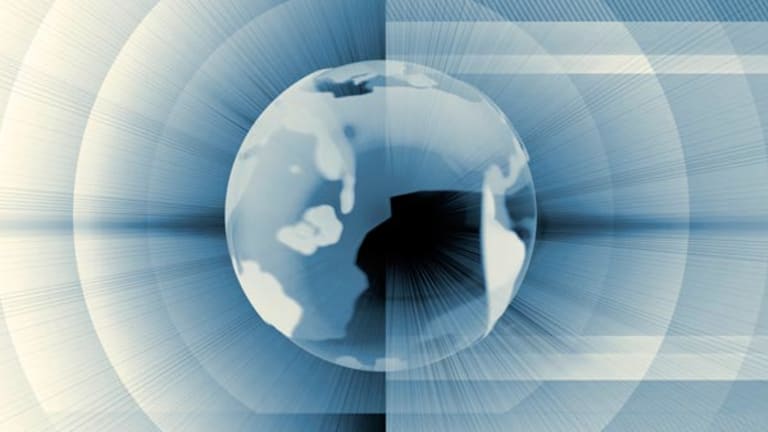 Market Preview: Low-Grade Uncertainty
Wall Street seems to be getting increasingly comfortable with the idea that Greece could leave the eurozone.
NEW YORK (
) -- Wall Street followed Wednesday's mighty surge with a mini version of the same dynamic on Thursday, again underlining the idea that the prospect of Greece leaving the euro still isn't really all that scary to traders just yet.
Despite its feeling that just such a scenario is "increasingly likely," Citigroup struck a semi-optimistic tone earlier on Thursday, saying that as long as the world's central banks step up and do what's necessary to keep panic in check, stocks should be fine. The firm polled its various analysts from across the globe and found they "agree that Greek exit should be manageable, but that aggressive action must be taken to prevent contagion spreading to bigger economies and markets."
Simple enough. Even the recent pullback in stocks got a somewhat positive spin.
"Citi equity strategists suggest that cheap valuations should limit the downside," the firm wrote. "Outside Europe, the world economy continues to grow. Equity sentiment indicators have just dropped back in to 'Panic' territory, confirming our suspicion that there is already a lot of bad news priced in. While it looks like it's going to be another difficult summer for global equity markets, our targets are now suggesting 20% upside by end-2012. We would buy into weakness."
Wall Street has a frustrating logic at times, reducing real world events (and their inherent unpredictability) to no more than an impetus to adopt one trading stance and not another. Plenty of digital ink gets spilled about the "risk-on/risk-off" mentality that's prevailed at times, and that's pretty much how Citigroup is viewing the pullback that began right on time at the start of May.
"Understandably, the first response of global investors to the latest EMU flare-up is to put on the global risk-off trade," the firm wrote. "At a macro level, they have sold riskier assets such as equities, credit and peripheral sovereign bonds. They have bought 'core' sovereign bonds in Germany, U.S., Japan and the U.K. In currency markets, they have bought the US dollar and the yen. This is consistent with other risk-off phases in global markets."
So it's not that the fundamentals don't matter, or that individual stocks can't break away from the herd on any given day based on their own headlines, but right now, the cloud created by Europe (and the lull in corporate news with second-quarter earnings season still weeks away) is too much to overcome.
Right now, it looks to be "risk-off" for a while. Greece won't go to the polls until next month. That's giving Europe's leaders a few weeks to issue statements and run scenarios behind the scenes until things come to a head but there doesn't seem to be any voices out there predicting this vote will yield a satisfying result. The Greek people don't want austerity and the countries providing the country's latest round of bailout funding are demanding it.
The eurobond idea seems unlikely to get any traction unless Germany does a huge about-face, so this low-grade uncertainty could persist for awhile unless something boils over ahead of time.
Citigroup also laid out three potential scenarios for the endgame with Greece -- continued funding of Greece, Greece exits the euro but aggressive action is taken to prevent contagion and let Greece leave but don't work to ring-fence other countries on the brink -- and weighed in on how it thinks the situation will ultimately play out.
"We believe that the second option is most likely. This would imply a market unfriendly event (Greek exit), but also a range of potentially market-friendly policy responses," the firm said. "Citi economists suggest these could involve more LTRO, pan-EMU deposit guarantees, pan-EMU funded bank recaps, lower austerity requirements, rate cuts, new Troika packages, further government bond purchases and enlarged bail-out funds."
As for Friday's scheduled news, there isn't much ahead of the long Memorial Day weekend.
Mentor Graphics
(MENT)
is really the only name of any kind of note reporting its quarterly results.
Also, the final University of Michigan read on consumer sentiment is due at 9:55 a.m. ET, with the consensus estimate at 77.5, according to
Briefing.com
. That's a tick down from the preliminary reading of 77.8, but still up from 76.4 in April.
One stock that looks destined for some serious downside on Friday is
VeriFone Systems
(PAY)
, which was down sharply in the after-hours session after the electronics payment technology company gave a
.
The San Jose, Calif.-based company forecast non-GAAP earnings of 68 to 70 cents a share for its fiscal third quarter ending in July on revenue ranging from $495 million to $500 million. That view has some downside to the current average estimate of analysts polled by Thomson Reuters for a profit of 70 cents a share on revenue of $502.2 million.
The stock was last quoted at $40.88, down 9.2%, on volume of nearly 950,000, according to
Nasdaq.com
.
--
Written by Michael Baron in New York.
>To contact the writer of this article, click here:
Michael Baron
.
Disclosure: TheStreet's editorial policy prohibits staff editors, reporters and analysts from holding positions in any individual stocks.