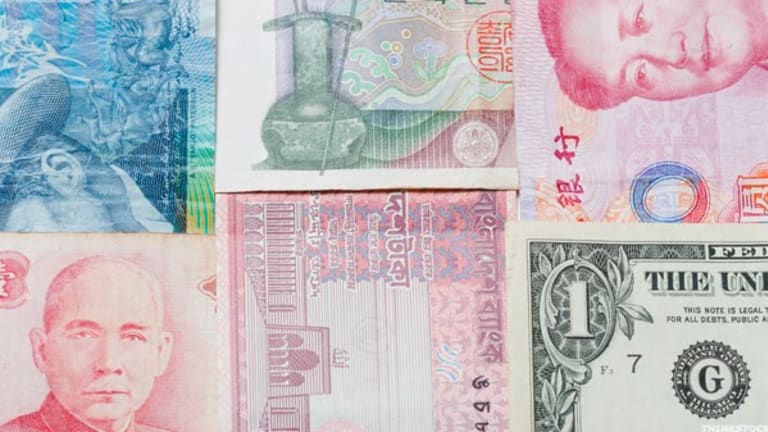 Market Preview: iPad Mini Could Be Big Deal
One analyst thinks the product, which is expected to be unveiled Tuesday, may be key to the growth of the company's business in Asia.
One analyst thinks the product, which is expected to be unveiled Tuesday, may be key to the growth of the company's business in Asia.
NEW YORK (
) -- Monday's
aside, it's probably a good thing that more investors are starting to feel bad about stocks.
Gary Thayer, chief macro strategist at Wells Fargo, analyzed the ramifications of the shift that's gone on of late, noting the spike in bearishness among U.S. retail investors to the highest level since late June in last week's
American Association of Individual Investors's sentiment survey
.
"During much of the past year, investors generally viewed the United States more positively than Europe," he wrote in emailed commentary on Monday. "That's probably because Europe was in the midst of its debt crisis while the end-of-the-year fiscal cliff was still several months away. Both regions have their challenges but investors seemed to be more concerned about U.S. problems now as the election and fiscal cliff get closer."
Thayer sees this growing apprehension as a positive because markets will be more stable if the end of the year doesn't go smoothly.
"There would probably be greater volatility risk if investors were complacent or too optimistic heading into the potential year-end tax increases and federal spending cuts," he said. "If the markets consolidate or pull back ahead of the fiscal cliff then investors are less likely to react significantly if elected officials struggle to avoid the scheduled tax and spending changes."
Thayer thinks a status quo result on the political front could be the riskiest scenario of all.
"Looking ahead, if the election leads to a continuation of the current divided government, we believe there will be a greater risk of going over the fiscal cliff as a maneuver to force a compromise that neither party would prefer if it controlled both Congress and the White House," he said. "Alternatively, if there is a change of control in the White House, we believe it is more likely that there will be a temporary extension of the current tax and spending levels as the new Congress and President would probably prefer to take time to develop substantial reforms."
Meantime, Jefferies was pointing to company repurchases as providing some firepower to keep equities afloat now that QE3 is kicking in.
"With the spread between US corporate bond yields at record lows and capacity utilization rates peaking, companies are borrowing at record amounts and buying back their own stock," the firm said. "The unintended consequence of QE
quantitative easing is that companies are borrowing to invest in themselves rather than capex due to a lack of animal spirits."
As for Tuesday's scheduled news,
Apple
(AAPL) - Get Report
will grab the spotlight with its latest media event that's widely anticipated result in the launch of iPad Mini.
TheStreet
is slated to live-blog the proceedings from San Jose, Calif. The stock rallied nearly 4% on Monday, a sign investors think the smaller tablet may be a big deal.
UBS analyst Steven Milunovich was out with bullish comments ahead of the launch, saying the product will go a long way to both bringing Apple new customers and keeping the ones it has. He has a buy rating and $780 price target.
"One small step for the iPad, one giant step for the ecosystem," he wrote. Creating barriers to exit is critical to Apple's long-term economic model. Offering a lower-priced tablet not only brings more consumers to Apple's ecosystem, it increases their exposure to higher-priced content and increases switching costs."
Milunovich noted that iPad owners typically spend much more on apps than folks with iPhones and said the iPad Mini could be a major step forward for Apple in Asia.
"The iPad generates 65% more revenue per app on average than does the iPhone," he said. "Excluding Asia, the disparity is greater with iPad revenue per download more than double than the iPhone. Using Apple's estimate of 80 apps downloaded per iOS device, including apps not on device, iPad paid app content would be $56-80."
"The next leg of Apple's growth likely must come from Asia, which was 40% of profit growth last year," he continued. "The risk is that the ecosystem pull is not as strong in Asia as users switch vendors more often and are less likely to pay for apps. Gross revenue per download is significantly lower in Asia, likely influenced by a lower mix of iPad users, less local paid content, and perhaps demographic issues. The iPad mini could help address these issues and improve Apple'sstickiness in Asia."
Meantime, earnings season continues to ramp up.
Netflix
(NFLX) - Get Report
is reporting its third-quarter results after the closing bell and the average estimate of analysts polled by
Thomson Reuters
is for a profit of 4 cents a share on revenue of $904.9 million.
It's been another volatile year for Netflix as the company continues to concentrate on building out its streaming subscriber base and expanding across the globe. The stock has lost a little more than 2% so far in 2012, ranging between a 52-week high of $133.52 on Feb. 7 and a low for the year of $52.81 on Aug. 3.
The sell side remains very skeptical about Reed Hastings & Co. with 28 of the 35 analysts covering the stock at either hold (20), underperform (6) or sell (2); although the median 12-month price target of $71 implies potential upside of 4.6% from Tuesday's regular session close at $67.88.
S&P Capital IQ
cut its price target on Netflix by $15 to $80 last week, in part because of "perceived risks of higher content costs and international expansion," and lowered its earnings per share estimates for both 2012 and 2013 to 2 cents a share and $1.02 a share respectively. The firm, which has a buy rating on the stock, is expecting the company to continue to broaden its horizons.
"On a positive note, after recent milestone at 1M subscribers in the U.K. and Ireland, we see NFLX priming for Q4 int'l launch in 4 Nordic countries," the firm said. "While domestic streaming growth should provide key headline for Q3 report, we surmise potential subscriber dislocation on record Olympics ratings could pose swing factor for '12 targeted 7M net adds."
Check out TheStreet's quote page for Netflix for year-to-date share performance, analyst ratings, earnings estimates and much more.
The other big reports on Tuesday morning are Dow components
du Pont
(DD) - Get Report
,
3M
(MMM) - Get Report
, and
United Technologies
. Wall Street is expecting earnings of 46 cents a share from du Pont, while the consensus view sits at $1.18 a share for United Technologies. For 3M, the average analysts' estimate is for earnings of $1.65 a share in the third quarter.
Also slated to disclose their quarterly results before the open are
Airgas
(ARG)
,
AK Steel
(AKS) - Get Report
,
ARM Holdings
(ARMH)
,
Celanese
(CE) - Get Report
,
Coach
(COH)
,
Harley-Davidson
(HOG) - Get Report
,
Illinois Tool Works
(ITW) - Get Report
,
Lexmark
(LXK)
,
Regions Financial
(RF) - Get Report
,
Ryder System
(R) - Get Report
,
Sonic Automotive
(SONC)
,
United Parcel Service
(UPS) - Get Report
,
Waters Corp.
(WAT) - Get Report
,
Whirlpool
(WHR) - Get Report
, and
Xerox
(XRX) - Get Report
.
Facebook
(FB) - Get Report
will hog the headlines after the close with its third-quarter results. The average estimate is for earnings of 11 cents a share in the September-ended quarter on revenue of $1.23 billion from the social networking giant, whose shares closed Monday at $19.32, down 49% from its IPO pricing at $38 per share.
Expectations are low after
Zynga's
(ZNGA) - Get Report
warning earlier this month. JMP Securities felt the need to lower its price target and earnings estimates for Facebook on Friday but the firm kept its market outperform rating on the stock.
"Our downward revisions are based on both ZNGA's pre-announced, lower than expected bookings as well as ComScore data, which showed that PC-based MAU growth is declining, making it all the more important for FB to accelerate its mobile ad initiatives," the firm said. "Despite the high level of negative sentiment, we believe that at $18.98 per share, FB's user-base and potential mobile, search, app exchange, and ad-network revenue opportunities are undervalued."
Other companies reporting after the close include
AFLAC
(AFL) - Get Report
,
Altera
(ALTR) - Get Report
,
Amgen
(AMGN) - Get Report
,
Annie's
(BNNY)
,
Broadcom
,
Buffalo Wild Wings
(BWLD)
,
Celestica
(CLS) - Get Report
,
Compuware
(CPWR)
,
Gilead Sciences
(GILD) - Get Report
,
HanesBrands
(HBI) - Get Report
,
iRobot
(IRBT) - Get Report
,
Juniper Networks
(JNPR) - Get Report
,
Norfolk Southern
(NSC) - Get Report
,
Panera Bread
(PNRA)
,
RF Micro Devices
(RFMD)
,
Tempur-Pedic International
(TPX) - Get Report
,
Unisys
(UIS) - Get Report
, and
VMWare
(VMW) - Get Report
.
The economic calendar is empty once again on Tuesday.
And finally,
Yahoo!
shares got a lift after the company delivered
and CEO Marissa Mayer presided over her first conference call, once again declining to provide guidance.
For the third quarter ended Sept. 30, the Sunnyvale, Calif.-based Internet content and search company reported non-GAAP earnings excluding items of $177 million, or 35 cents a share, with revenue excluding traffic acquisition costs, or TAC, come in at $1.09 billion.
The average estimate of analysts polled by
Thomson Reuters
was for a profit of 25 cents a share in the September-ended period on revenue of $1.08 billion.
Shares of Yahoo! were last quoted at $16.47, up 4.4%, on volume of more than 3.6 million, according to
Nasdaq.com
.
--
Written by Michael Baron in New York.
>To contact the writer of this article, click here:
Michael Baron
.
Disclosure: TheStreet's editorial policy prohibits staff editors, reporters and analysts from holding positions in any individual stocks.