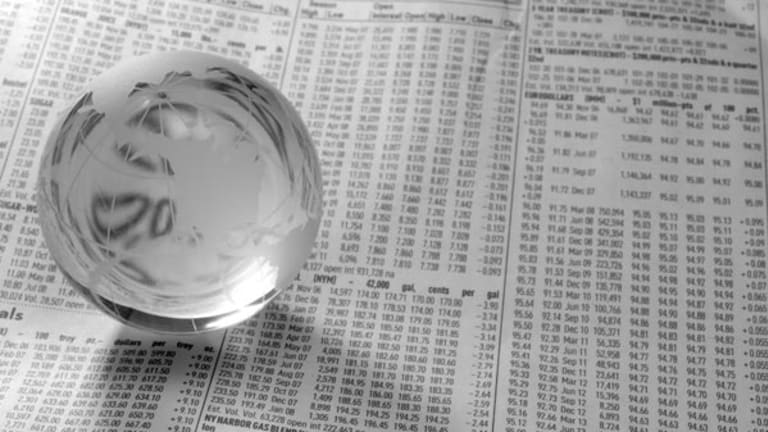 Market Preview: A Rough Road
With QE3 off the table for the time being, it's hard to put a positive spin on weak economic data.
NEW YORK (
) -- The
Federal Reserve
said Wednesday it expects the economy to get worse, and lo and behold, the majority of the data that arrived on Thursday illustrated that point.
The call by Goldman Sachs to short the
S&P 500
was certainly a factor in the deep sell-off, as was the uncertainty ahead of the actual Moody's bank downgrades that arrived after the bell, but it was the ugly data seemed to carry the most weight with sellers.
The trap that Wall Street is in when it comes to equities right now is fairly ingenious. Investors showed in the first half of June that they stand ready to go risk-on if the Fed comes across with QE3. But the Fed has made it clear that it fully intends to sit on its hands unless the economy gets a whole lot worse. That sets up a real "be careful what you wish for" scenario.
Sam Stovall, chief equity strategist at
S&P Capital IQ
, is bullish but sees a rough road ahead over the next six months.
"With the extension of Operation Twist, Dr. Bernanke indicated that the patient does not need another defibrillator jolt, but it does need to be hooked up to the IV a bit longer," he wrote in commentary late Wednesday. "Even though inflation is tolerable, the risk of an imminent breakup in the euro is now less likely, and that the Fed renewed its low-rate pledge through 2014, we still believe the global equity markets will trace out a very choppy advance during the second half."
The next Fed meeting is scheduled for July31-August 1 so traders are weeks away from being able to put a positive spin on bad economic data by bringing the prospect of QE3 back into the mix. That means bad data is just going to taken for what it is: More evidence that this slow recovery is starting to stall.
As for Friday's scheduled news,
Carnival
(CCL) - Get Carnival Corporation Report
is slated to report its quarterly results before the opening bell. The average estimate of analysts polled by
Thomson Reuters
is for a profit of 8 cents a share in the company's fiscal second quarter ended in May on revenue of $3.55 billion.
Shares of the cruise line operator are up more than 7% so far in 2012, and UBS is bullish about the stock ahead of the numbers. The firm lifted its price target on the stock to $39 from $34 earlier this week and kept its buy rating intact. It thinks the company could lift its guidance for fiscal 2012 to reflect an expected benefit from lower fuel prices.
"We believe CCL could raise its '12 EPS guidance to $1.60-$1.90 from $1.40-$1.70 previously, on ~$0.20 incremental net benefit (from cheaper fuel +$0.31/ stronger dollar -$0.09)," said UBS, which will also be looking to see how active the company was in buying back its own stock.
"As of last quarter, CCL had $350M of repurchase authorization outstanding. If CCL had used all of it in Q2, this could imply $0.01-$0.02 upside to our FY2012 estimate," the firm wrote. "We estimate CCL will have ~$900M of free cash in 2012, $1.8B in 2013 and $2.2B in 2014."
The sell side is pretty evenly split on Carnival with 10 analysts at either strong buy (6) or buy (4), and the other 11 covering the company at hold. The 12-month median price target sits at $36 vs. Thursday's close at $34.58.
The only other notable company reporting on Friday is
Darden Restaurants
(EAT) - Get Brinker International, Inc. Report
. Wall Street is expecting a profit of $1.15 a share on revenue of $2.11 billion from the Orlando, Fla.-based operator of Red Lobster, Olive Garden and Longhorn Steakhouse restaurants.
The big news in Thursday's after-hours session was, of course, the slew of
by Moody's. The move has been telegraphed for months and shares of most of the impacted companies actually edged up in late trades following the massive sell-off in the regular session.
Bank of America
(BAC) - Get Bank of America Corp Report
, which
on the day, was last quoted at $7.91, up 1.2%, on volume of 3.6 million, according to
Nasdaq.com
.
Morgan Stanley
(MS) - Get Morgan Stanley Report
got hit hardest with Moody's taking its rating
, but the stock was rising more than 3% in the extended session to $14.41 on volume of 1.1 million.
Another big mover late was
Monster Beverage
(MNST) - Get Monster Beverage Corporation Report
. The stock was gaining ground on news that the company is replacing
Sara Lee
(SLE)
in the S&P 500. Shares of the Corona, Calif.-based energy drink purveyor have been standouts in 2012, rising more than 60%, partially because it's been the subject of takeover speculation. The stock was last quoted at $76.26, up 2%, on volume of more than 90,000.
And finally,
Apple
(AAPL) - Get Apple Inc. Report
couldn't escape the selling on Thursday, although Jefferies was out with positive commentary saying that the subsidy fears that have weighed on the stock a bit since it peaked at $644 on April 10 are overblown.
"Due to tiered data plans, Apple and the carriers are now enjoying a symbiotic relationship," said the firm, which has a buy rating and an $800 price target on stock. "General subsidies are helping carriers and will likely continue. If they do not, we believe Apple has powerful options: 1) offer financing themselves (we est a ~$15 stock hit); 2) MVNO in affected markets. We also believe that the iPhone 5 will be the largest handset launch in history and at launch will have an upgradable sub base of >170M."
Jefferies thinks the iPhone's premium smartphone status will protect it.
"U.S. carriers will likely not cut iPhone subsidies but could cut low-end handset subsidies," the firm said. "We believe carriers will continue to manage the subsidy expense through various initiatives including a diversified handset selection and upgrade fee, however the subsidies are unlikely to be curtailed. Ralph de la Vega, the CEO of AT&T Mobility and Consumer Markets, recently noted, '
the subsidy model is one that the American consumer likes.'"
And while there may be a lull over the summer as consumers hold out for the iPhone 5, Jefferies expects next version of the smartphone to raise the bar on demand once again.
"In Q4:12 we expect AT&T and Verizon to sell more iPhones than their record-setting12M in Q4:11," the firm said. "We estimate in Q4:12 that over 30M combined T and VZ subscribers will be eligible for an iPhone. Similar take rates as seen in Q4:11 would imply iPhone 5 sales well above the 12M seen in Q4:11. Because an LTE iPhone will take much greater advantage of Verizon's expansive 4G network, we believe VZ's take rate could be higher than Q4:11's ~30%, which was substantially lower than AT&T's 58% take rate."
Apple shares closed Thursday at $577.67, putting the stock up roughly 10% since scraping a near-term low of $522.18 on May 18
Check out TheStreet's quote page for Apple for year-to-date share performance, analyst ratings, earnings estimates and much more.
--
Written by Michael Baron in New York.
>To contact the writer of this article, click here:
Michael Baron
.
Disclosure: TheStreet's editorial policy prohibits staff editors, reporters and analysts from holding positions in any individual stocks.