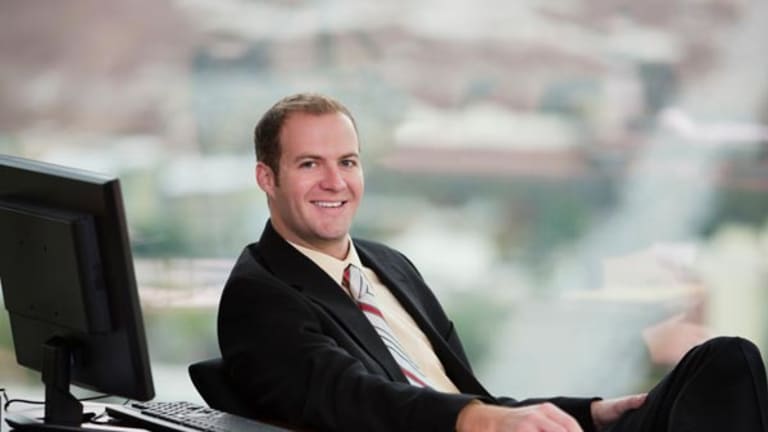 Market May Cure Its Summertime Blues
We could see a summer rally, but fall pressure.
Now that is what I call pin action.
OK, tell the truth. How many of you were ready to chip in to pay for my head to be examined early in the week with the
S&P 500
plunging to 1220 when I
said that a move to 1260 for Friday's options expiration would likely hurt the most traders -- and not to be surprised by such a move? On Thursday, the S&P closed up 26.10 points, trading to as high as 1258.65. That is close enough for government work.
This week's action is a good example of the most important tools needed to capitalize on market movement: time, price, and pattern.
To recap, 1220 was 270 degrees, or three squares of 90 degrees down from the 1326/1327 S&P high from May. As shown over the past two days, the pattern down into the low shows a measured A-B-C move that projects down toward 1220. As far as time goes, the cycles of which we warned that looked to be topping out in May and would lead to an explosion in volatility have certainly popped their cork.
In addition, I want to remind you of the 19-year cycle that, as you know, suggests an analog to the volatility that occurred in 1987. Recently, I mentioned the pronounced whiplash that occurred in the market in May 1987. When that bungee jump ended, an approximate 90-day advance into the end of August played out prior to a crash in October of that year.
That does not mean to infer that we will get a new high here this summer or a crash into the fall, but I would not be surprised to see a rally phase sometime this summer, as well as significant pressure in the fall.
It is also interesting that 1987 was Greenspan's first year as
Fed
chief and that the markets went bipolar then as he made a point of proving the Fed's toughness. On Thursday, with the market already up big, fresh comments from current Fed chief Ben Bernanke poured gasoline on an already raging rally. In some strange, Kafkaesque kind of metamorphosis, hawk became dove apparently, as Bernanke's comments intensified today's upside momentum.
Conclusion
: The 1220 level certainly turned out to be
a
low. Whether it is a climactic low in an ongoing bull market or just a first blush of the bear remains to be seen. But typically, you do not see a cyclical rollover of this magnitude end within a month or two, especially not after a three-year run without a 10% pullback. Retracement rally, yes. Significant bottom, that is another story.
Moreover, this is not the time of year for the market to typically score a "major" bull market low. But things happen.
Strategy
: Both the bulls and bears have been stung over the past six weeks. Both camps have anteed up their respect for the markets' take-no-prisoner personality. Both camps have been eating a bit of humble volatility pie over the last few weeks. This is the market's way of giving a vaccination to traders who may have forgotten that in the financial markets, only the humble survive.
The important thing to remember is that corrections come from bullishness while crashes come from too much complacency. I certainly believe that the persistent, plumb-line, 108-point S&P drop in 25 trading days qualifies as a minicrash. Now the $64 million question is whether what we have seen is a fractal of what will play out to the downside late this year.
I hope many of you took my setup and participated in the profits to be gleaned on Wednesday and Thursday. If so, my best advice now is to skip Friday and go to the beach. It is likely to be quiet over the next two sessions. Most likely, the weekly chart will turn up Monday or Tuesday, and the behavior on that turn will be important to observe.
Jeff Cooper is the creator of the Hit and Run Methodology and the author of the best-selling books
Hit and Run Trading (The Short-Term Stock Traders' Bible)
,
Hit and Run II (Capturing Explosive Short-Term Moves in Stocks)
, as well as a video course, Jeff Cooper on Dominating the Day Trading Market. He also created the Hit and Run Nightly Reports and co-founded a trading markets Internet site.
None of the information contained in Mr. Cooper's columns constitutes a recommendation by Mr. Cooper that any particular security, portfolio of securities, transaction or investment or trading strategy is suitable for any specific person. To the extent any of the information contained herein may be deemed to be investment advice, such information is impersonal and not tailored to the investment needs of any specific person. While Mr. Cooper cannot provide investment advice or recommendations, he appreciates your feedback;
to send him an email.
TheStreet.com has a revenue-sharing relationship with Trader's Library under which it receives a portion of the revenue from purchases by customers directed there from TheStreet.com.