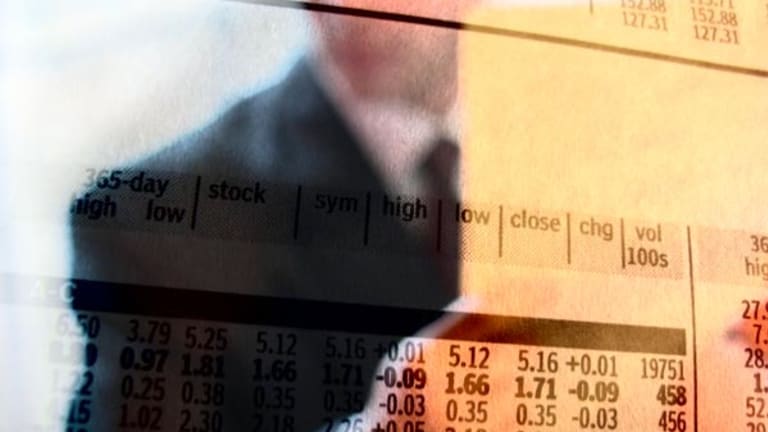 Market Logs Another Positive Week
Stocks in New York close largely in the green after the highly anticipated July jobs report shows the economy lost fewer positions than Wall Street had anticipated.
(Updated with closing prices)
NEW YORK (
) -- The highly anticipated July jobs report showed the economy lost far fewer positions than Wall Street had anticipated, helping stocks log another positive week.
The
Dow Jones Industrial Average
rose 113.81 points, or 1.2%, at 9370.07, while the
S&P 500
tacked on 13.4 points, or 1.3%, to 1010.48, a 10-month high. The
Nasdaq Composite
edged up 27.09 points, or 1.4%, to 2000.25.
Twenty-four of 30 Dow stocks closed in positive territory Friday -- the index went all green for a spell -- closing out the week on a high note. For the five-day session, the index gained 2.2%, the S&P 500 gained 2.3%, and the Nasdaq edged up 1.1%.
Financials were among the outperformers with the KBW Bank index popping 4.9%. But it's a "short squeeze building into a 'blow off' top,' " says Jeff Saut, chief investment strategist at Raymond James, of the strength in financials. Ninety-six percent of the financials are above their 50-day moving averages, he added, as evidence that they are overbought.
American International Group
(AIG) - Get American International Group, Inc. Report
shares were also 20.5% higher after the insurer reported its first quarterly profit since 2007.
Investor enthusiasm bubbled over with the government's report on July unemployment earlier in the day.
lost 247,000 jobs in July, less than the 325,000 expected. Unemployment was at 9.4%, a drop from 9.5% in June. Wall Street had anticipated a higher rate of 9.6%.
"While job losses remain generally high and were widespread across industry, clearly the pace of job destruction is substantially less than what we were seeing in the early part of the year," says Saut. "So obviously it's constructive and the equity markets are responding accordingly."
Click below to hear my entire conversation with Saut, including whether he thinks future unemployment reports will mirror these results, what will drive the next round of earnings and how he's playing today's market.
A report earlier in the week that showed more job losses in the private sector than expected added to market uncertainty ahead of Friday's unemployment report, making the upside surprise even more significant.
In an absolute sense, it's still a bad report, but most of the details point to things moving in the right direction, says Mike Feroli, U.S. economist for JPMorgan Chase. "It confirms what the financial markets have been telling you, which is that we're pulling out of the spiral and seeing improvement."
Traders also were digesting an unexpected loss at
RBS
(RBS) - Get Royal Bank of Scotland Group Plc Report
and, on the other hand, the first quarterly profit since 2007 at AIG.
RBS
(RBS) - Get Royal Bank of Scotland Group Plc Report
, the biggest bank controlled by the U.K government, surprised the market with a
first-half loss
. Writedowns on bad debt increased, initially sending futures lower before the much-better-than-expected jobs report.
"There is every sign that our financial performance over the next two years, at a group level, will be poor due to the severe economic downturn in 2008 and 2009 and consequent impact on impairments and funding costs," CEO Stephen Hester said in a statement. Shares fell 12.4% to $16.02.
Meanwhile, insurer AIG swung to a second-quarter profit of $1.82 billion, or $2.30 a share, as many of its businesses stabilized in the period.
Commodities were mixed following the jobs report. Oil fell $1.01, to $70.93 a barrel. Gold fell $3.40 to $959.50 an ounce.
The dollar was stronger vs. the pound, euro and yen.
At the same time, longer-dated Treasuries were falling in price and rising in yield. The 10-year was down 26/32 to yield 3.85%, while the 30-year lost 1-07/32, yielding 4.61%.
Stocks abroad were mixed with Frankfurt's DAX and London's FTSE 100 up1.7% and 0.9%, respectively. In Asia, Hong Kong's Hang Seng edged down 2.5%, while Japan's Nikkei rose 0.2% during their session.
--
Written by Elizabeth Trotta in New York.