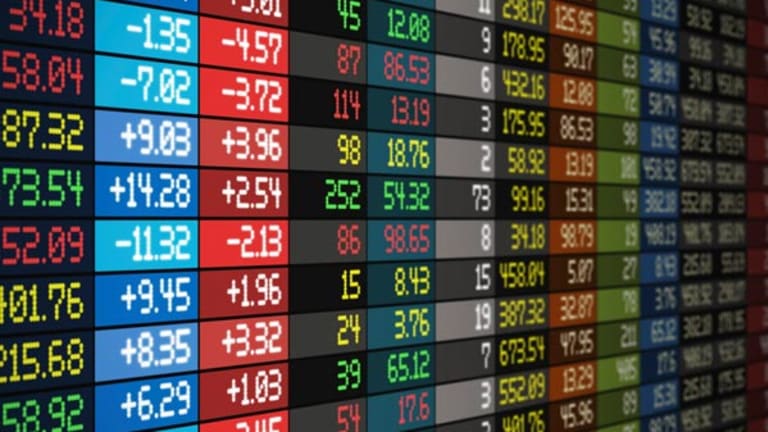 Market Keeping Head Above Water
Stocks are staying mainly in the green as investors digest earnings data. Dow stocks JPMorgan Chase, Coca-Cola and United Technologies all top estimates.
Stocks are staying mainly in the green as investors digest earnings data. Dow stocks JPMorgan Chase, Coca-Cola and United Technologies all top estimates.
Updated from 10:54 a.m. EDT
The major U.S. stock indices were off their highs but mainly staying in positive territory Thursday as traders waded through a pile of earnings statements and a mass of economic data.
The
Dow Jones Industrial Average
was adding 66 points at 11,304, and the
S&P 500
was tacking on 5 points at 1251. The
Nasdaq
was up 6 points at 2291.
On Wednesday, the blue-chip indices each climbed 2.5%, and the Nasdaq jumped 3.1% as crude oil prices plummeted and encouraging earnings from
Wells Fargo
(WFC) - Get Report
at least temporarily assuaged concerns about the financial sector.
With the arrival of the new session, corporate earnings were again playing a large role in the market's moves. Telecom firm
Nokia
(NOK) - Get Report
reported in-line second-quarter earnings and raised its forecast for 2008.
Also out were numbers from Dow stocks
JPMorgan Chase
(JPM) - Get Report
,
Coca-Cola
(KO) - Get Report
and
United Technologies
. All three topped estimates.
In the financial space,
PNC Bank
(PNC) - Get Report
likewise beat the Street's expectations, as did asset manager
BlackRock
(BLK) - Get Report
.
BB&T
(BBT) - Get Report
announced a second-quarter profit that was down 6.6% from a year ago but just edged ahead of analyst expectations, per Thomson Reuters.
Not all the news was so encouraging.
CIT Group
(CIT) - Get Report
swung to a second-quarter loss due in part to the sale of its manufactured-housing portfolio, and
Bank of New York Mellon
(BK) - Get Report
saw falling profits that left it shy of Wall Street's expectations.
The Wall Street Journal
also reported that securities regulators stormed the St. Louis offices of
Wachovia's
(WB) - Get Report
Wachovia Securities following an inquiry into its practices regarding auction-rate securities.
In technology, online auction house
eBay
(EBAY) - Get Report
suffered on lowered earnings guidance for the current quarter and downgrades from Merrill Lynch and Goldman Sachs. Lehman Brothers and Jefferies piled on, lowering their price targets for eBay.
Steel companies
Nucor
(NUE) - Get Report
and
Reliance Steel
(RS) - Get Report
also reported. Both companies beat analyst profit expectations. Reliance also announced an offering of 6.75 million common shares.
On the data front, building permits rose 11.6% in June to an annualized rate of 1.1 million, ahead of economists' predictions. June housing starts rose 9.1% to an annualized rate of 1.1 million units.
Both increases owed largely to a change in New York building codes. Without that change, new building projects would have declined 4%. Analysts were expecting a rate of 965,000 units.
Meanwhile, the Labor Department's reading on jobless claims for the week ended July 12 rose by 18,000, less than expected, to a seasonally adjusted number of 366,000.
The Philadelphia
Federal Reserve's
July regional manufacturing index came in at -16.4, up from -17.1 in May but below the consensus estimate of -15, indicating ongoing weakness in the region.
The market sold off early gains in part as a reaction to the morning's slew of economic data, said Phil Flynn, vice president and senior market analyst at Alaron Trading. Investors who had been deeply concerned about their stocks were surprised by yesterday's rally, he said, and were probably eager to sell on any good news.
Looking at commodities, crude oil was lately up 90 cents at $135.50 a barrel. Gold was gaining $11.60 to $974.30 an ounce.
Flynn pointed to technical support around the $130 level for crude, saying oil saw a slight technical rebound today after falling $10 over the past two days. He said that the market for oil is still fairly weak and that there may be more room on the downside. With a great deal of concern over the state of
Fannie Mae
and
Freddie Mac
investors may look outside oil for a trade, he said.
Treasury prices were edging downward. The 10-year note was falling 7/32 in price to yield 3.96%, and the 30-year was even, yielding 4.59%. The dollar was falling vs. the euro and pound, but gaining on the yen.
Overseas markets were broadly climbing. The FTSE in London, the DAX in Frankfurt, Japan's Nikkei and Hong Kong's Hang Seng were all trading in the green.