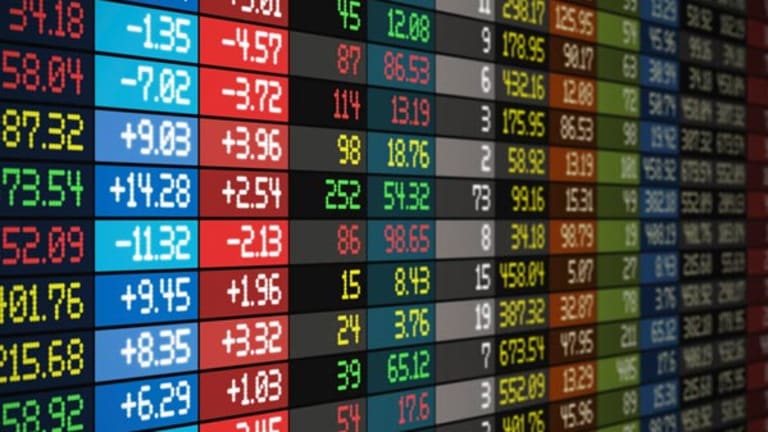 Small Cap Stocks Save the Day, Markets Rise in Final Hour
U.S. markets shake off poor consumer sentiment data in the final hour of trading as small caps and internet stocks take off.
NEW YORK (TheStreet) -- U.S. markets closed in positive territory on Friday, shaking off poor consumer sentiment data as small caps and internet stocks picked up in the final hour of trading.
The Dow Jones Industrial Average gained 0.27% to 16,491.31, while the S&P 500 increased 0.37% at 1,877.86. The Nasdaq popped 0.52% to 4,090.59.
The Dow and S&P for the trading week slid 0.55% and 0.03%, respectively, while the Nasdaq added 0.46%.
U.S. consumer sentiment fell in May amid concerns over income growth. The Thomson Reuters/University of Michigan's preliminary reading for May on the overall index on consumer sentiment was 81.8, down from 84.1 the month before. Economists expected the index to have improved.
U.S. housing starts increased to a seasonally adjusted annual rate of 1.072 million in April vs. the average economist's expectation of 980,000. Building permits rose to an annual rate of 1.08 million vs. the consensus target of 1.01 million. "Today's report on US housing starts should help to assuage FOMC concerns that housing activity was flattening out as opposed to gradually recovering after successive adverse shocks from higher mortgage rates last year," said Michael Gapen. Barclays Capital's chief U.S. economist.
European markets were lackluster after the prior day's sluggish eurozone growth report and as tensions continued to escalate in Ukraine ahead of presidential elections on May 25. The FTSE 100 gained 0.22% and the DAX was off 0.28%. The Hang Seng closed 0.08% lower while the Nikkei shed 1.41%. Indian equities rallied to record highs after Narendra Modi's Bharatiya Janata Party took power with the biggest Indian election win in 30 years.
Chinese banks had their largest quarterly jump in bad loans since 2005, with nonperforming loans rising by 54 billion yuan ($8.7 billion) in the three months through March to 646.1 billion yuan, the China Banking Regulatory Commission said late Thursday.
Chesapeake Energy (CHK) - Get Chesapeake Energy Corporation Report was off 4.7% after saying it would make large cuts to its work force by the end of the month.
Nordstrom (JWN) - Get Nordstrom, Inc. Report surged 14.7% after the department-store chain beat expectations with its quarterly results.
World Wrestling Entertainment (WWE) - Get World Wrestling Entertainment, Inc. Class A Report plummeted 43.5% after announcing its new online TV network will need 1.3 million subscribers to compensate for lost business.
Autodesk (ADSK) - Get Autodesk, Inc. Report rose 8.1% after first-quarter revenue beat expectations. The architectural software maker has forecast annual sales growth of up to 6% this year.
J.C. Penney (JCP) - Get J. C. Penney Company, Inc. Report jumped 16.3% after reporting Thursday a narrower-than-expected first-quarter loss of $1.16 a share. The retailer forecast a second-quarter same-store sales increase in the mid-single digits.
Friday morning brought a handful of mergers-and-acquisitions headlines with Darden Restaurants (DRI) - Get Darden Restaurants, Inc. Report was down 4.3% after announcing it agreed to sell its Red Lobster business to Golden Gate Capital for $2.1 billion in cash. Abbott Laboratories (ABT) - Get Abbott Laboratories Report closed off 0.46% after entering a deal to buy Latin American pharmaceutical company CFR Pharmaceuticals for about $2.9 billion. The company said the purchase will more than double its Latin American-branded generics pharmaceutical presence.

-- By Jane Searle, Andrea Tse and Joe Deaux in New York
>>Read More:
How to Profit From European Stimulus Expectations

How to Profit from Emerging Markets Consumers