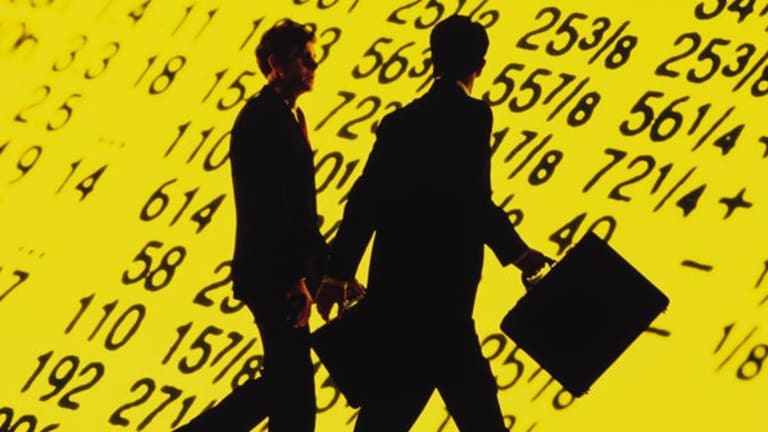 S&P 500 Scores Record Intraday High, Dow Gains
The S&P 500 reaches an intraday high on Monday as expectation of an EU aid package to the Ukraine boosts European markets, while domestic M&A activity continues.
NEW YORK (TheStreet) -- The S&P 500 hit a fresh record Monday as expectations of a European Union aid package to the Ukraine boosted European markets, while domestic M&A activity continued.
The Dow Jones Industrial Average rose 0.66% to 16,209.13 -- its highest close since Jan. 22 -- while the S&P 500 gained 0.62% to 1,847.71, after hitting an intraday all-time high of 1,858.71. The Nasdaq added 0.69% to 4,292.97.
"U.S. equities have now recovered all of the emerging market related declines, as has the MSCI World Index, but at 1840 or so, the S&P 500 is simply back to where it spent the three weeks prior to the dip," Dan Greenhaus, the New York-based chief strategist at BTIG, commented in a client note.
Key European markets reversed earlier losses, with the FTSE in the U.K. and DAX in Germany up 0.41% and 0.54%, respectively. Ukrainian equities were rallying after President Viktor Yanukovych was voted out by parliament following his signing of a deal with opposition leaders amid efforts to dissolve the country's tensions. Ukraine government bonds yields also dived on anticipation that the European Union will offer a financial assistance package to the troubled region.
Men's WearHouse (MW) jumped 7.5% and Jos. A. Bank Clothiers (JOSB)  soared 9.1% after Men's Wearhouse said it has increased its cash tender offer for all outstanding shares of Jos. A. Bank to $63.50 a share from $57.50 a share. Separately, RF Micro Devices (RFMD) surged 21% and TriQuint Semiconductor (TQNT) increased 26.1% after the two announced an all-stock merger agreement. 
The Markit Flash U.S. Services PMI slowed to 52.7 in February, down from a four-month high of 56.7 in January after poor weather caused accumulation of unfinished work at service providers.
Major Asian markets closed lower Monday after media reported banks in China were tightening lending to property developers while data showed a slowdown in January Chinese new-home price growth for the first time in more than a year. The Shanghai Composite closed down by 1.75%, Hong Kong's Hang Seng finished off 0.8%, and Japan's Nikkei 225 fell 0.19%.
Top gainers in the Dow and S&P were UnitedHealth Group (UNH) - Get Free Report and Humana (HUM) - Get Free Report, respectively, after reports said they may receive base Medicare Advantage rate cuts. UnitedHealth added 3%, while Humana popped 10.6%. Cintas (CTAS) - Get Free Report was the worst performer in the S&P, losing 3.5%.
Natural gas producer Chesapeake Energy (CHK) - Get Free Report rose 2.7% after announcing plans to either sell or spin off its oilfield-services unit. eBay (EBAY) - Get Free Report was 3.1% higher as activist investor Carl Icahn pushed for the divestment of its PayPal arm.
On the flipside, mobile carriers T-Mobile (TMUS) - Get Free Report tacked on 0.91% and Verizon (VZ) - Get Free Report slumped 1.6% amid an ongoing price war. United Technologies (UTX) - Get Free Report was up 0.95% after Reuters reported the company's Sikorsky Aircraft division plans to lay off 600 workers, citing challenging economic conditions.
On Thursday, Federal Reserve Chairwoman Janet Yellen will testify before the Senate Banking Committee. Much of the recent poor economic data has been attributed to unseasonably bad weather rather than any indication of a serious economic deterioration.

-- By Jane Searle, Andrea Tse and Joe Deaux in New York