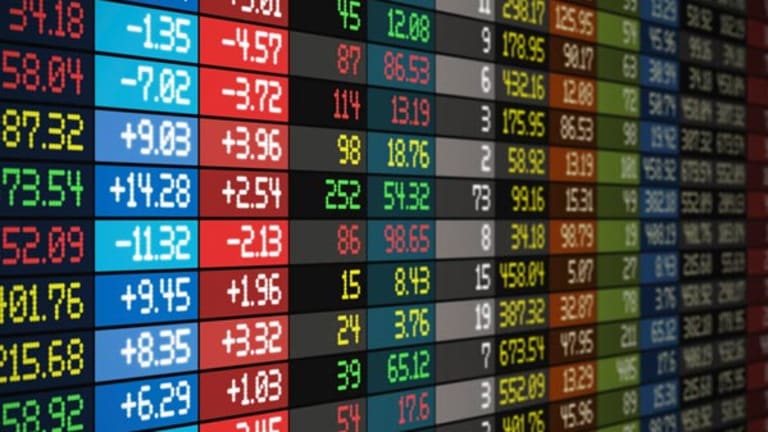 Stocks Climb as Surge in Apple Bolsters Sentiment
U.S. markets close higher Thursday as upbeat earnings from Apple and Caterpillar offset disappointments from stock bellwethers such as 3M.
NEW YORK (TheStreet) -- U.S. markets climbed in a volatile session Thursday, as upbeat earnings from Apple (AAPL) - Get Free Report and General Motors (GM) - Get Free Report offset disappointments from bellwethers such as 3M (MMM) - Get Free Report.
Market participants were closely monitoring developments in Eastern Europe as Russia launched border military exercises after Ukrainian forces killed pro-Russian militants outside the eastern city of Slovyansk.
The Dow Jones Industrial Average closed unchanged at 16,501.65, while the S&P 500 added 0.17% to 1,878.61. The Nasdaq gained 0.52% to 4,148.34.
The March headline number for durable goods orders rose more than expected, up 2.6% vs. the average estimate of 2%. Jobless claims for the week of April 19 increased by 24,000 to a more-than-expected 329,000 from upwardly revised prior week levels. The four-week moving average edged up by 4,750 to 316,750.
Apple shares soared 8.2% after the tech behemoth posted fiscal second-quarter earnings that beat Wall Street estimates, and announced a 7-for-1 stock split. Facebook was adding on 1.38% after the social media giant reported first-quarter earnings and revenue that topped expectations as advertising revenue grew more than expected.
Thursday is heavy with corporate earnings announcements, with Amazon (AMZN) - Get Free Report and Microsoft (MSFT) - Get Free Report reporting after the closing bell. Amazon earned 23 cents a share, in line with Wall Street expectations, on revenue of $19.74 billion. Microsoft earned 68 cents a share, beating expectations by 5 cents, on revenue of $20.4 billion. Both companies were gaining in after-hours trading.
General Motors lost 0.64% after producing first-quarter earnings per share that topped estimates by 2 cents at 6 cents. Caterpillar (CAT) - Get Free Report advanced 1.8% after posting quarterly earnings that exceeded expectations by 20 cents at $1.44 a share. Verizon (VZ) - Get Free Report declined 2.4% as quarterly revenue beat estimates; earnings per share were 3 cents below expectations at 84 cents. 3M fell 0.97% after the office-product supplier reported first-quarter earnings that were below analysts' estimates. General Electric (GE) - Get Free Report was up 0.15% following a Bloomberg report that the company is in talks to buy Alstom, the French builder of trains and power plants.
International markets were mixed on Thursday. The Hang Seng closed up 0.24% while the Nikkei slipped 0.97%. Germany's DAX gained 0.05% while the U.K. FTSE was added 0.42%.
-- By Jane Searle, Andrea Tse and Joe Deaux in New York