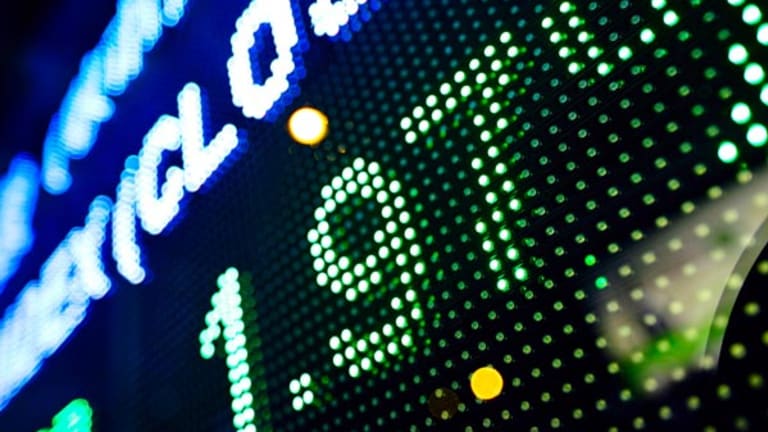 Market Hustle: Stock Futures Rise Amid Global Stimulus Hopes
U.S. stock futures are rising Monday amid broad international market gains as China and European Central Bank stimulus hopes persist.
NEW YORK (TheStreet) -- U.S. stock futures were leaning higher Monday amid broad international market gains as China and European Central Bank stimulus hopes persisted.
Dow Jones Industrial Average futures were up 64 points, or 63.94 points above fair value, at 16,304, S&P 500 futures were up 7.25 points, or 7.78 points above fair value, at 1,857.75, and Nasdaq futures were up 17.5 points, or 18.62 points above fair value, at 3,580.5.
The Chicago PMI report for March is scheduled to be released at 9:45 a.m. EDT. The Dallas Fed general business activity index is expected at 10:30 a.m.
Federal Reserve Chairwoman Janet Yellen will give a speech at a community reinvestment conference in Chicago at 9:55 a.m. Markets will be tuning in for further clarification on comments she made about two weeks ago that interest rates could begin rising as early as spring 2015.
China Premier Li Keqiang on Friday provided reassurances that the Chinese government has the required policies and steps laid out to provide the support needed for a cooling economy and would pursue infrastructure investment.
As the European Central Bank gets ready for its monthly policy meeting on Thursday, speculation points to an easing of policy amid pressures that arose after reports showing a drop in inflation in Spain and Germany on Friday.
International markets were broadly higher on Monday, with the Hong Kong Hang Seng settling up 0.39%, Japan's Nikkei 225 closing up 0.9%, the DAX in Germany gaining 1.44%, and the FTSE 100 in London rising 0.41%.
Stocks poised for action Monday include Cal-Maine Foods (CALM) - Get Report and Panera Bread (PNRA) . Cal-Maine Foods beat fiscal third-quarter earnings estimates by 36 cents at $1.77 a share amid improved volumes through the holiday season and higher average selling prices. Panera Bread was raised to "outperform" from "neutral" by analysts at Wedbush. 
Novartis (NVS) - Get Report was popping more than 3.5% in premarket trading after the company announced that the trial of a chronic heart failure treatment is closing early based on the strength of interim results.
-- Written by Andrea Tse in New York