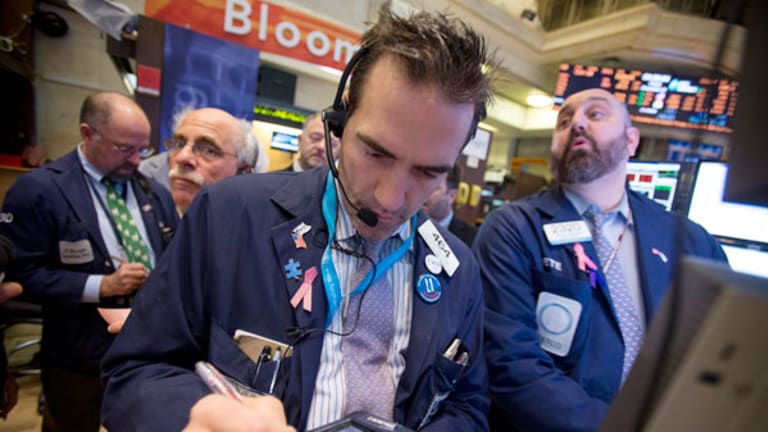 Market Hustle: Stocks Heat Up as Durable Goods Orders Rebound
Stock futures are pointing to a higher open on Wall Street Wednesday after a stronger-than-expected rebound in durable goods orders.
NEW YORK (TheStreet) -- Stock futures were pointing to a higher open on Wall Street Wednesday after a stronger-than-expected rebound in durable goods orders bolstered the outlook for the manufacturing sector and U.S. growth.
Futures were extending earlier gains that were driven by talk of stimulus out of Europe and China.
Dow Jones Industrial Average futures were adding on 58 points, or 69.12 points above fair value, at 16,356, S&P 500 futures were ahead by 6 points, or 7.53 points above fair value, to 1,865.25, Nasdaq futures were rising 15.7 points, or 19.37 points above fair value, to 3,639.5.
U.S. durable goods orders increased by a more-than-expected 2.2% in February. Economists were expecting a 1% rebound.
The March Markit PMI Services Flash data will be released at 9:45 a.m. EDT.
European Central Bank governing council member and Bundesbank head, Jens Weidmann, said Wednesday that negative interest rates are being considered to help cool down the euro and that quantitative easing proposals were also being discussed amid the fight against deflationary pressures.
China stimulus talk was heating up after the approval of five railway projects by China's main economic planning agency.
President Barack Obama's speech on Wednesday was focusing on the significance of Europe's role in global democracy and the potential global consequences of Russia's usage of military force in Ukraine as the president tries to convince European allies to back sanctions against Russia.
International markets were broadly higher, with the FTSE 100 gaining 0.54%, the DAX in Germany up more than 1%, the Hong Kong Hang Seng settling up 0.72%, and the Nikkei 225 in Japan closing up 0.37%.
Stock markets closed higher Tuesday amid the release of housing data which underscored the ongoing economic recovery despite being slightly below expectations.
Toyota (TM) - Get Report was advancing 2.57% in premarket trading as it gets ready to repurchase up to 1.89% of its shares, worth as much as $3.5 billion.
King Digital (KING) begins trading on the New York Stock Exchange Wednesday after pricing its IPO of 22.2 million shares at $22.50 a share. It raised close to $500 million.
Blackstone Group (BX) - Get Report was poised for action after Reuters reported that the firm is close to a deal to buy industrial conglomerate Gates Global for more than $5.5 billion.
-- By Andrea Tse in New York