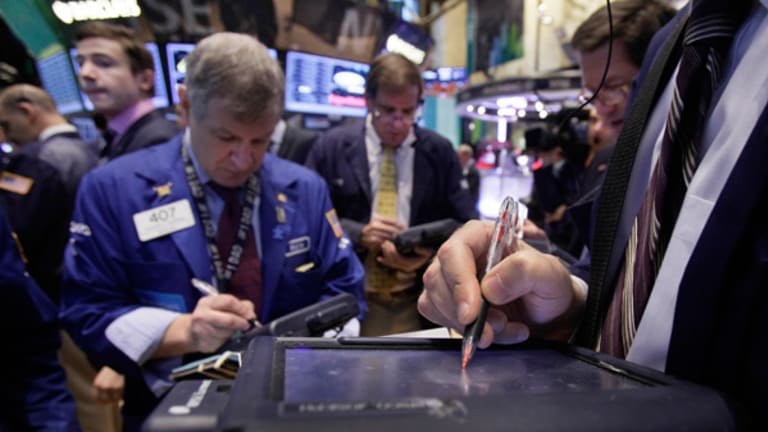 Market Hustle: Stock Futures Point Lower as Housing Disappoints
Stock futures point lower Wednesday after a poor result for housing starts in January, while key offshore markets fall.
NEW YORK (TheStreet) -- Stock futures pointed lower Wednesday after a poor result for housing starts in January, while key offshore markets fell.
Futures for the S&P 500 were falling 4.41 below fair value to 1833.25 while futures for the Dow Jones Industrial Average were 28.40 lower at 16,072.0. Futures for the Nasdaq were 7.53 lower at 3670.8.
Construction of new U.S. homes dived 16% in January to an annual rate of 880,000, the biggest fall since February 2011, according to government data on Wednesday. Expectations were for 950,000 housing starts, with poor weather blamed for sluggish construction.
The producer price index rose 0.2% in January under the government's new formula for wholesale inflation. Over the past year, wholesale prices have risen 1.2%, the highest level in three months. The Labor Department has overhauled the producer price index for the first time since 1978 to reflect the larger portion of the economy represented by retail, finance, education and health services.
Minutes of the Federal Reserve's Jan. 29 meeting will be scrutinized at 2 p.m. for any hints on the direction of future monetary policy and the pace of stimulus wind-back.
M&A deals continue this week with the largest jewelry chain in the U.S., Signet Jewelers (SIG) - Get Report agreeing to buy Zale (ZLC) for about $1.4 billion. Signet offered $21 per Zale share in cash, about 41% above Zale's closing price on Tuesday.
Stocks expected to see price action Wednesday include Safeway (SWY) , Tesla Motors (TSLA) - Get Report and Carlyle Group (CG) - Get Report, all of which are slated to post fourth-quarter earnings, along with MGM Resorts International (MGM) - Get Report and Garman (GRMN) - Get Report. Shares in Potbelly (PBPB) - Get Report fell in after-hours trading Tuesday after it posted a fourth-quarter loss of $3.68 million while shares of Herbalife (HLF) - Get Report were higher after it beat earnings per share estimates.
Markets closed mixed on Tuesday amid poor manufacturing data and homebuilding sentiment while M&A continued apace with a $25 billion deal in the biotech sector.
Germany's DAX was falling 0.51% while the U.K. FTSE was also 0.42% lower after worse-than-expected unemployment figures means the Bank of England faces less pressure to raise interest rates. In Japan the Nikkei finished down 0.52% while the Hang Seng was 0.34% higher. Chinese consumer confidence hit a record 11 as it rose in the final quarter of last year, according to a survey by Nielsen. Emerging market currencies were weaker amid anti-government protests in Thailand and the Ukraine.
-- Written by Jane Searle in New York