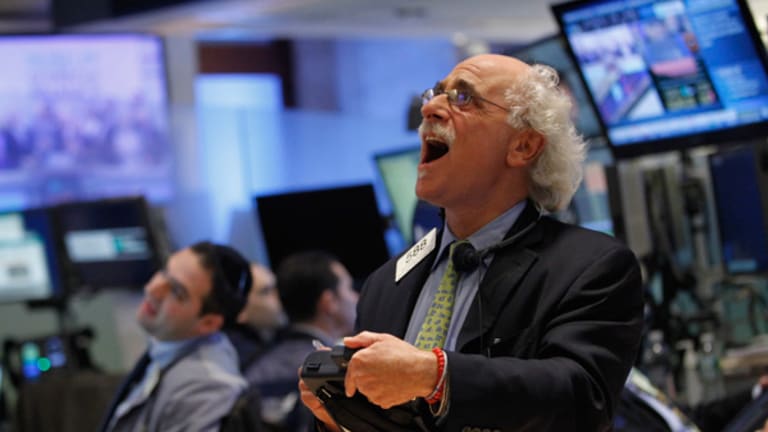 Market Hustle: Stock Futures Higher After Strong Citigroup Earnings, Better Retail Sales
Stock futures are rising after stronger-than-expected results from Citigroup.
NEW YORK (TheStreet) -- Stock futures were rising Monday after stronger-than-expected results from Citigroup (C) - Get Citigroup Inc. Report, while retail sales beat expectations. Citigroup shares were up more than 3% in premarket trading after it topped net income expectations for the first quarter.
Futures for the Dow Jones Industrial Average were rising 69.00 to 16,050 while futures for the S&P 500 were 9.75 higher to 1821.5. Futures for the Nasdaq were 19.80 higher to 3,463.8.
Citigroup reported net income for the first quarter of $3.9 billion, or $1.23 a share, on revenue of $20.1 billion. Adjusted earnings were $1.30 a share. Analysts were expecting $1.14 a share.
U.S. retail sales increased 1.1% in March to a seasonally adjusted $433.9 billion, the Commerce Department said Monday. This was the largest gain since September 2012 while sales rose by an upwardly revised 0.7% in February, compared with previous estimate of a 0.3% gain. 
Pro-Russian activists have moved further across eastern Ukraine, causing the government to mobilize the military. On Sunday, Russia spoke against the "use of harsh violence against protesters" by Kiev and called a session of the United Nations Security Council, where the U.S. and Russia accused each other of meddling in Ukraine's affairs. The Ukrainian government gave pro-Russian activists a Monday morning deadline -- which has passed -- to disarm or face military action.
On the economic calendar, retail sales are due at 8.30 a.m. EDT with a rise of 0.9% expected in March against a 0.3% gain in February. Better auto sales are forecast to boost the March result.
In international markets, the Hang Seng closed 0.15% higher while the Nikkei shed 0.36%. Germany's DAX was falling 0.54% while the U.K. FTSE was 0.32% lower.
Other stocks expected to see price action include Herbalife (HLF) - Get Herbalife Nutrition Ltd. Report following reports that the company is under investigation by the Federal Bureau of Investigation and the Department of Justice. The company is accused of being a pyramid scheme by hedge fund manager Bill Ackman. M&T Bank (MTB) - Get M&T Bank Corporation (MTB) Report is expected to post first-quarter earnings of $1.61 a share.
Lackluster results from JPMorgan (JPM) - Get JPMorgan Chase & Co. (JPM) Report on Friday and ongoing selling in technology shares contributed to a 1% fall in the S&P 500.
-- By Jane Searle in New York