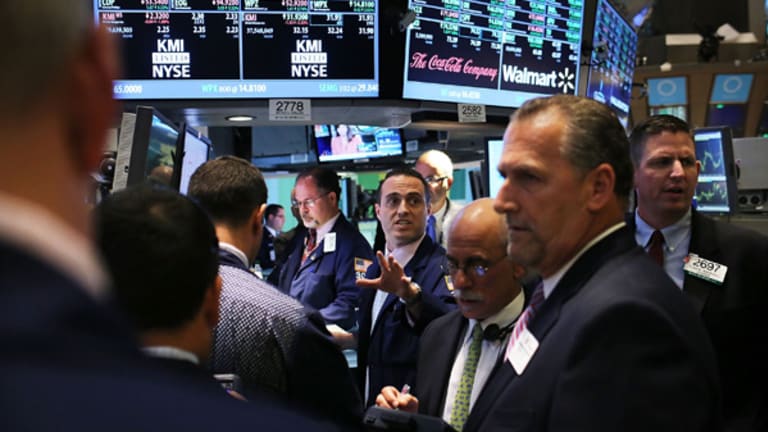 Market Drifts to Higher Close
The major market indices turn positive late after a mixed day of trading.
Updated from 4:08 p.m. EST
Economic optimism triumphed over the urge to take profits on Monday, as all three major market indices extended their seven-week winning streak for another day.
Spurred by rallies in technology and strong housing data, the
Dow Jones Industrial Average
rose 44.56 points, or 0.5%, to 8849.40, while the
Nasdaq
rose 13.22 points, or 0.9%, to 1481.96. The
S&P 500
added 2.34 points to 932.89.
"After seven weeks to the plus side, some folks believe we should take profits here and need a new catalyst for upside moves, or even the upside moves we've made," said Art Hogan, chief market strategist, Jefferies & Co. "And they're going head-to-head with those folks who believe the economy is getting better and this is beginning of long-term rally. They're pretty even at the moment."
In economic news, existing-home sales rose 6.1% last month to their highest level in seven months, beating economists' estimates, as the lowest mortgage rates in 40 years added fuel to the sector's fire.
Traders also await Wednesday's release of preliminary third-quarter gross domestic product data, November consumer confidence data and new-home sales for October, as well as the Thanksgiving holiday. "This is a slow week, compressed by the holiday, but we'll get lots of economic data tomorrow, which could exaggerate moves a bit," said Hogan.
On the corporate front,
Cisco
(CSCO) - Get Cisco Systems, Inc. Report
was praised over the weekend in
Barron's
for its ability to preserve cash on a debt-free balance sheet and gain market share throughout the technology downturn. But the shares also were cut to hold on Monday by UBS, which cited a rich valuation after a run-up from $8.12 in August. The reports cancelled each other out, and Cisco ended unchanged at $14.89 on 85 million shares traded.
Semiconductor shares rallied, shaking off a pair of downgrades, with the Philly Chipmakers ending up 3.2%. Some of the strength was coming from
Advanced Micro Devices
(AMD) - Get Advanced Micro Devices, Inc. Report
, which gained 16.6% to $8 after being upgraded to market outperform at JMP Securities. Also, on Friday, AMD's chairman bought 300,000 shares of the company, giving the stock a boost.
But the real driver of interest came from
National Semiconductor
(NSM)
, which reiterated its second-quarter outlook, while telling Wall Street the industry would recover by June. Chairman Brian Halla, in China for the ground-breaking ceremony of a new factory, said that investor confidence is coming back and so is demand for consumer electronics. "I forecast that the turn will happen before the end of June, that the industry will be in recovery," Halla said. Shares rose 4.4% to $19.65 on the news.
Separately,
Intel
(INTC) - Get Intel Corporation Report
was cut to market perform from outperform by Bernstein, which cited the company's rich valuation following a run-up since October of more than 50%. In other Intel news, the company will be hiking flash memory chip prices by 20% to 40%, according to reports. Such a move would be good for not only Intel, but the rest of the semiconductor industry, which has had trouble with pricing power while controlling inventory excess. Intel shook off the downgrade and gained 2.1% to $20.48.
Elsewhere in the semiconductor space,
Dupont Photomask
(DPMI)
, which makes the templates that semiconductor manufacturers use to make chips, was downgraded to hold from buy by Needham, which set a new price target of $26. The brokerage told investors that shares were fully valued. Dupont Photomask fell 0.6% to $27.99.
Networkers were one of the highest sectors of the day, with battered shares posting major percentage point increases. The
American Stock Exchange Networking Index
gained 5.6%, with
Lucent
(LU)
up 23.2% to $1.86 and
Nortel
(NT)
up 14.2% to $1.85.
JDS Uniphase
(JDSU)
gained 6.6% to $3.31, while
Ciena
(CIEN) - Get Ciena Corporation Report
gained 7.2% to $5.98.
Separately, the government's investigation of
Computer Associates
reportedly has widened to include interviews with former employees who claim the company employed selective revenue recognition policies to enhance quarterly results.
The Wall Street Journal
reported the employees also have told investigators the company sometimes bundled free software in with contract renewals in order to improperly enhance the amount of revenue that could be booked in the deals. The company denied doing anything improper, but the stock shook off weakness and gained 1.1% to $14.98.
Meanwhile, the health care sector was slumping, with the
Morgan Stanley/American Stock Exchange HMO Index
off 8%. A downgrade of HMO stocks by SG Cowen was the major culprit, with the brokerage cutting its rating on the industry to market perform from strong by after its survey indicated that 2003 will be more challenging than previously thought.
Cowen cut
WellPoint Health Networks
(WLP)
,
Humana
(HUM) - Get Humana Inc. Report
,
HealthNet
(HNT)
and
UnitedHeath Group
(UNH) - Get UnitedHealth Group Incorporated Report
to market perform from strong buy.
Aetna
(AET)
and
Cigna
(CI) - Get Cigna Corporation Report
were cut to underperform from market perform.
Publishers had a pretty rough day, with many of the biggest names posting big losses.
New York Times
(NYT) - Get New York Times Company Class A Report
dropped 2.3%, and
Gannett
(GCI) - Get Gannett Co., Inc. Report
fell 2.7%.
Meanwhile,
New York Times
said federal investigators are looking at possible involvement by
Cendant
(CD)
in round-trip trades with
Homestore.com
(HOMS)
. The company denies the allegations. And the
SEC
wants to know if
Tyco
(TYC)
withheld relevant information in a probe of its accounting that occurred in 1999 and 2000. People familiar with the situation told
The Wall Street Journal
that the agency might have pursued the probe further had the information been provided.
Cendant was down 3.5% to $12.25. Homestore was off 8.8% to $1.35, and Tyco was down 1.2% to $16.70.
Trendy clothier
BeBe
(BEBE)
was downgraded to sell from neutral at Fulcrum. The brokerage believes the company's earnings estimates are still too aggressive, that inventory issues continue and that shares are fully valued. Fulcrum set a price target of $12, and shares fell 0.8% to $14.45.
Six Flags
(PKS)
was upgraded to peer perform from underperform by Bear Stearns on Monday, with the brokerage telling investors that there is little downside risk in the stock now that the 2002 season is finally over. Shares gained 3.7% to $6.24 on the upgrade.
Big gains in
Ford
(F) - Get Ford Motor Company Report
and
General Motors
(GM) - Get General Motors Company Report
helped push the automakers higher after a new report from Deutsche Bank said that the sector outlook has become overly pessimistic, with the economy likely to recover and supplier stocks trading at extremely low multiples. "We are becoming more bullish on the outlook for the auto sector," wrote Rod Lache analyst at Deutsche, which performs banking services for the auto industry. Ford gained 6.6% to $10.88, while GM gained 3% to $38.69.
The
Xerox
(XRX) - Get Xerox Holdings Corporation Report
comeback got more fuel Monday, as company officials said that the company was comfortable with reduced analyst expectations for the fourth quarter, while saying that by 2005, the company could have revenue growth of 5% on gross margins above 40%. Shares added 3.7% to $8.50.
Overseas markets were mixed, with London's FTSE 100 down 1.3% at 4122 and Germany's Xetra DAX down 1% at 3289. In Asia, Japan's Nikkei gained 2% to 8944, while Hong Kong's Hang Seng added 0.4% to 10,101.
Treasuries were mixed, with the 10-year note off 2/32 raising the yield to 4.19%.