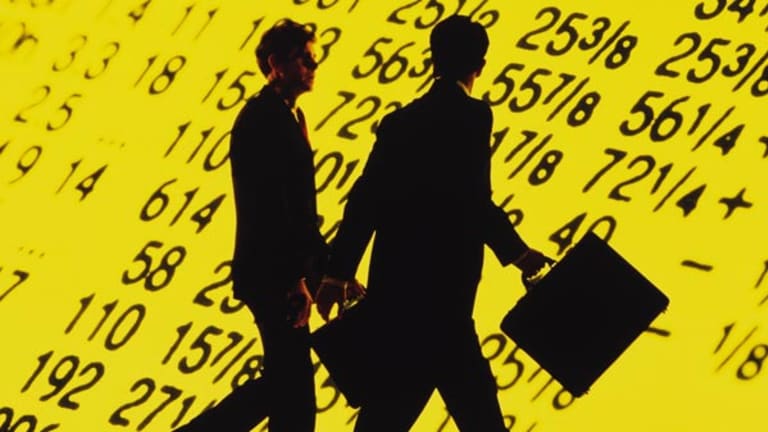 Publish date:
Market Closes Off Its Lows
Greater than expected job losses in the private sector weigh on stocks despite an improving trend, but the indices closed off their lows for the day.
Greater than expected job losses in the private sector weigh on stocks despite an improving trend, but the indices closed off their lows for the day.
(Updated with closing prices)
NEW YORK (
) -- Weak economic data dragged on indices most of the day as traders eyed a profit-taking opportunity, but stocks were off their worst levels of the session at the close.
The
Dow Jones Industrial Average
fell 39.22 points, or 0.4%, to 9280.97, while the
S&P 500
was off 2.93 points, or 0.3%, at 1002.72. The
Nasdaq Composite
edged down 18.26 points, or 0.9%, to 1993.05.
Procter & Gamble
(PG) - Get Report
was the worst performer on the Dow, losing 2.8% to $53.81, after its
.
"The market is definitely priced for good news," says Burt White, chief investment officer at LPL Financial. "We had really great news with the GDP report and the ISM
manufacturing report, and so those got the market into a euphoric frenzy and now we're looking for some profit taking here -- and we're probably going to get it today."
Stocks were broadly down throughout the day after disappointing data on private sector employment and the services sector, but one area that didn't succumb to selling was
financials.
Bank of America
(BAC) - Get Report
and
JPMorgan Chase
(JPM) - Get Report
gained 6.5% and 3.9%, respectively, on the Dow, and the KBW Bank Index tacking on 3.5%.
Citigroup
(C) - Get Report
, up 10.2%, added to the enthusiasm after reports the bank would unload 20 consumer finance businesses.
A report from the Mortgage Bankers Association also didn't hurt, says Peter Cardillo, chief market economist at Avalon Partners. MBAA said the market composite index, a measure of mortgage loan application volume, increased 4.4% last week from the week prior, and were up 18% year over year.
Investors were anxiously awaiting the most-anticipated data of the week, unemployment figures, which are due out on Friday. But in the meantime, some found an opportunity to take advantage of recent gains.
Stock futures turned slightly lower before Wednesday's open after ADP said 371,000 jobs were lost in the private sector in July. That's more than the 350,000 expected but less than the 473,000 lost the month before.
The market is looking for an end to job losses at the end of the year, says LPL's White, "so as long as we're on pace for that, the market I think the market is going to take it in stride." The recent number indicates we're "moving in the right direction," but it was more than the consensus wanted, and also more than the whisper, which was for less than 300,000 jobs lost, he added.
Click below to hear White breakdown those data, discuss the upcoming unemployment report and what areas he likes.
"July's employment decline was the smallest since October of 2008 and continues the notable improvement between the first and second quarters of 2009," according to ADP's report. "Nevertheless, despite recent indications that overall economic activity is stabilizing, employment, which usually trails overall economic activity, is likely to decline for at least several more months, albeit at a diminishing rate."
Global outplacement consultancy Challenger, Gray & Christmas said, however, that planned layoffs at U.S. firms increased in July to 97,373, up 31% from June, marking the first increase in six months. That wasn't warmly received by the market.
Stock selling accelerated after data on the service sector were released at 10 a.m. EDT. The Institute for Supply Management said its services index fell 0.6 to 46.4 in July, falling short of expectations for an increase to 48.
Factory orders, on the other hand, increased unexpectedly by 0.4%, down from a 1.1% increase the month prior but better than an expected drop of 0.8%.
Other data showed crude oil inventories rose more than expected last week, but crude oil futures gained 15 cents, to $71.57 nonetheless.
Show Me the Jobs
Meanwhile, earnings continued as the world's biggest consumer products company Procter & Gamble reported fiscal fourth-quarter profit fell 18%, which was just better than expected. Revenue, however, came in light after an 11% decline in sales.
Cisco
(CSCO) - Get Report
reported
after the close, taking a profit hit in its fourth-quarter results but meeting analysts' estimates. Shares fell 1.2% in regular trading but were recently up 2% in post-market trading.
Biotechnology company
Cephalon
(CEPH)
posted higher
, but lowered its 2009 earnings guidance. Video game maker
Electronic Arts
(ERTS)
reported a
for its fiscal first quarter, but continued to struggle with declining revenue in post-close earnings Tuesday.
Cephalon lost 2.8%, while Electronic Arts dropped 6.8% Wednesday.
Stocks abroad were mostly lower. In Europe, Frankfurt's DAX and London's FTSE 100 fell 1.2% and 0.5%, respectively. In Asia, Hong Kong's Hang Seng edged down 1.5%, while Japan's Nikkei fell 1.2%.
Longer-dated Treasuries were falling in price, rising in yield. The 10-year was down 19/32 to yield 3.76%, while the 30-year lost 1-16/32, yielding 4.56%.
--
Written by Elizabeth Trotta in New York
.