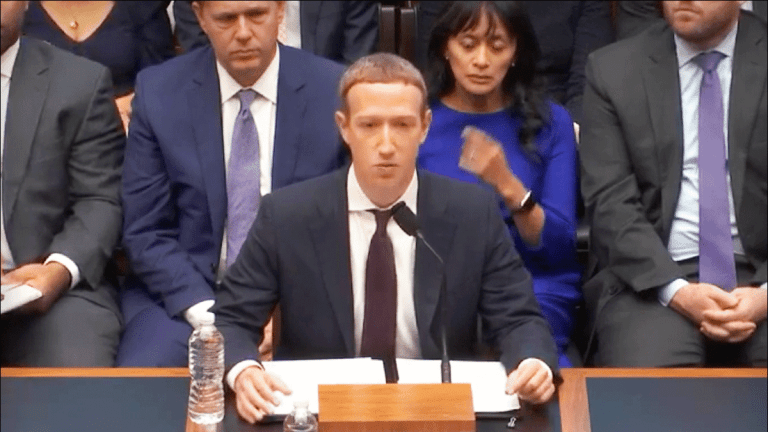 Zuckerberg Grilled on Libra in Several Hours of Testimony Before Congress
The social network's co-founder and CEO said Facebook wouldn't be part of launching the Libra cryptocurrency if it didn't get the necessary regulatory approvals.
Facebook (FB) - Get Meta Platforms Inc. Class A Report  CEO Mark Zuckerberg gave some long-awaited testimony about the company's planned Libra cryptocurrency before the House Financial Services Committee on Wednesday morning. The testimony kicked off at 10 a.m. ET and ran for more than six hours. Facebook released a copy of Zuckerberg's prepared remarks on Tuesday afternoon.
Facebook shares rose 2.0% to $186.00 on Wednesday afternoon and are up more than 40% year to date.
At the hearing, lawmakers grilled the Facebook founder on a wide range of matters, including what the company will do to prevent criminal behavior by Libra users, potential risks to the global financial position and Facebook's positions on misleading political advertising, discriminatory advertising and anti-vaccination content. This was the first time Zuckerberg has personally appeared before Congress since testifying on the Cambridge Analytica scandal in April 2018. 
In his prepared remarks, Zuckerberg pledged that Facebook wouldn't be a "part of" launching Libra unless U.S. regulators approve of the project. Multiple lawmakers pressed Zuckerberg on what exactly that means, however.
"I can't speak for the Libra Association, but you have that commitment from Facebook," he said in response to a question about whether the currency would launch if it hadn't first gotten regulatory approval in all the countries it intended to operate in. 
The Libra Association is a consortium of corporations and nonprofits tasked with governing the currency. The now 21-member group saw a recent exodus of several members, including Mastercard (MA) - Get Mastercard Incorporated Class A Report , Visa (V) - Get Visa Inc. Class A Report , and PayPal (PYPL) - Get PayPal Holdings, Inc. Report , after lawmakers sent memos informing them they could be held liable for any problems with the currency. 
Later in his testimony, Zuckerberg said that the Libra Association could still move forward with launching the currency even if Facebook backed out due to the lack of regulatory approvals, but that he believed that Facebook would have to exit the governing body. 
"Then I believe we would be forced to leave the Association," Zuckerberg said. "I would hope that the Association will weigh our recommendations and what we say publicly...if at the end of the day, we don't receive the clearance we feel we need to move forward, then I believe Facebook will not be a part of the Association."
In addition to creating the Libra Association, Facebook also established a subsidiary, called Calibra, that is responsible for creating and managing the digital wallet for Libra, among other products. 
Calibra is supervised by David Marcus, a Facebook executive and former president at PayPal. Marcus also sits on the five-person board of the Libra Association. 
Lawmakers also questioned Zuckerberg on how it would reconcile its stated mission of preserving privacy with meeting compliance standards, such as anti-money laundering rules, that financial services companies are subject to. 
In response to a question about whether Libra's code base will allow completely anonymous transactions, Zuckerberg appeared to shift the onus onto regulators, saying it's an "open question," whether anonymous transactions will be allowed, but that "it certainly would be possible to build a system that would allow that...there are policy questions that need to be placed on that."  
Save 57% during our Halloween Sale. Don't let this market haunt you; join Jim Cramer's Investment Club, Action Alerts PLUS. Click here to sign up!
Facebook and Mastercard are holdings in Jim Cramer'sAction Alerts PLUS Charitable Trust Portfolio. Want to be alerted before Cramer buys or sells FB? Learn more now.