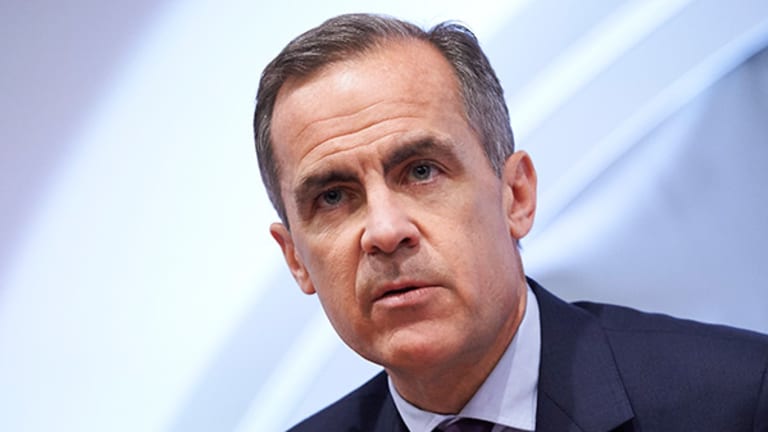 Mark Carney Leaves Markets Guessing Over Bank of England Future
Speculation over the future of the Bank of England Governor, and his potential successors, may kept markets on edge this week.
Bank of England Governor Mark Carney's stint at Threadneedle Street will undoubtedly be defined by Britain's Brexit drama and the financial market chaos that followed.
In the end, however, it may cost him his job.
Carney's original agreement with then-finance minister George Osborne called for a five-year tenure that would end in 2018, with an option to carry on until 2021. The Canadian-born Governor may announce his intentions later this week, when the Bank publishes its regular interest rate decision and quarterly Inflation Report Thursday in London. However, with the meeting falling so close to the U.S. Presidential elections, he could instead opt to wait until early next year.
Speculation over his future comes a delicate time for British politics, as well, given that Prime Minister Theresa May plans to begin the country's exit from the European Union in March of next year with the aim of complete separation by 2019.
The Financial Times reported late Sunday that Carney will likely stay on until 2021, with its sources noting that mid-2018 "could be the darkest days for the U.K."
Some might argue those days are already here.
The pound is hovering at 31-year low against the US dollar, having fallen 19% since the June 23 Brexit vote, and U.K. government bond yields have risen nearly 40 basis points in the past month alone amid concerns about accelerating inflation and tepid growth.
Carney's opponents, who have been critical of his tenure since before the Brexit vote, ratcheted up the pressure over the weekend, with former finance ministers and current lawmakers calling for his resignation amid allegations that he's been too pessimistic about the country's economic fortunes and that he has 'politicized' the office of Bank of England Governor.
One of the most strident voices has been that of Conservative lawmaker Jacob Rees-Mogg, a member of the government's powerful Treasury Select Committee who has also been touted in some media reports as a potential successor.
Rees-Mogg has gone head-to-head with Carney over his monetary policy decisions and his approach since the Brexit vote, accusing the Governor earlier this month of wanting to "talk down the economy and find doom and gloom", adding that Carney "never seems to want to recognize the result of the referendum and get on with it. It looks like he is a sore loser."
Although Rees-Mogg has extensive experience in finance and economics, his appointment would no doubt be a very political move by the Prime Minister for a central bank that has only been independent since 1997.
That said, options within the Bank itself are limited as well. The current Deputy Governor, Minouche Shafik, resigned in September just two years into her five-year term and will leave the Bank in February.
Losing two of the Bank's top names in such a short span could be a bad sign for investors, who have been left jittery over Brexit and implied threats to its remit from the Prime Minister herself.
However, Carney has also received much support for the way he has handled his brief in the aftermath of the June vote, with former BoE policymaker Danny Blanchflower referring to him as "only adult in the room" amid the political chaos that followed.
The Prime Minister, through her official spokesperson, said Monday that she would support Carney if he decided to remain for a full eight-year term while Carney himself told lawmakers last week that any decision to leave would be "entirely personal."
"Like everyone, I have personal circumstances which I have to manage," he told a House of Lords committee. "This is a role that requires total attention, devotion and I intend to give it for as long as I can. No-one should read anything into that decision about government policy."