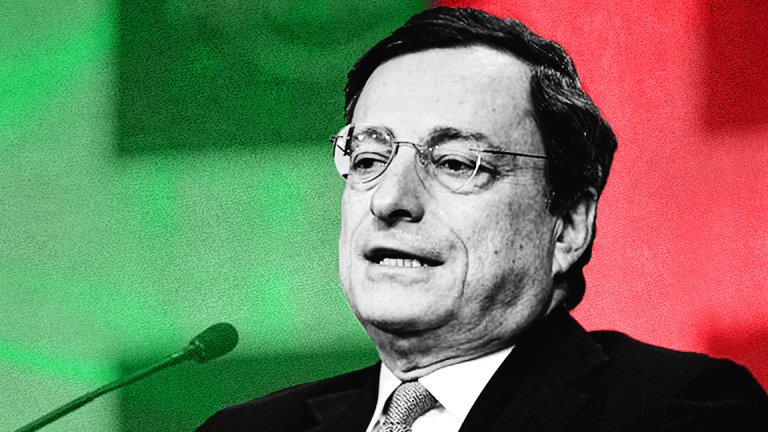 ECB's Mario Draghi Delivers a Masterclass in Monetary Policy
By simultaneously taming the hawks and satisfying the doves, all the while lowering government bond rates and clipping gains for the euro, ECB President Mario Draghi proves once agian that he's the world's most talented central banker.
Mario the Magician ... the Magnificent ... or just the GOAT? 
European Central Bank President Mario Draghi delivered a masterclass in monetary policy Thursday in the Latvian capital of Riga, simultaneously satisfying both hawks and doves on his rate-setting Governing Council while still managing to drive the euro lower to ensure his mandate to deliver faster inflation will be met this year.
Draghi said the Bank's controversial quantitative easing program, which has hovered up more than $3 trillion in government, corporate and agency bonds over the past three years and taken the Bank's balance sheet close to €5 trillion, will be wound down from October and shut down completely by the end of the year. However, the ECB President said the Bank won't raise rates until at least the end of next summer, and possibly later than that, if he and his colleagues aren't convinced that inflation has reached a sustained path towards its "just below 2%" target.
The euro tumbled 1.65% from its session high, the biggest single-day decline in nearly two years, to trade at 1.1632 following Draghi's question-and-answer session with the media, during which he both stressed the importance of incoming data to the Bank's outlook on rates and revealed a modest downgrade to its projections for near-term growth in the Eurozone economy. Benchmark 10-year German bund yields, meanwhile, fell 6 basis point to 0.44%
The currency moves, set against what should be a bullish outlook for the U.S. dollar following the Federal Reserve's hawkish rate hike yesterday, are exceedingly important for Draghi and the ECB, in that it will assist the acceleration of Eurozone inflation over the coming months as the cost of imported energy, particularly Brent crude, continues to rise.
That likely supports, at least in part, the ECB's bullish view on Eurozone consumer prices, which it said today will likely average 1.7% for the next three years: close enough to be considered "just below" 2%, but far enough away to allow Draghi the wiggle room he may need if exogenous shocks, such as a protracted trade war that blunts global growth.
More importantly, however, is his move to mark the end of quantitative easing, the bond buying program he ushered in three years ago when the region was staring down the barrel of deflation as debt-laden economies deleveraged in the wake of the region's debt crisis.
By committing to close out a program that is exceedingly unpopular among some members of his colleagues, and in particular his favored successor, Bundesbank President Jens Weidmann, Draghi was able to neturalize near-term pressure from hawks on the rate-setting Governing Council and buy some support for anything he man need to do next year if inflation doesn't materialize.
And, as many have suggested, he gets to acquire that support with very little cost: QE purchases were starting to deliver diminishing returns anyway, a fact common to all bond purchase programs that has been established by a study from the St. Louis Fed, and were causing more harm than good in some countries, such as Italy, in that artificially low yields were disguising fiscal and political risks in the region's third-largest economy.
Draghi's term as ECB President expires in the fall of next year, which essentially leaves only two meetings -- in September and October -- during which he can be expected to announce the first rate hike of his eight -year tenure, based on what was stated today.
If he follows-though, he can leave Frankfurt with the legacy of having rescued the euro from its existential crisis -- famously cemented by his "whatever it takes" declaration in London in 2012 -- and steered the bank into and out of a QE policy many thought was both politically and technically impossible. 
If he doesn't, the policy language expertise he displayed today (at one point convincing journalists that their definition of "summer" might not be the same as his) will still allow him to leave the ECB's swanky new headquarters secure in the knowledge that teed-up his colleagues to move in whatever direction they need to after he's gone.
And when that happens, it might be time to admit that Draghi is the most talented central banker the world has even seen.