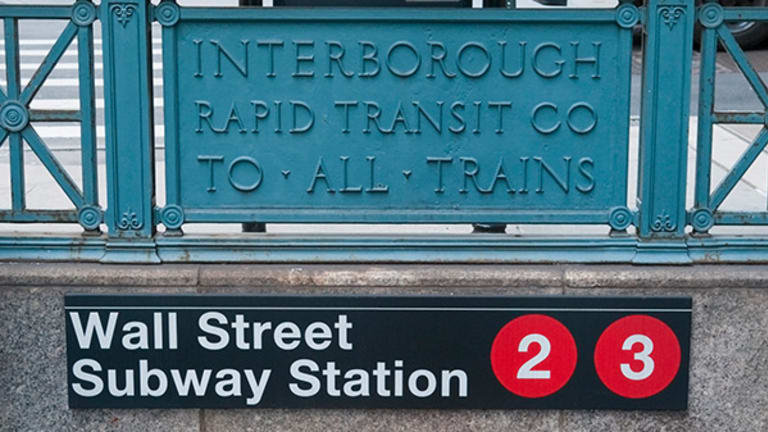 Publish date:
March 8 Premarket Briefing: 10 Things You Should Know
U.S. stock futures are declining Tuesday following weak trade data from China and as oil prices pull back.
U.S. stock futures are declining Tuesday following weak trade data from China and as oil prices pull back.
Here are 10 things you should know for Tuesday, March 8:
1. -- U.S. stock futures were declining Tuesday following weak trade data from China and as oil prices pulled back.
European stocks fell as commodity shares declined. Asian shares ended Tuesday's session mostly to the downside. Japan's Nikkei 225 dropped 0.8% and Hong Kong's Hang Seng index shed 0.7%. The Shanghai Composite, however, inched up 0.1%.
Oil prices in the U.S. fell 0.8% early Tuesday to $37.59 a barrel. Oil prices jumped 5.5% on Monday.
2. -- The economic calendar in the U.S. Tuesday is bare.
3. -- U.S. stocks on Monday ended mixed as the Nasdaq slid 0.19%, dragged lower by pressure on high-momentum tech names. The Dow Jones Industrial Average rose 0.4%, thanks to a rally in the energy and basic materials sectors, and the S&P 500 gained 0.09%. 
4. -- Trade in China plunged in February as weak global demand and a business shutdown during the Lunar New Year holiday combined to depress sales.
Exports fell 25.4% from a year earlier to $126.1 billion, worsening from January's 11.2% contraction, customs data showed Tuesday. Imports shrank 13.8% to $93.5 billion, an improvement over January's 18.8% decline.
The trade slump has complicated the ruling Communist Party's efforts to overhaul its state-dominated economy by adding the risk of politically dangerous job losses. The ruling party's plans call for keeping trade steady to protect millions of export-related jobs, according to The Associated Press.
Meanwhile in Japan, revised data showed Japan's GDP contracted at a 1.1% annualized pace in the last quarter, compared to a 1.4% expansion in the July-September quarter. It was a modest improvement over the previous estimate of a 1.4% contraction in October-December.
5. -- Nippon Telegraph & Telephone (NTT) , Japan's largest telecommunications company, is in negotiations to purchase Perot Systems, the information-technology consulting division of Dell, for several billion dollars, The Wall Street Journal reported, citing people familiar with the matter.
Japan's Nikkei newspaper reported earlier Tuesday that NTT was nearing a deal for the Dell division.
A person familiar with the matter told the Journal that the situation was still fluid and the price and scope of the acquisition have yet to be decided.
Perot Systems was founded by former U.S. presidential candidate Ross Perot and sold in 2009 to Dell for $3.9 billion. A sale of Perot Systems could help Dell raise cash for its potential acquisition of EMC for tens of billions of dollars.
6. -- Shake Shack (SHAK) - Get Report posted fourth-quarter earnings and revenue that topped Wall Street forecasts but its outlook for same-store sales growth this year of 2.5% to 3% sent shares tumbling more than 9% in premarket trading.
Same-store sales in the fourth quarter surged 11%, ahead of Wall Street estimates for a 7.3% increase. Earnings adjusted for one-time items were 8 cents a share compared to forecasts of 7 cents.
But Shake Shack's disappointing outlook stems from the fact it will be encountering tough sales comparisons to the prior year beginning in the second quarter. "It's too early to update guidance," said Shake Shack's Chief Financial Officer Jeff Uttz.
7. -- IBM (IBM) - Get Report  valued CEO Virginia Rometty's total compensation for 2015 at $19.8 million, up 2.5% from a year earlier, boosted in part by a previously reported performance bonus, according to Dow Jones Business News.
Rometty received a bonus of $4.5 million in 2015, up from $3.6 million in 2014, as the company credited her leadership with helping it get through a "critical period in IBM's transformation," Dow Jones reported. The company originally reported the bonus in January.
8. -- Three of Maria Sharapova's major sponsors cut ties with the Russian tennis star after she acknowledged failing a doping test at the Australian Open.
Sportswear giant Nike (NKE) - Get Report , Swiss watch brand Tag Heuer and German luxury car company Porsche moved quickly to distance themselves from the five-time Grand Slam winner after she announced the positive test at a news conference in Los Angeles on Monday.
9. -- Urban Outfitters (URBN) - Get Report postedstrong earnings and improved margins during the holiday quarter.
The company said it earned $72.9 million, or 61 cents a share, in its fourth quarter ended Jan. 31, compared to profit of 60 cents a year earlier. The earnings beat analysts' estimates.
Revenue was $1.01 billion, flat compared with the prior year and short of Wall Street forecasts. 
Same-store sales in the quarter declined 2%.
10. -- Earnings are expected Tuesday from Dick's Sporting Goods (DKS) - Get Report and DryShips (DRYS) - Get Report .