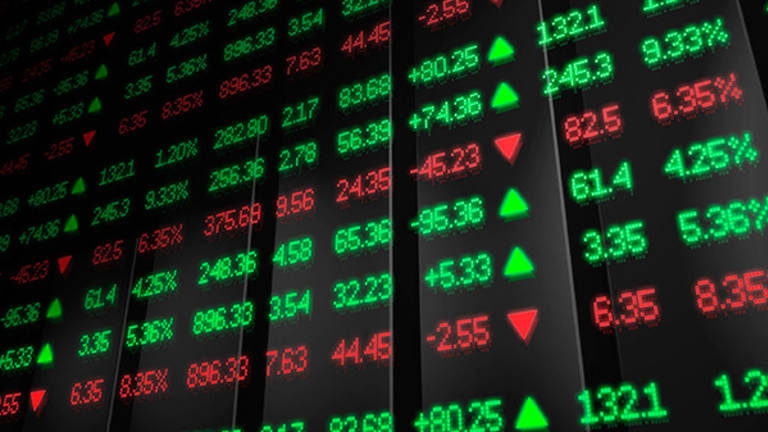 March 31 Premarket Briefing: 10 Things You Should Know
U.S. stock futures are pointing lower Thursday ahead of a report on unemployment claims in the U.S. and as oil prices decline.
Here are 10 things you should know for Thursday, March 31:
1. -- U.S. stock futures were pointing lower Thursday ahead of a report on unemployment claims in the U.S. and as oil prices declined.
European stocks slipped while Asian shares ended Thursday's session mostly lower, though the Shanghai Composite Index advanced 0.1%.
Oil prices in the U.S. early Thursday fell 1.2% to $37.86 a barrel.
2. -- The economic calendar in the U.S. Thursday includes weekly Initial Jobless Claims at 8:30 a.m. EDT, and Chicago PMI for March at 9:45 a.m.
3. -- U.S. stocks on Wednesday rose as good vibes over a dovish Federal Reserve overflowed into the trading session, extending the Tuesday rally that pushed stocks back into positive territory for the year.
The S&P 500 added 0.44%, the Dow Jones Industrial Average rose 0.48%, both touching the highest levels this year, and the Nasdaq was up 0.47%.
4. -- Boeing (BA) - Get The Boeing Company Reportplans to cut up to 8,000 jobs this year at its commercial airplane division, Reuters reported, citing two people familiar with the matter.
The move could save $1 billion in costs and help it battle for sales against European rival Airbus.
Boeing on Wednesday said it had plans to cut about 4,000 jobs in its commercial airplanes division by mid-year, and another 550 jobs in a unit that conducts flight and lab testing.
Sources told Reuters the company's broad goal is to cut jobs by 10% at its commercial airplane unit, which has about 80,000 employees.
Boeing said the 8,000 figure is hypothetical and that it doesn't have a specific goal for job cuts, Reuters reported.
"There is no employment reduction target," spokesman Doug Alder told Reuters. "The more we can control costs as a whole, the less impact there will be to employment."
5. -- BlackRock (BLK) - Get BlackRock Inc. Reportplans to cut about 400 jobs in what may be the biggest round of layoffs to date at the world's largest money manager, Bloomberg reported, citing people with knowledge of the matter.
The job cuts, equal to about 3% of the firm's 13,000 employees, will be announced in the coming weeks, the people told Bloomberg. Despite the cuts, BlackRock will continue to invest and hire in key areas and expects to end the year with a higher headcount, according to one person.
Farrell Denby, a company spokesman, declined to comment. In a memo to employees, BlackRock said the job cuts haven't yet been finalized.
6. -- Medivation (MDVN) is working with advisers after receiving preliminary interest from potential buyers, people familiar with the matter told Bloomberg.
The drugmaker, which focuses on treatments for hard-to-cure cancers, doesn't currently plan to sell itself, said the people. Medivation has a market value of about $6 billion.
French drugmaker Sanofi, which has said it's looking for acquisitions to treat rare diseases, has Medivation on its list of potential targets, other people told Bloomberg.
7. -- McDonald's (MCD) - Get McDonald's Corporation Report said Thursday it plans to open 1,500 new restaurants in China, South Korea and Hong Kong as it looks to faster-growing markets to help drive a global turnaround.
The fast-food chain said it's looking for partners to help finance the expansion. The company said it also will give local managers more decision-making power to respond to Asian customers.
"Asia represents a significant area of opportunity for McDonald's to blend our global quality standards with local insights and expertise from partners who share our vision and values," CEO Steve Easterbrook said in a statement. "These actions build on our turnaround efforts and will advance local ownership, enable faster decision-making and achieve restaurant growth."
McDonald's currently has 2,800 restaurants in China, South Korea and Hong Kong, most of them owned by the company instead of franchisees. 8. -- PepsiCo (PEP) - Get PepsiCo Inc. Report announced the departure of Tom Greco, CEO of Frito-Lay North America, and named Al Carey as CEO, North America, in which he will oversee beverages in North America and the Frito-Lay and Quaker Foods divisions.
"Bringing the company's three North America businesses under a single leader will enable PepsiCo to further leverage its complementary brand portfolio across snacks, beverages and nutrition to unlock new growth opportunities," Pepsi said in a statement.
Carey's previous position was CEO, North America Beverages.
PepsiCo is a holding in Jim Cramer's Action Alerts PLUS portfolio.
9. --Chipotle Mexican Grill (CMG) - Get Chipotle Mexican Grill Inc. Report is considering opening another restaurant concept focused on hamburgers, a spokesman told Bloomberg.
The company filed a trademark application this month for the name "Better Burger." 
"It's a growth seed idea we are exploring," spokesman Chris Arnold said in an e-mail. "We have two non-Chipotle growth seeds open now -- ShopHouse and Pizzeria Locale -- and have noted before that the Chipotle model could be applied to a wide variety of foods."
10. -- Earnings are expected Thursday from Movado (MOV) - Get Movado Group Inc. Report .