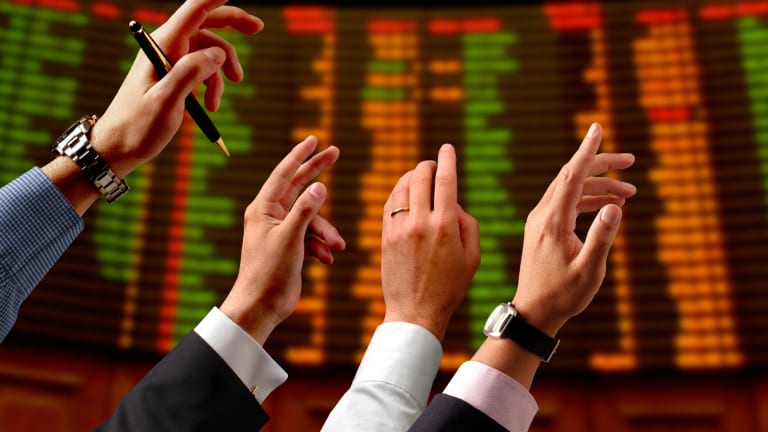 March 29 Premarket Briefing: 10 Things You Should Know
U.S. stock futures are pointing slightly lower while European stocks rise in early trading as investors await a speech Tuesday from Federal Reserve Chair Janet Yellen.
Here are 10 things you should know for Tuesday, March 29:
1. -- U.S. stock futures were pointing slightly lower while European stocks rose in early trading as investors awaited a speech Tuesday from Federal Reserve Chair Janet Yellen.
Asian shares ended the session mostly lower.
Yellen will speak Tuesday morning to the Economic Club of New York about monetary policy and the economic outlook for the U.S. economy.
Global investors were monitoring the hijacking of a Cairo-bound EgyptAir plane.
Oil prices in the U.S. fell 1.7% to $38.71 a barrel early Tuesday.
2. -- The economic calendar in the U.S. Tuesday includes the Case-Shiller 20-City Index for January at 9 a.m. EDT, and Consumer Confidence for March at 10 a.m.
3. -- U.S. stocks on Monday ended mixed following the long Easter weekend, struggling to determine direction in an uneven session. 
The S&P 500 rose 0.05%, the Dow Jones Industrial Average rose 0.1%, and the Nasdaq dipped 0.14%. 
4. -- The legal fight between the Obama administration and Apple (AAPL) ended unexpectedly after the FBI said it hacked into a California mass shooter's iPhone without Apple's help.
Government prosecutors asked a federal judge on Monday to vacate a disputed order forcing Apple to help the FBI break into the iPhone, saying it was no longer necessary.
The FBI used an unspecified technique to access data on an iPhone used by gunman Syed Farook, who died with his wife in a gun battle with police after they killed 14 people in San Bernardino, Calif., in December. The Justice Department said agents are now reviewing the information on the phone.
But the government's brief court filing, in U.S. District Court for the Central District of California, provided no details about how the FBI got into the phone. Nor did it identify the non-government "outside party" that showed agents how to get past the phone's security defenses, the Associated Press reported. Authorities had previously said only Apple had the ability to help them unlock the phone.
Apple said it would continue to increase the security of its products.
"We will continue to help law enforcement with their investigations, as we have done all along," the company said in a statement, and reiterated its argument that the government's demand for Apple's help was wrong.
"This case should never have been brought," the company said.
Apple is a holding in Jim Cramer's Action Alerts PLUS portfolio.
5. -- Yahoo! (YHOO)  has given potential suitors two weeks to submit preliminary bids for its core Web business and Asian assets, The Wall Street Journal reported, citing people familiar with the matter.
In letters sent to possible buyers in recent days, Yahoo! advisers asked them to submit proposals for their bids, including what assets they hope to acquire and for what price. Some buyers may be only interested in Yahoo!'s core Web business, or pieces of it, the Journal noted, while others may also propose bids for stakes in Alibaba (BABA)  or Yahoo Japan.
Yahoo! set an April 11 deadline for the bids, one of the people told the Journal.
The bidders were also asked for details on how they would finance a purchase, what conditions or approvals would have to be met on their end, and what key assumptions they would be making by deciding to move forward with a deal, the people told the Journal.
A Yahoo! spokesman didn't have immediate comment for the Journal.
6. -- Warren Buffett's holding in Wells Fargo (WFC) reached 10%, a level that triggers a Federal Reserve review and could prevent him from buying more shares until he receives regulatory approval, according to Bloomberg.
The billionaire investor's stake reached that threshold because Wells Fargo has been buying back stock, according to a regulatory filing Monday. The document said the holding is about 506 million shares, the same as on Dec. 31 when it accounted for 9.9%, Bloomberg reported. 
Most of Buffett's investment is held through subsidiaries of his company Berkshire Hathaway (BRK.A) , though he also owns some shares of Wells Fargo personally. All together, the stake is worth more than $24 billion based on Monday's closing share price.
Wells Fargo is a holding in Jim Cramer's Action Alerts PLUS portfolio.
7. -- Oracle (ORCL) is seeking as much as $9.3 billion in damages in a long-running copyright lawsuit against Google over its use of Java in Android, court filings showed, PCWorld reported.
Oracle sued Google, a unit of Alphabet (GOOGL) , six years ago, claiming the search giant needs a license to use parts of the Java platform in Google's mobile OS.
The companies went to trial over the matter in 2012 but the jury was split on the question of whether Google's use of Java was protected by "fair use," which permits copying under limited circumstances, PCWorld reported.
A new trial is scheduled to begin May 9 in federal district court in San Francisco.
Alphabet is a holding in Jim Cramer's Action Alerts PLUS portfolio.8. -- Virgin America (VA) has received takeover bids from JetBlue Airways (JBLU) and Alaska Air Group (ALK) as the U.S. budget airline backed by British billionaire Richard Branson explores a sale, a person familiar with the matter told Reuters.
Asian airlines have also expressed interest in buying Virgin America, although they would have to partner with a U.S. bidder under foreign ownership rules governing U.S. airlines, according to Reuters.
JetBlue, Alaska Air and Virgin America declined to comment for the Reuters story.
9. -- T-Mobile (TMUS) is planning to launch Simple Choice Data-Only rate plans on Wednesday, according to an image shared with TmoNews. The plans will only be available for GSM devices
In addition to a monthly data allotment, each of the data-only plans will include unlimited texting.
10. -- Earnings are expected Tuesday from Lennar (LEN) , McCormick (MKC) , Sonic (SONC) and Dave & Buster's (PLAY) .