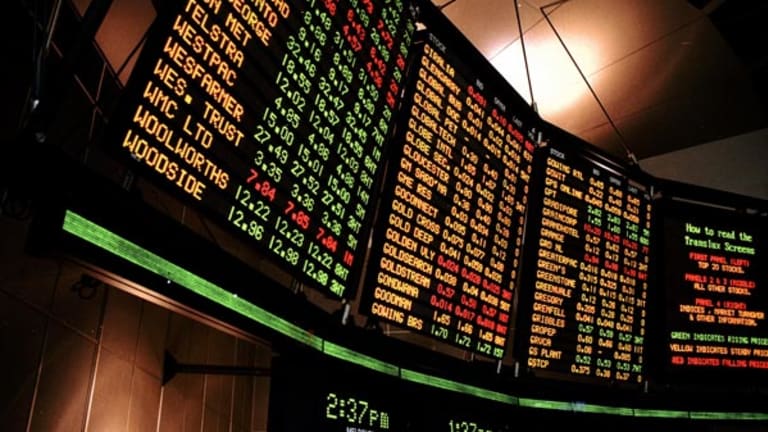 Make Better Moves Into Currencies
You can diversify into foreign currencies in several ways. Here's an easy one.
This column was originally published on RealMoney on Jan. 30 at 7:15 a.m. EST. It's being republished as a bonus for TheStreet.com readers. For more information about subscribing to RealMoney, please click here.
I've found myself fielding the same question a number of times recently: What's the best way to get foreign currency exposure? Increasingly, I've been replying the same way: Just buy the currency ETFs.
Roger Nusbaum has done a good job of
describing these vehicles, so I'll skip the basics. The point of this article will be to uncover whether some are more desirable than others for gaining such exposure.
Counting the Cost
Let's say someone wanted to buy the British pound.
Investors can buy
CurrencyShares British Pound Sterling
(FXB) - Get Free Report
, an exchange-traded fund; buying one share of this fund is the equivalent to owning 100 pounds. Currently, this ETF yields about 4.4% and carries an annual expense ratio of just 40 basis points (0.4%), which compares quite favorably with other nondollar cash vehicles that have become popular of late.
For example, Everbank, a primarily Web-based bank with trading operations in St. Louis, had a big hit on its hands in recent years with its foreign currency CDs. Investors who wanted such exposure could get it through certificates of deposit denominated in various currencies, and in some cases they could capture a nice yield to boot.
The emergence of the foreign-currency ETFs, however, makes those CDs look awfully expensive now.
Everbank's 12-month British pound CD, for example, currently yields 4.25%, less than that of FXB. Adding dramatically to the expense at Everbank is the fact it will charge you 0.75% just to convert your dollars into pounds on the way in
and
on the way out! Translation: The bank effectively lops 1.5% off its product's stated rate for a net yield that falls to little better than half that of FXB, an enormous price difference for a cash-type holding. In addition, the FXB is liquid daily because it trades like a stock.
Another vehicle that has become popular in the last year or two is the
(MERKX) - Get Free Report Merk Hard Currency Fund
, a more broad-based choice for such exposure (it holds multiple foreign currencies, plus gold). But the fund's annual expense ratio of 1.3% is astronomical when compared with the foreign-currency ETFs. Further, it's difficult to get an answer from customer service about the fund's dividend or even its dividend policy.
There remains much debate today about the wave of ETF launches we're witnessing and whether it amounts to overkill. There have been and will be more silly offerings, but there exist, of course, very useful ETFs, and the foreign-currency exchange-traded funds certainly fit in that category.
One note: Because of the often volatile nature of currency trading, I believe investors should use currency ETFs as part of their overall foreign exposure, not count it as some part of their cash allocation.
All in the Timing
If one is thinking of increasing his or her foreign currency exposure at the moment, how does that timing look? In short: not bad.
Any decision to own foreign currency is really a negative bet on the U.S. dollar, so a look at this currency is key. In the chart below (a three-year daily USD index), it seems the greenback has just rallied from an extremely oversold condition back to an area that should provide some resistance.
While we might be witnessing a decent entry point for non-U.S. dollar exposure as a result, such investors should prepare themselves for less heady gains than foreign currencies saw in 2006 for two key reasons:
First, with each passing day it looks less and less likely that the
Fed
is going to be forced to cut interest rates soon due to economic weakness. Fear of such a cut and its impact on the dollar is what drove it to recent lows; major slippage in the greenback from here, then, looks unlikely in the near term.
Second, it is a positive, technically, that the dollar's recent low went unconfirmed by important short-term indicators. Such action suggests that the move in the dollar index down to 82.5 may stand as the low for some time to come.
Fundamental and technical support below, yet chart resistance above? We could be in for some boring weeks and months on the currency front, which many market participants would consider a welcome relief.
Investors, then, should expect the yield component of any foreign currency holding to be the main driver in the short run, which makes the price differences between the products outlined above all the more important.
At the time of publication, Hanlon held no positions in the stocks mentioned, although positions may change at any time.
Charles P. Hanlon focuses on non-dollar investments. He is currently the president of Delta Global Advisors. Under no circumstances does the information in this column represent a recommendation to buy or sell stocks. Investing in foreign markets involves unique risks including, but not limited to, currency fluctuation and political risk. In addition, international investing is typically more expensive for U.S. investors than buying shares listed on a U.S. exchange. Hanlon appreciates your feedback;
to send him an email.