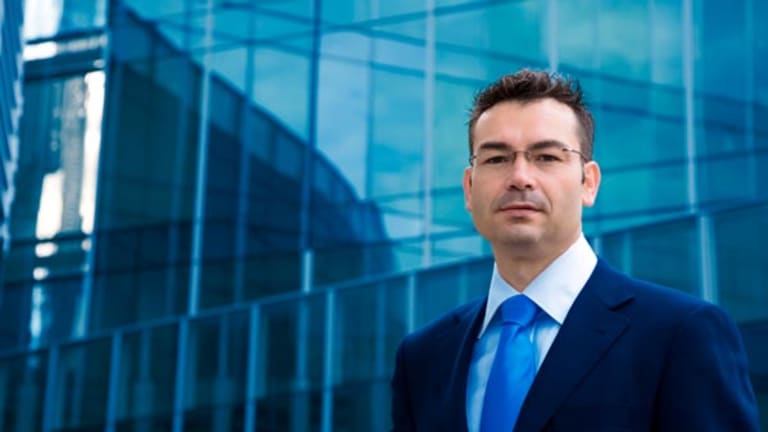 Make a Fortune With the Fortune 500
Running the top 10 by the guru strategies yields several solid-looking picks.
This column was originally published on RealMoney on April 23 at 10:00 a.m. EDT. It's being republished as a bonus for TheStreet.com readers. For more information about subscribing to RealMoney, please click here.
Fortune
unveiled its famed annual list of the 500 top-grossing companies in the U.S. this week, and the results showed that times are good for the corporate giants. According to the magazine, the companies on the new
Fortune
500 generated a record $785 billion in profits in 2006, a 29% increase over the 2005
Fortune
500's combined earnings.
"Put simply, American companies are enjoying the most sumptuously profitable period in the 500's 53-year history,"
Fortune
Editor Shawn Tully wrote in unveiling the new list.
With the companies on the new
Fortune
500 netting such strong combined earnings, I decided to see how the biggest of the big fared when evaluated using my Guru Strategies, computer models that each mimic the philosophy of a different Wall Street great.
Of the top 10 on
Fortune's
list, seven passed at least one of my guru models while three -- top-ranked
Wal-Mart
(WMT) - Get Walmart Inc. Report
and beleaguered automakers
General Motors
(GM) - Get General Motors Company Report
and
Ford
(F) - Get Ford Motor Company Report
, which ranked third and seventh, respectively -- didn't pass muster with any guru strategy.
Three of the seven companies that did make the grade -- second-ranked
Exxon Mobil
(XOM) - Get Exxon Mobil Corporation Report
, sixth-ranked
General Electric
(GE) - Get General Electric Company Report
, and eighth-ranked
Citigroup
(C) - Get Citigroup Inc. Report
-- continue to get the same guru approval they got when I wrote about them in
a December column on the
Dow's
components.
Exxon gets strong interest from the strategy I base on the writings of Peter Lynch, GE continues to get the thumbs up from my James O'Shaughnessy-based model and Citigroup still gets strong interest from both my Lynch and O'Shaughnessy models. For this column, I'll focus on the other four stocks in
Fortune's
top 10 that get guru approval.
Two Energy Superpowers
First up is
Chevron
(CVX) - Get Chevron Corporation Report
, which comes in fourth on the new
Fortune
500 behind Wal-Mart, Exxon Mobil and GM. The California-based energy giant, which posted more than $17 billion in profits last year, gets high marks from my O'Shaughnessy-based strategy.
This model likes companies with market caps greater than $1 billion, because large companies exhibit solid and stable earnings, and Chevron's $166 billion cap easily meets that criterion. O'Shaughnessy also likes companies with strong cash flows, and the strategy that I base on his writings targets businesses whose cash flows are greater than the market mean. Currently, the market mean cash flow is $1.59 per share; Chevron's, at a whopping $11.43 per share, is more than 7 times that average.
To find companies that are well positioned in the market, O'Shaughnessy also compares a stock's number of outstanding shares and trailing 12-month sales to the market averages. My O'Shaughnessy model requires companies to have at least 1.5 times the market average (with the market here being represented by the
S&P 500
) in those two categories. Chevron, with 2.17 billion shares outstanding (compared to the market average of 633 million) and trailing 12-month sales of $210 billion (compared to the market average of $17.5 billion), easily passes those tests.
Following Chevron on the new
Fortune
500 is another energy power,
ConocoPhillips
(COP) - Get ConocoPhillips Report
, which gets strong interest from the strategy that I base on the writings of Kenneth Fisher. While earnings can be volatile from year to year -- even for strong companies -- Fisher believes that a good business' sales rarely decline.
He thus compares a company's price (per share) to its sales (per share) to find stocks selling at a good price. My model requires companies to have P/S ratios below 0.75 to be what Fisher considers a "Super Stock." Texas-based ConocoPhillips, the nation's second-largest refiner, passes the test with a P/S ratio of 0.63.
Fisher also sees less corporate debt as less risk for a stockowner, and my Fisher-based method targets companies with debt-to-equity ratios below 40%. ConocoPhillips' debt/equity ratio of 32.83% meets that criterion. The stock's long-term earnings-per-share growth rate, 51.73%, also easily surpasses this method's 15% minimum, meeting another of Fisher's "Super Stock" criteria.
Triple Play for BOA
Nos. 6 through 8 on Fortune's list are the aforementioned GE, Ford and Citigroup, which brings us to No. 9,
Bank of America
(BAC) - Get Bank of America Corp Report
. The Charlotte-based bank gets approval from both my Lynch- and O'Shaughnessy-based models, as well as the strategy that I base on the writings of John Neff. That puts it in select company, as one of just five companies that currently garner strong interest from three or more of my guru methodologies.
Neff looks for stocks that have P/E ratios that are 40% to 60% of the market average, as well as a history of consistent earnings growth, and BOA fits the bill. With a P/E ratio of 11.16, the bank comes in at 58.7% of the current market P/E of 19.0, passing the first test. For dividend-paying companies like BOA, my Neff-based strategy prefers earnings growth between 7% and 20%. Bank of America has posted a 12.5% growth rate (based on the average of the three-, four- and five-year EPS figures), passing the Neff growth test.
In addition, Neff says that earnings growth must be fueled by a corresponding growth in sales, so my Neff-based strategy requires a company's sales to increase by at least 7% per year, or to be at least 70% of earnings growth. With a 25.4% sales growth rate (based on the average of the three-, four- and five-year sales figures), BOA meets that target.
Lynch, meanwhile, is well known for his use of the P/E/Growth ratio. This famed metric divides a company's price-to-earnings ratio by its growth rate to identify growth stocks that are a good buy. Lynch likes stocks with P/E/G ratios below 1.0, and Bank of America, with a P/E/G figure of 0.66, passes that critical test.
When assessing financial institutions, Lynch has two special criteria that both focus on assets: The business's return on assets, which is a good measure of profitability, and its equity-to-assets ratio, which is a good way to determine financial health. The model I base on Lynch's writings calls for stocks to have a return on assets of at least 1% and an equity/assets ratio of at least 5%. With an ROA of 1.54% and a equity/assets ratio of 9%, Bank of America passes both tests.
My O'Shaughnessy method likes Bank of America's high market cap ($228.4 billion) and its cash flow per share, which at $5.38 more than triples the market average of $1.59. The bank's trailing 12-month sales ($78.6 billion) are also far greater than 1.5 times the market mean ($17.5 billion), meeting another O'Shaughnessy tenet.
AIG looks A-OK
The last stock I'll take a look at is
American International Group
(AIG) - Get American International Group, Inc. Report
, which comes in at No. 10 on the new
Fortune
500 and gets approval from my Lynch-based model. With a P/E ratio of 12.69 and a growth rate of 21.68% (based on the average of the three-, four- and five-year earnings-per-share growth rates), AIG has a strong 0.59 P/E/G ratio, coming in below Lynch's 1.0 maximum.
My Lynch-based model also likes AIG's return on assets, which at 1.65% exceeds this method's 1% minimum, and its equity/assets ratio, which at 10% doubles the strategy's 5% minimum. Those asset figures indicate that AIG is a profitable company in good financial health.
Just as a person who is 6 feet 4 inches tall and 250 pounds has certain advantages over smaller opponents on the football field or basketball court, a company of great size has certain advantages over smaller peers. But sometimes the biggest athletes don't parlay their size into success, and likewise bigger companies don't always guarantee stability and solid returns. Just look at the performances of Wal-Mart, Ford and GM over the past couple years.
The guru-approved stocks I've discussed here aren't just big, however; they also have a history of growth and strong fundamentals. Their combination of quality of performance and quantity of market share makes each a stock worth considering for your portfolio.
At the time of publication, Reese was long Citigroup, Chevron, ConocoPhillips and Bank of America, although holdings can change at any time.
John P. Reese is founder and CEO of
, an investment research firm, and
, an asset management firm serving affluent investors and companies. He is also co-author of the best-selling book,
The Market Gurus: Stock Investing Strategies You Can Use From Wall Street's Best
. Under no circumstances does the information in this column represent a recommendation to buy or sell stocks. Reese appreciates your feedback.
to send him an email.
TheStreet.com has a revenue-sharing relationship with Amazon.com under which it receives a portion of the revenue from Amazon purchases by customers directed there from TheStreet.com.