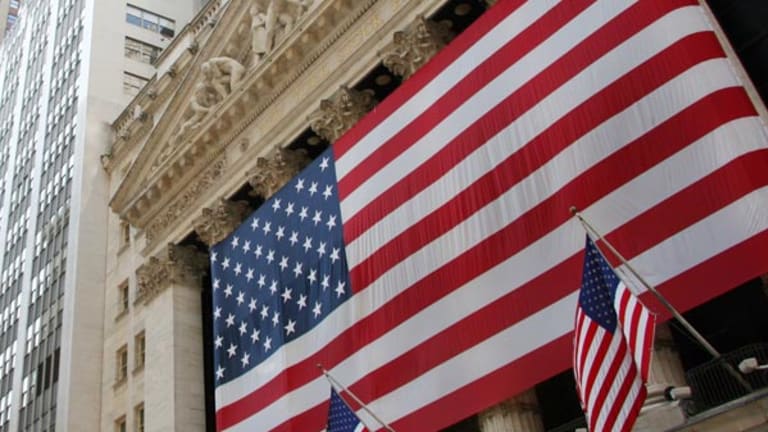 Major Averages Finish Lower
The Dow and the Nasdaq closed above their session lows.
Updated from 3:39 p.m. EDT
The major stock market averages closed lower Wednesday, following more bad news from the airline industry.
The
Dow Jones Industrial Average
ended down 92.58 points, or 1.3%, to 8567.39. The
Nasdaq
lost 37.62 points, or 2.5%, to 1464.02, and the
S&P 500
fell 5.23 points, or 0.5%, to 1007.04. The 10-year Treasury note was up 16/32 to 102 27/32, yielding 4.64%.
Goldman Sachs
(GS) - Get Goldman Sachs Group Inc. (The) Report
said early Wednesday that it earned 94 cents a share in the third quarter before various items, beating analysts' expectations. The investment bank also said the Sept. 11 terrorist attacks would probably weaken its operating environment and delay an economic recovery. The stock slipped 3 cents to $70.
In other corporate news,
Textron
(TXT) - Get Textron Inc. Report
lowered its earnings guidance for the third and fourth quarters and said it will cut 2,500 additional jobs. Shares of the aircraft conglomerate fell $10.39, or 24.2%, to $32.61.
Delta Air Lines
(DAL) - Get Delta Air Lines Inc. Report
said it will cut up to 13,000 jobs and slow air traffic in light of the terrorist attacks. Delta shares were up 33 cents, or 1.4% to $24.85. And
Air Canada
(ACNAF)
this morning set plans to trim its workforce by an additional 5,000 jobs, scale back its flight schedule by 20% and ground 84 aircraft as a result of the World Trade Center tragedy. The company's stock dropped 15 cents to $1.44.
Procter & Gamble
(PG) - Get Procter & Gamble Company (The) Report
and
Coca-Cola
(KO) - Get Coca-Cola Company (The) Report
called off their joint venture for health and wellness drinks and the distribution of snacks. The companies said they now plan to pursue growth opportunities independently. P&G was up 18 cents, or 0.3%, to $71.18, whereas Coke lost 2.5% to $46.80.
Overseas markets were mixed, with Japan's Nikkei falling 52 points, or 0.5%, to 9642, while Hong Kong's Hang Seng gained 1.8% to 9372. London's FTSE 100 rose 33, or 0.7%, to 4696, and the Paris CAC-40 gained 73, or 1.9%, to 3976. Germany's DAX index rose 2.2%. In currencies, the dollar was stronger against the yen, but little changed compared with the euro.