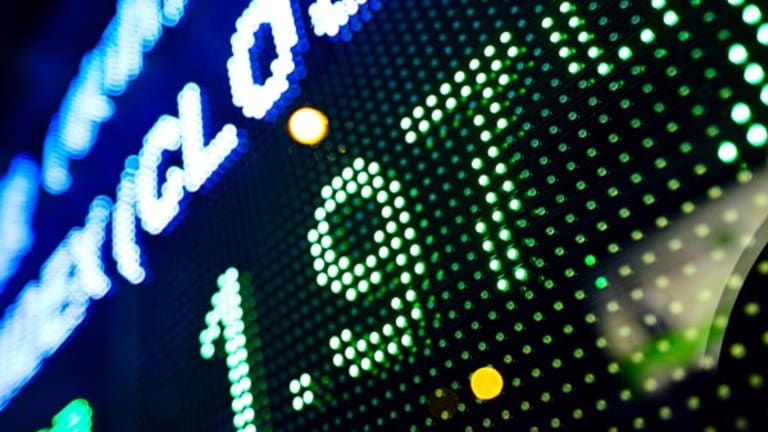 Major Averages Close Higher
The Dow and the Nasdaq strengthen in the last hour of trading.
The Dow and the Nasdaq strengthen in the last hour of trading.
Updated from 3:38 p.m. EST
Stocks made a strong push late and closed higher Wednesday following positive retail sales data and more military progress in Afghanistan.
The
Dow Jones Industrial Average closed up 72.66 points, or 0.8%, to 9823.61. The
Nasdaq gained 11.08 points, or 0.6%, to 1903.19, and the
S&P 500 added 2.13 points at 1141.22.
The Labor Department said retail sales rose 7.1% in October, reflecting a strong performance from automakers after they began offering 0% financing. Even excluding autos, sales grew at a stronger-than-expected 1%.
Reports from Kabul said the Afghan capital was calm after the ouster of Taliban troops. Observers said Northern Alliance soldiers had so far mostly refrained from reprisal violence after dislodging their hard-line foes as Western nations sought a blueprint for governance. The opposition was also making headway in southern Afghanistan, according to media reports.
Tech investors, who have led the charge higher on U.S. markets, had an encouraging profit report Wednesday from
Hewlett-Packard
(HWP)
. The computer and printer maker said it earned $361 million, or 19 cents a share, before various items in the fiscal fourth quarter. The consensus estimate was for earnings of 8 cents a share. H-P also affirmed its plans to acquire
Compaq
(CPW)
. H-P traded up $1.82, or 9%, to $22.05, and Compaq advanced $1.13, or 12.8%, to $9.93.
Network Appliance
(NTAP) - Get Report
was under pressure after the company's most recent earnings release. After the close Tuesday, the data storage company posted second-quarter earnings of 2 cents a share, ahead of analysts' expectations. The stock slid $2.89, or 15.9%, at $15.30.
Citrix Systems
(CTXS) - Get Report
sold off on rumors that
Microsoft
(MSFT) - Get Report
was partnering with one of its top competitors, according to
Briefing.com
. The stock dropped $1.76, or 8%, to $20.15.
In London, the FTSE 100 lost 0.7% to 5241, while in Frankfurt, the Xetra DAX was up 0.1% at 4954. A report earlier showed unemployment in the U.K. rose for the first time in a year last month. In Asia, Japan's Nikkei closed up 0.5% at 10,087, while Hong Kong's Hang Seng gained to close at 10,950.
Electronics giant
Siemens
(SI) - Get Report
said it posted a billion-euro loss in the latest quarter on charges for workforce reductions and restructuring. The company's shares climbed $4.05, or 7.9% to $55.20.
Around 4 p.m. EST, the 10-year Treasury note was losing 1 4/32 at 103 25/32, yielding 4.52%.