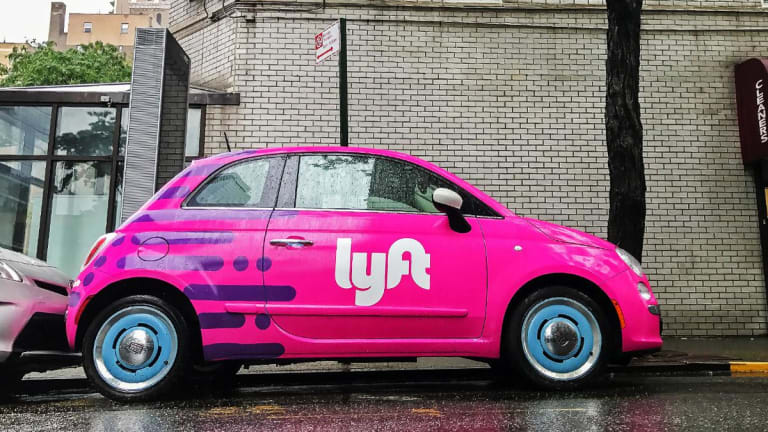 Lyft's Mixed Initial Quarter as a Public Company: What Wall Street's Saying
Analysts were largely encouraged by Lyft's first-quarter report.
Lyft's (LYFT) first earnings report ever as a public company largely encouraged analysts who cover the stock, with several raising estimates, while investors were still making up their minds. 
Lyft's adjusted loss per share was $9.02 in its first quarter of 2019, narrower than the expected $10.53, while revenue of $776 million was better than the expected $738.5 million. But its overall loss grew to $1.1 billion, mostly a result of $859 million in stock-based compensation tied to the company's IPO in March. Management also guided for full year 2019 revenue of between $3.275 billion and $3.3 billion, higher than expectations of $3.242 billion. Adjusted EBITDA loss was guided for between $1.15 billion and $1.175 billion, narrower than the expected $1.245 billion. 
Management said it won't have to rely much on ride incentives to grow market share, which analysts buy, as Lyft and Uber are both well-established and marketed. Meanwhile, active riders increased 10% to 30.5 million, above estimates. Management also said 2019 will be the peak year for losses, as investments in bikes and scooters will abate after this year. But on the downside, analysts weren't in love with management's decision to withhold gross bookings and take-rate numbers going forward. 
The stock was wavering between gains and losses on Wednesday morning, before finally dropping 6.85% to $55.28 a share. Here's what analysts said:
WedBush Securities, Neutral, PT $67
"This was an A- quarter for Lyft and should be viewed as a positive step in the right direction," wrote analyst Dan Ives in a note out Wednesday morning. "We believe Lyft did a commendable job addressing a hot button issue for the Street as the company sees an environment of significantly reduced discounting and rider incentives going forward as management sees the US market as mature enough, with two clear leaders in the space, where competition on pricing has receded and does not play as meaningful a role in market share gains. Lyft is now focused on driving growth through an improved driver and rider experience and ecosystem rather than on pricing/incentives, a strategy which makes sense although the jury is still out how this will impact share gains vs. the established stalwart Uber." 
But Ives also noted that "it was surprising to us and investors last night that Lyft will not be providing Bookings and Take Rate going forward," Ives said. He did raise his full year 2019 revenue and EBITDA loss estimates to $3.29 billion from $3.19 billion and $1.17 billion from 1.13 billion respectively. Ives also raised his 2020 estimates on both metrics. 
Stifel, Buy, Raised Price Target From $68 to $70
"Management noted it is seeing a reduction in rider incentives across the industry and believes overall the current competitive market is rationalizing," wrote analyst Scott Devitt. "Overall, we view the 1Q update as positive as the company progresses towards its long-term goals." 
"We increase our 2019/2020 revenue estimates by ~3% in each year to $3,295mm/$4,203mm," Devitt said. "The higher revenue is primarily a result of higher active rider estimates (21.3mm in 2019, 25.0mm in 2020)," which Devitt said is partially a result of loyalty products for both riders and drivers. 
Cross Research, Buy, PT $85
"Gross profit margins were better than expected (49.6% vs. our 44.6% and the Street's 43.5%) while operating expenses were somewhat more than in our mode," bullish analyst Steven Fox noted. "The net result was operating losses of ($230mm) beat our ($263mm)." 
D.A. Davidson, Buy, PT Lowered From $75 to $72
"LYFT's first quarter post-IPO was quite solid and clean in our view," wrote analyst Tom White. "We affirm our BUY rating, but trim our PT slightly to $72 (from $75) due to a ~7% reduction to/recalibration of our 2020 revenue forecast."
White lowered his 2019 and 2020 revenue estimates to $3.29 billion from $3.358 billion and $4.073 billion from $4.372 billion respectively.