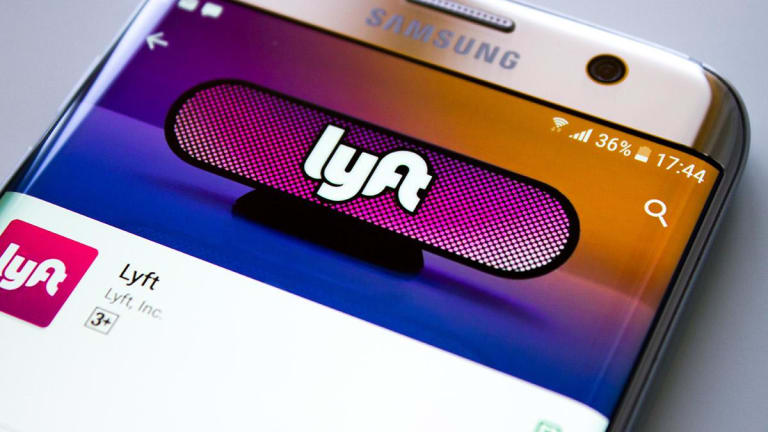 Here Are 3 of Lyft's Biggest Risks as Stock Falls Below IPO Price
Unclear visibility into Lyft's future makes it difficult to value, according to Guggenheim analysts.
Lyft's (LYFT) - Get Lyft Inc Class A Report IPO generated plenty of excitement on Friday but now the ridesharing company has to live up to the hype. And some analysts are already skeptical.
The stock was down more than 10% on Monday to $69.73 a share, falling below its offer price of $72 a share and significantly below its first trade of $87.25 on Friday. 
Now, another group of analysts have chimed in on Lyft, as Wall Street continues its quest for price discovery on the stock. In a note out on Monday morning, Guggenheim analysts cited three general risks to Lyft -- "limited visibility on the path to profitability, sustainability of revenue growth [and] scale of investments in bikes, scooters and self-driving cars." They initiated coverage on the stock with a $78.29 price target and a neutral rating.
1. Profitability Visibility 
Management said in its S-1 filing that Lyft is targeting a 20% EBITDA margin. "But with limited confidence in the estimate given a lack of visibility on investment plans, valuation is challenging," Guggenheim wrote.
Lyft lost $911 million on $2.16 billion of revenue in 2018, a 210% increase over 2017's net loss. Guggenheim thinks the path to profitability rests on several potential outcomes, including Lyft's ability to cut driver pay, which the analysts noted would be difficult, since Lyft must compete with Uber, Via and Juno to attract drivers. 
Lyft could also reduce incentives to drivers or customers. But reducing those incentives could be tough for the competitive reasons mentioned above. 
Perhaps one of the most crucial factors for Lyft to become profitable is to cut its cost of revenue, which is mostly comprised of payment processing fees and insurance. Reducing insurance costs, Guggenheim says, is one possibility. Lyft's gross margin has steadily climbed to 42% in 2018 from 18% in 2016, and WedBush Securities analyst Dan Ives said "Lyft aims to use technology and in particular its giant trove of ridership data to drive down insurance claims and expenses over time." 
But Guggenheim says that cost cuts "might not be enough by itself" to drive profitability. 
2. Revenue Growth Sustainability 
Guggenheim and Wedbush both note Lyft's increasing share of the ridesharing market (39% in 2018 versus 22% in 2016), and Guggenheim says "LYFT appears to be outpacing Uber," which saw its revenue increase 46% in 2018 year-over-year, compared to Lyft's increase of 103%. While Guggenheim sees the total ride-sharing market in the U.S. getting to $120 billion by 2025, they note that "a large portion of [Lyft's revenue growth] has come from take-rate expansion and we worry that it could be hard to raise fees or cut driver pay in a competitive category." 
3. Other Modes of Transit
Lyft intends to expand its service offerings to include bikes, scooters and self-driving cars. But that plan for self-driving cars "is likely 10 years out," the analysts wrote. Plus, while a shift to self-driving cars might help profits since Lyft wouldn't have to pay drivers, the long time frame of the plan limits valuation visibility. 
"An investor should really maintain focus on time horizon," advised Alejandro Ortiz, Principal Analyst at Sharespost, a provider of both research and liquidity to investors in private companies and unicorns.
How Much Money Will I Need to Retire?
Want to learn about retirement planning from some of the nation's top experts? Join TheStreet's Robert "Mr. Retirement" Powell live in New York on April 6 for our Retirement Strategies Symposium. For a limited time, tickets are available for $99 for this full-day event. Check out the agenda, learn about the speakers and sign up here.