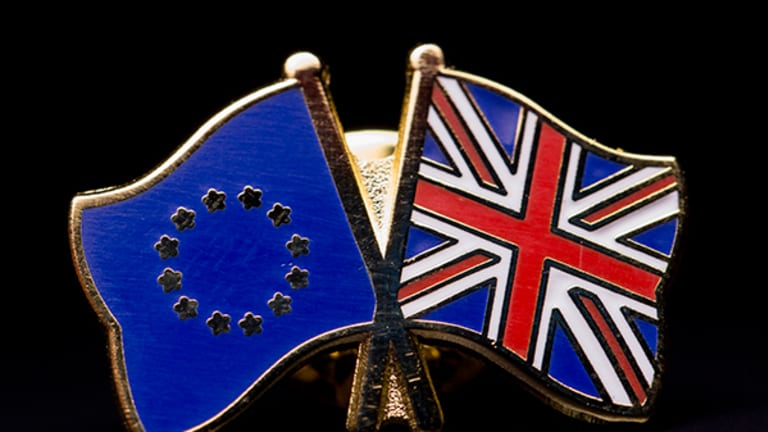 'Brexit': What to Buy if the UK Leaves the EU
Homebuilders and domestic 'value' retailers could benefit in the aftermath of a 'leave' vote.
With the "Brexit" vote less than two weeks away, the collective mind of has turned to what could be a defining moment for the U.K. On June 23, the British public go to the polls to decide whether the country should remain in the European Union.
Polls released earlier this week put the "leave" vote four percentage points ahead of "remain," but betting odds, which some say are better indicators of public opinion, have remain in the lead. Today, betting company Betfair said that remain is still a 1 to 3 favorite, meaning a 75% chance of victory. However, this is down from 78% yesterday.
A "leave" vote is expected to bring much uncertainty to financial markets, especially in the U.K. where the many of the FTSE's constituents are highly exposed to international markets. The pound is also expected to depreciate sharply.
So what can investors buy to benefit from a "leave" result?
Siddhart Chand Lall, an investment manager at Hargreave Hale, said that housebuilders and "value" retailers would be good buys. Chand Lall is the lead fund manager of the Marlborough Multi Cap Income Fund.
Bakery chain Greggs could be a good choice. "People will still want sausage rolls after a 'Brexit'," he said. The value bakery chain, famous for that British pastry-covered snack, saw sales climb 5.7% in the first 18 weeks of the year and same-store sales rose 3.7% in the same period.
The company said that the introduction of premium coffee, including the flat white, helped to boost sales growth.
Greggs is expected to increase its fresh fruit offering and salad offerings, although this strategy may be impacted as the price of food is expected to increase after an exit.
The consensus analyst view of the company it that it will outperform the market, with a median target of 1,280 pence. The shares are currently trading at 1,069 pence, down about 3.4%.
The U.K. housing crisis, especially in London, isn't expected to change after a "Brexit," meaning there could be value in housebuilders' stock. London's new mayor Sadiq Khan pledged to build 50,000 new homes a year to help solve the problem.
Stocks in homebuilders are looking particularly cheap right now. Barratt Developments is down 8.6% in the past year and Taylor Wimpey is down more than 5% on the year. The consensus analyst view on both stocks is that they are expected to outperform the market.
Guy Mason, chief investment officer at Sarasin & Partners and manager of the Sarasin IE Equisar Global thematic fund, said: "Staples (tobacco and beverages) and pharmaceuticals should benefit -- at least in relative terms -- from weaker sterling as well as their naturally defensive earnings bases."
Diageo (DEO) - Get Report and British American Tobacco could be beneficiaries.
Diageo's stock is trading at a premium but for good reason. In the year so far to June, the maker of Captain Morgan and Johnnie Walker has been trading at a P/E ratio of 21.3 and it is expected to increase earning by 8% next year.
However, booze makers have warned that an exit could jeopardize the whisky industry. Whisky is one of the U.K's most successful exports. Diageo CEO Ivan Menezes said the industry has benefited greatly from E.U. membership and the union's clout in international trade negotiations.