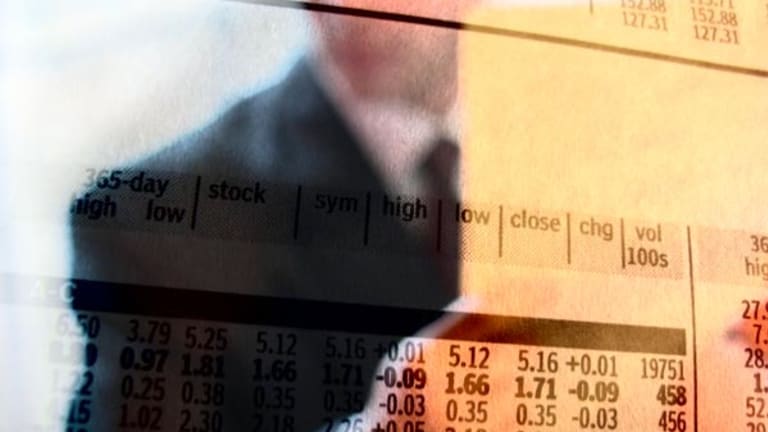 Lower Oil Fuels Mixed Results
A dip in oil prices has little impact as the Nasdaq's five-day run comes to an end.
Updated from 4:06 p.m. EDT
Another day of lower oil prices did little to lift investors' spirits Tuesday as the major indices struggled to build on their recent rebound from 2004 lows.
The
Dow Jones Industrial Average
rose 25.58 points, or 0.25%, to 10,098.63, while the
S&P 500
added 0.51 point to 1096.19. Both indices closed lower Monday for only the second time in seven days. The
Nasdaq Composite
lost 1.81 points, or 0.1%, to 1836.89, having gained ground the past five sessions. The 10-year Treasury note rose 2/32 to yield 4.27%, while the dollar was higher against the yen and euro.
Volume was light on the
New York Stock Exchange
, where 1.1 billion shares traded and advancers beat decliners 5-to-4. On the Nasdaq, just under 1.3 billion shares were traded with advancers ahead of decliners by roughly 5 to 4.
"The strength we saw last week got us into a short-term overbought situation, and basically we have seen a little backing and filling over the last two days," said John Hughes, equity strategist at Shields & Co.
"I would bet that you're going to basically have this flat trading until we round out August and get back into September. Then you'll have a lot more of the market participants returning," he added. "It's hard with the light volume to get anything going in a big way in any direction."
Nymex crude for October delivery closed down 84 cents, or 1.8%, at $45.21 a barrel as traders welcomed the re-establishment of oil exports through most of Iraq. The decline was the third in three sessions and came despite news that Russia's Yukos cut its estimate for 2004 production to up 6% over 2003 from up more than 10%.
Kevin Caron, market strategist at Ryan Beck & Co., said, "Oil prices have been a surrogate for investor-risk premium. We've seen a number of weeks now where the rise in the price of oil, which has been accompanied by a great deal of speculation, has come to a point where it's due for a correction. We've estimated that there is anywhere from $10 to $14 of speculation premium in the oil market, so that would suggest to us that this initial crack in oil prices, assuming that it's not followed by a significant disruption of oil prices, would moderate further from here. That is going to have an impact on the overall psyche of the consumer globally."
On the economic front, existing-home sales fell 2.9% in July to an annualized rate of 6.72 million units, vs. the 6.95 million record rate of June, according to a trade group. Economists were expecting a rate of 6.81 million.
In Iraq, two bombs went off in Baghdad, each supposedly targeting a different member of Iraq's interim government. Although both government members survived, five people are reported to have been killed by the blasts. Meanwhile, American and Iraqi troops continued to tighten the band around the Imam Ali Shrine, where rebels loyal to Shiite cleric Muqtada al-Sadr have taken refuge.
Among Tuesday's movers,
Possis Medical
(POSS)
fell 39.8% after disclosing clinical results that indicated its AngioJet XMI catheter should not be used as a routine treatment for heart attack patients. The company also lowered its 2005 earnings and revenue estimates and saw its shares downgraded to neutral from buy at First Albany. Shares fell $12.23 to $18.53.
Broadcom
undefined
fell almost 7% after CSFB cut its 2004 earnings estimate for the company to $1.32 a share from $1.34 a share and dropped its revenue estimate to $2.56 billion from $2.58 billion. The brokerage cited channel checks that suggest fourth-quarter order weakness.
Before the bell Tuesday,
H.J. Heinz
(HNZ)
said first-quarter profits fell 9% from a year ago, matching Wall Street estimates. The company earned $194.8 million, or 55 cents a share, down from $214 million, or 60 cents a share, in the same period last year. Shares of H.J. Heinz closed up $1.03, or 2.8%, to $37.63.
After the bell,
Hughes Supply
(HUG)
announced that second-quarter profits more than doubled from last year, beating analysts estimates by 12 cents. The company reported earnings of $39.4 million, or $1.27 a share, compared with $18.7 million, or 80 cents a share, in the same period last year. Shares of Hughes Supply were flat on the day but jumped $3.29, or 5.3% to $64.99 in after hours trading.
Overseas markets were mixed, with London's FTSE 100 ending the session up 0.1% to 4407.50 and Germany's Xetra DAX closing relatively flat at 3771. In Asia, Japan's Nikkei rose 0.2% overnight to 10,985, while Hong Kong's Hang Seng added 1.7% to 12,646.