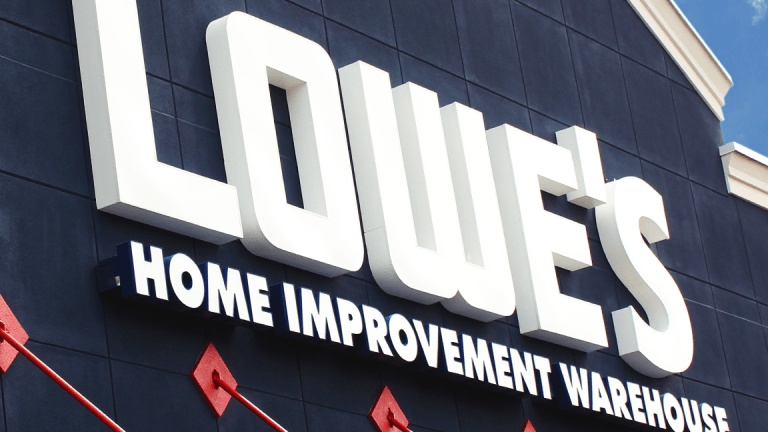 Stocks finished lower on Tuesday as Wall Street reacted to a significant move on trade tariffs from China. China's Finance Ministry said Tuesday that it would slash import tariffs on automobiles into the world's biggest car market in what could be the most significant step by officials in Beijing to placate demands made by President Donald Trump to trim the country's multi-billion trade surplus with the U.S. The Dow Jones Industrial Average, S&P 500 and Nasdaq all finished lower.
J.C. Penney (JCP) - Get J. C. Penney Company, Inc. Report said Tuesday that CEO Marvin Ellison resigned and joined Lowe's Cos. (LOW) - Get Lowe's Companies, Inc. (LOW) Report  as president and chief executive. Penney shares fell 6.8%, while Lowe's shares slipped 1.9%. The move is an aggressive one for Lowe's, which as struggled to keep up with it home improvement competitor Home Depot (HD) - Get Home Depot, Inc. (HD) Report  . The Deal's Ron Orol points out that Ellison spent about 12 years at Home Depot, in various senior roles, until 2014, including a stint as executive vice president. According to analysts, he had been on the short list to succeed the chain's departing CEO Frank Blake, in 2014. In the end, Craig Menear replaced Blake and, now, Ellison is taking on the company that he helped build into a powerhouse.
Content is king, or so we've heard. But in today's world of media bandwidth may as well be the price. The heir apparent. With Facebook (FB) - Get Facebook, Inc. Class A Report  and Qualcomm (QCOM) - Get QUALCOMM Incorporated Report  announcing that they would also get into the 5G game, investors have to wonder what this means for traditional internet providers and cable companies. Well, according to Real Money's Eric Jhonsa, the move shouldn't completely spook investors. "Should such competitive upheaval happen, it will likely take a few years to arrive," he writes, adding that "Networks don't get built overnight, especially ones that need to be approved by municipal authorities and regulators." Still, U.S. broadband duopolies could be facing a major competitive threat in the early part of the next decade.
Whether it's a good use of capital or not, Wall Street loves buybacks. Micron (MU) - Get Micron Technology, Inc. (MU) Report  was the latest to pull off a massive buyback, announcing Tuesday it would repurchase more than $10 billion of its own shares. Shares were up more 6% Tuesday. The buyback is a short-term EPS fix, and does little to fix a lack of profitability or bridge declines in its memory unit. But while announcing a buyback the company also outlined a path to profitability that Wall Street applauded. "They're managing the company for profitability," said Stifel analyst Kevin Cassidy. For a company such as Micron, which Cassidy said has not been profitable for more than 30 years, "it shows that management is very confident." Investors seemingly are, too.
This is an excerpt from "In Case You Missed It," a daily newsletter brought to you by TheStreet. Sign up here.
Photo of the day: Bittersweet selloff
Candy is big business, and it's hard to keep up with the changing consumer tastes, just ask Lucy and Ethel of "I Love Lucy" fame. While companies like Hershey (HSY) - Get Hershey Company (HSY) Report and Italy's Ferrero Rocher are keeping up with the Joneses through acquisitions, one iconic American company has been left in the dust. New England Confectionery Co., or NECCO, the maker of Necco Wafers, Sweethearts and Clark Bars, is up for sale after filing for bankruptcy earlier this month. The 117-year-old debtor will go to auction on Wednesday, May 23, with four bids for its assets. Read More
Read more from "In Case You Missed It." Sign up here.