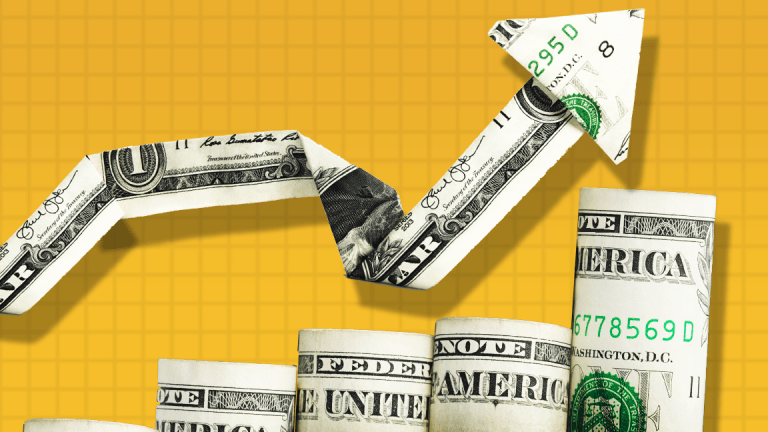 Low Inflation Rate Confounds Economists, Though Maybe the Internet Explains It
The U.S. unemployment rate is at 3.6%, its lowest since December 1969, but a scarcity of workers hasn't translated to a surge in consumer prices. Federal Reserve Chair Jerome Powell says rapid advances in technology might be one factor.
It's the biggest conundrum gripping the economics profession right now, stoking befuddlement from Federal Reserve Chairman Jerome Powell to the billionaire investor and Berkshire Hathaway (BRK.A) CEO Warren Buffett.
Why is inflation so low?
Even as President Donald Trump's late-2017 tax cuts have stimulated U.S. economic growth and pushed the nation's unemployment rate to a half-century low of 3.6%, consumer prices have barely accelerated. Barclays, the U.K. investment bank, predicts that the jobless rate is likely to track even lower in the months ahead. 
Historically, low unemployment rates combined with robust growth have proven a guaranteed recipe for inflation: As employers compete for shrinking pool of available labor, they have to increase wages. In turn, they try to recover the added costs by boosting prices. 
A U.S. government report Friday is expected to show that the consumer price index, or CPI, was up 2.1% in April from a year earlier, based on a survey of economists by the data provider FactSet. Such a reading would represent an acceleration from the 1.9% pace reported for March. 
But the inflation rate remains stubbornly low by historical standards.
In the two decades prior to 2008, when the global financial crisis rocked markets and led the Federal Reserve to add trillions of dollars of fresh money to the banking system, consumer prices rose by an average 3.1% annually. Since then, the inflation rate has averaged just 1.8%.
Recent softness has been due to falling apparel prices, driven by a change in pricing methodology on the part of government data publishers, according to money-markets-focused research firm Wrightson ICAP. 
Rob Kaplan, president of the Federal Reserve Bank of Dallas, wondered aloud in a speech Tuesday whether the strong labor market might be combining with the new economy to draw in new workers who previously weren't even looking for jobs. 
"Is it possible that improvements in skills training, child care availability and transportation availability have drawn, and could still draw, more sidelined workers back into the workforce - and keep them in the workforce?" Kaplan said, according to prepared remarks. 
That might help explain the lack of strong upward pressure on wages, and in turn consumer prices. 
Powell, the Fed chair, said last week that the recent string of low readings on inflation might be due to "transitory" factors - short-term price drops for certain consumer items that are expected to reverse.
He cited the view to support his case that no interest-rate cuts are needed at the present, despite Trump's call for a one-percentage-point cut. The central bank usually cuts interest rates when inflation is low, because that's often an indication that the economy is on a weak footing.  
Torsten Slok, chief economist at the German lender Deutsche Bank, wrote last week that "Powell is right." The financial industry has witnessed a spate of unusually low inflation, but that's likely to reverse due to this year's rebound in U.S. stock markets.
"We should expect to see the financial services component move higher again," Slok wrote.   
But who knows, really? Central banks around the world have pumped so much money into the global financial system in the past decade - unprecedented in the history of the economy - that the usual rules may not apply. Or the factors might just be distorted. 
Berkshire Hathaway's Buffett told CNBC in an interview Monday that the situation has gone topsy-turvy - partly because official interest rates are so low, currently set in a range of just 2.25% to 2.5%.   
"Since money doesn't cost anything, you can print lots of money and have full employment and no inflation," Buffett told the channel.
Is it sustainable? Probably not, according to Buffett.
"I wouldn't think you can have these things at these levels - long-term rates, interest rates, budget deficits, have that at a stable situation for a long period of time," he said.  
The Fed's Powell floated another explanation for the low inflation rate at a press conference last week: Technology might be advancing so rapidly that workers have become more productive, allowing each employee to generate more value per hour for their employers, in turn leaving them room to increase wages and still keep profits up -- without raising the end prices charged to consumers.    
"It's driven to some extent by technological developments and really the diffusion of technology through the economy," Powell said. 
Thanks, internet!
Powell quickly added: "It's very hard to predict."
Oh.