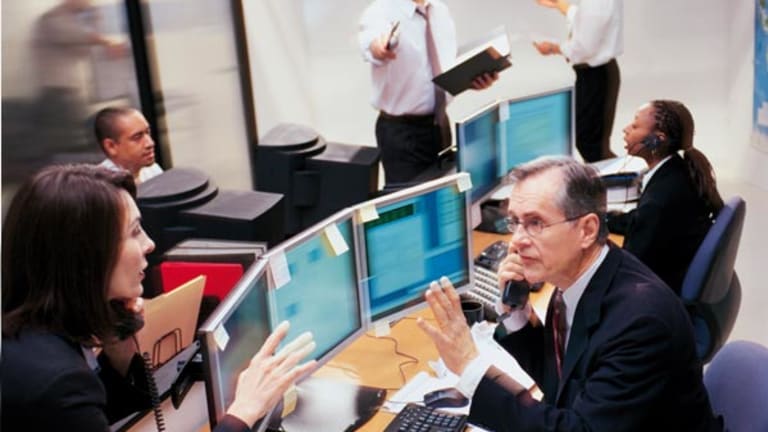 Low-End Line Holds at Nokia
But there's trouble brewing in the high-end handset market.
This column was originally published on RealMoney on Jan. 25 at 2:34 p.m. EST. It's being republished as a bonus for TheStreet.com readers. For more information about subscribing to RealMoney, please click here.
In the fourth quarter,
Nokia's
(NOK)
core strength was on full display. Cheap phones sold at lucrative margins, and basic phone unit-sales growth ticked along at a relatively solid 14%. The low end is doing just great.
But Nokia's numbers also clinch the case for genuine trouble brewing in the high-end handset market.
Sweet 'n' Low
Considering how mature the product segment is, Nokia's low-end success is remarkable. Overall, Nokia sold more than 105 million phones in the fourth quarter, while the average price of a Nokia handset has now dropped below 90 euros. Yet for the Nokia mobile-phones unit, revenue growth was 14%, and the operating margin came in above 17%.
For nearly a decade, Nokia has owned the low-end handset market. Since the bitter famine year of 2001, many key rivals have simply opted out of the mass market and focused on more-expensive phones. For instance, both
Sony Ericsson
and
Samsung
have built successful and profitable phone businesses after abandoning the cheapie segment.
This winter is a crucial period for Nokia because it is finally facing a true global challenge in the low-end market, perhaps for the first time in half a decade.
Motorola
(MOT)
has defiantly declared it will compete against Nokia in the low-end mass market in Asia and price some of its models below Nokia's bestsellers.
The first round of this match is now over, and Nokia landed a haymaker. Even though Nokia has not yet fully transitioned to using the new
Texas Instruments
(TXN)
low-end chip, it managed to counterattack Motorola by dropping its average selling price, or ASP, sharply while delivering rising operating margins with its bread-and-butter mobile-phone division.
This combination of factors should force Motorola to revise its strategy of competing in the low-end mass market. It's not surprising that Nokia managed to hit Motorola's margins hard. It is a bit surprising, however, that it managed to do so before the full benefits from the new Texas Instruments chips are evident. But it is very surprising indeed that all this happened while Nokia coolly jacked up the margins of its basic phone division.
The Asian low-end market has been the graveyard of non-Finnish handset ambition for a decade. From
Philips
to
Matsushita
to
Ericsson
(ERIC)
, this product sector has helped bury the global ambitions of phone divisions since the mid-'90s.
It will be extremely interesting to see whether Motorola truly intends to go ahead with a full-frontal attack on Nokia in the sub-$80 segment in developing markets in 2007. If Nokia really can deliver an overall ASP below $90 with these kinds of operating margins, what will happen if it actually decides to get aggressive?
Bitter Top Notes
The high-end market is a bit of a disaster zone right now. We've gotten negative comments about the handset mix, slanting surprisingly steeply toward cheaper models, from Motorola. Nokia is now delivering some fairly alarming signs about the same issue.
First, Nokia's fourth-quarter North American mobile-device volume tanked to 5.9 million from 9.8 million a year earlier. This happened after an ambitious launch of the E-62 last summer and some nifty business models for
Cingular
, which had a gangbuster quarter in subscriber additions.
The interest in Nokia's email campaign in the U.S. market seems to be roughly zilch. Judging from Motorola's sudden silence regarding its rival model, the Motorola Q, consumer demand for email phones may be much more tepid than expected. This is a problem, because mobile email was supposed to be a major driver for midrange upgrade sales in 2007.
Second, enterprise-device sales grew 99% to 305 million euros, and multimedia device sales grew 6% to 2.14 billion euros. Both units look softer than expected. Enterprise-sales growth should be well into triple digits; several key E-series models launched last summer. Multimedia sales growth should have remained in double digits.
There's the usual defense of delayed launches, but I'm not buying it. There are enough enterprise and multimedia models out there to gauge consumer interest, and something is not clicking. It's just strange that the division saturated with low-end phones is now showing twice the sales growth as the multimedia division, with its new product concepts and widening W-CDMA portfolio.
Nokia should have emulated Sony Ericsson and created crisply defined, separate product segments for both music phones and camera phones. The current N-series branding, which encompasses whole ranges of music and photo models, is confusing, and the design of entertainment models has drifted too close to the corporate models.
The shock of the new is now missing. Nokia needs some extra design kick soon: transparent models, asymmetrical models, flexible displays, motion control and/or miniature projectors. I still believe
Apple's
(AAPL)
new phone is too odd to work in the mass market, but Nokia has taken the opposite route -- all the way into the central plaza of Snore City. Billions have been invested in software development, so why are there so few interesting applications bundled into Nokia models?
There seems to be real trouble in the mid- to high-end phone market. Only Sony Ericsson dodged the problem in the fourth quarter; Motorola, Samsung, LG and Nokia have now all shown signs of high-end weakness. As I mentioned in an
earlier column, it is puzzling that high-end problems are surfacing at this point of the phone market cycle. Annual handset volume growth still tops 20%; European operators are trying hard to switch consumers to fancy new W-CDMA models, and many affluent Asian economies should be transitioning from entry-level buying to upgrading.
The high-end weakness we are witnessing in fourth-quarter results is difficult to explain and will undoubtedly concern investors before we get more solid information about what's going on. That would happen decisively in April, when the first-quarter numbers come out and we get a sense of how the difficult transition from the hectic Christmas season to the slowest quarter of the year went.
That's why I believe Nokia is not about to embark on a wild breakout run. We're more likely witnessing a relief reaction to the fading challenge from Motorola.
At time of publication, Kuittinen had no positions in any of the stocks mentioned, although holdings can change at any time.
Tero Kuittinen is a senior product specialist for Nordic Partners, Inc., a pan-Nordic brokerage firm. Although Kuittinen is an employee of Nordic Partners, Inc., the statements above are being made in Kuittinen's personal capacity and are in no way are the statements of Nordic Partners, Inc., nor attributable to the company. Under no circumstances does the information in this column represent a recommendation to buy or sell stocks. Kuittinen appreciates your feedback;
to send an email.