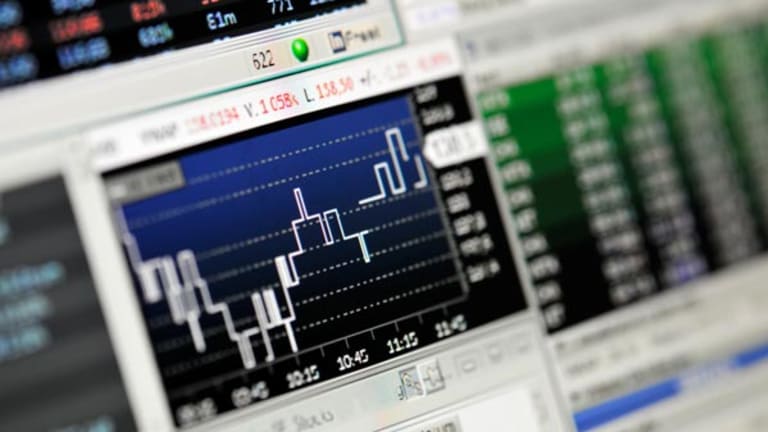 Looking for the Next Trade on Volume
Let's see if this thesis plays out well again.
This column was originally published on RealMoney on Dec. 6 at 2:17 p.m. EST. It's being republished as a bonus for TheStreet.com readers. For more information about subscribing to RealMoney, please click here.
Regular readers of
RealMoney
and
TheStreet.com
should be well-versed in recognizing quality companies with strong fundamentals. When it comes to long-term-investment ideas, we all understand the importance of valuations such as P/E and PEG ratios.
However, three weeks ago, I
suggested a trading idea based on the trading volumes of a pair of stocks. Given the success of this strategy, I thought I'd attempt to go back to the same spot, so to speak, to find a similar situation.
The original thesis for this trade was that with so many stocks hitting 52-week highs, investors -- or, perhaps more accurately, traders -- should keep an eye on volume levels to determine which stocks were poised to sustain their rallies. My idea involved two stocks with strong growth profiles:
Baidu
(BIDU) - Get Baidu Inc. Report
and
Palomar Medical
(PMTI)
.
In a nutshell, the thesis was that Baidu's combination of movement and volume indicated continuing strength, while Palomar looked more like it was simply rising with the broader markets. Since then, shares of Baidu are up more than 23.8%, while shares of Palomar are up 0.3% and the
Nasdaq
is up 0.7%.
Of course, if I were a reader now, I'd rather have a new idea, so let's try the strategy again.
Nearly 200 stocks made new 52-week highs yesterday, but there were few truly bright spots in terms of volume. I'm not surprised by this, considering the
paltry volume levels for the overall market. Nevertheless, I found two names that should sound familiar.
Shares of
AutoZone
(AZO) - Get AutoZone Inc. Report
ran up nicely after the parts retailer reported strong first-quarter earnings. The move came on 2.5 million shares traded, which is more than three times greater than the stock's three-month average daily volume. Ideally, I'd like to see heavy volume on limited news, but in this market, I'm willing to settle, especially because I like AutoZone on a fundamental basis as well.
A second bullish idea is
Under Armour
undefined
, which has been a fascinating play since its IPO a year ago. The stock has had a strong run in spite of extremely high valuation.
The large short position in the shares (21.7% as of Nov. 10, according to Yahoo! Finance) gives Under Armour some extra juice in the case of a short squeeze. Yesterday, the stock closed at a new 52-week high of $49.57 on more than 3 million shares traded, vs. a daily average of just over a million. Again, volume was almost three times higher than usual.
Remember that this trading strategy is two-sided, as we want to avoid some other companies whose stocks are hitting 52-week highs on ho-hum volume. Although the weak volume numbers in the broad markets give us a number of picks, I'll open myself up for criticism by pointing to
Fortune Brands
undefined
and
Lubrizol
(LZ) - Get LegalZoom.com Inc. Report
.
I have nothing bad to say about either of these stocks, except that the recent action suggests limited short-term strength, especially compared to our two high-volume movers. Fortune hit a 52-week high of $82.09 on just 601,000 in volume, which is actually less than the average daily volume of more than 800,000 over the past three months. Lubrizol, on the other hand, saw its shares close at $48.70 yesterday on 349,400 shares traded, about 28% above average volume.
I certainly don't expect this volume thesis to play out as well as last month's Baidu idea (an expected 23% return would be ridiculous), but this sort of trade appears to be working in this market and will be interesting to follow nonetheless.
In keeping with TSC's editorial policy, Larsen Kusick doesn't own or short individual stocks. He also doesn't invest in hedge funds or other private investment partnerships.
Kusick is a research associate at TheStreet.com, where he works closely with Jim Cramer and works on TheStreet.com Stocks Under $10. Prior to joining TheStreet.com, he worked in options trading and management consulting. He appreciates your feedback;
to send him an email.
Interested in more writings from Larsen Kusick? Check out
.