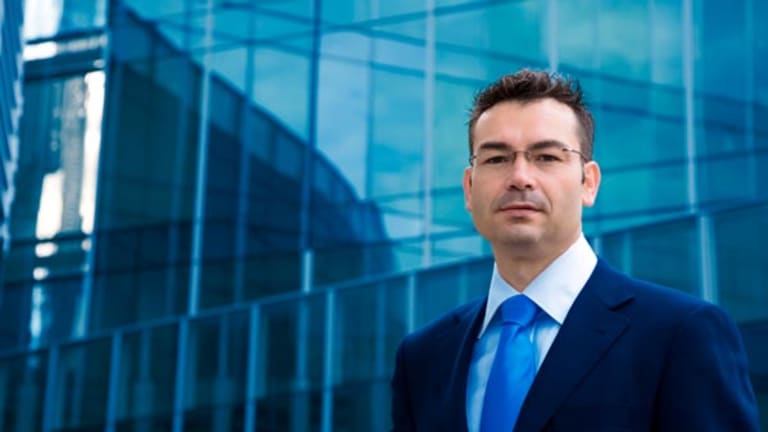 Look Carefully at Energy's Uptrend
Integrateds are set to move higher, but watch out for key moves in Exxon and ConocoPhillips.
This column was originally published on RealMoney on April 12 at 11 a.m. EDT. It's being republished as a bonus for TheStreet.com readers. For more information about subscribing to RealMoney, please click here.
Most successful businessmen get that way by being pioneers. They understand that success requires them to stand apart. That may require inventing a new product, improving an existing one or just doing things better than the next guy. But success in business requires an independent streak and a willingness to go against the grain.
Successful trading requires the same independence, with a twist. Trading requires a balance between marching to the beat of your own drum and following the crowd. The two are not mutually exclusive. You've got to develop your own thesis, methodology and trading plan, but part of that plan must require following the crowd on the path to profits. That's the rub between contrarian trading and trend-following.
Contrarians are always looking to trade against the crowd. If the crowd likes a stock, contrarians hate it. If the market is strong, contrarians think about nothing but shorting. Why? Because when everybody loves a stock, "everybody" already owns it. And if all the fans are in their seats, who's left to buy more tickets? So when a stock is universally loved, the contrarian goes against the crowd and sells.
Trend-followers epitomize the crowd. When a stock is moving up, they buy. What's their reason for buying? Because the stock is moving up. This seems too simple to work, but a lot of folks make money with this basic trading plan. They buy when a stock is moving up and sell when it stops moving up. They don't think in contrarian fashion at all.
Successful traders blend the two. They might be contrarians to their own feelings and understand that if they find themselves getting caught up in the "irrational exuberance" of the crowd, they might be better off fading their own emotions and the actions of the crowd. They understand the cycle between contrarian thinking and trend-following. One must lead to the other to lead to profits.
If you find yourself unable to believe that your favorite stock might decline, then you know it's time to bring out the contrarian in you. You'll do better in the business of trading.
Let's get to some reader requests about an assortment of energy stocks:
Exxon Mobil
(XOM) - Get Exxon Mobil Corporation Report
,
Holly
( HOC),
ConocoPhillips
(COP) - Get ConocoPhillips Report
,
Uranium Resources
(URRE)
and
Duke Energy
(DUK) - Get Duke Energy Corporation Report
.
Exxon Mobil is in a prolonged uptrend, but has been consolidating over the past few months. Notice how the stock is now trading in a 10% range. The relative strength index and volume both are on the decline, which typically indicates waning momentum. I believe the integrated oil and gas stocks will move higher, but it looks like Exxon Mobil might get a bit cheaper first.
This weekly chart of Holly shows a stock that had been in a tight volatility squeeze for quite a while, but finally broke out above $55. Trading volume is on the decline, so that's a yellow flag for opening up new positions. I'd hope for a pullback before buying -- and I'd keep a stop below the breakout level.
So far, ConocoPhillips has not been able to push past resistance at $70. But the series of higher lows is bullish. I'd wait for a breakout before buying, and I'd keep a stop just below the April low.
One of my regular readers has been corresponding with me about Uranium Resources for a while. I
first covered this bulletin-board uranium stock in February when it was at $5.40. I looked at it again
last month when it was at $8.40. Why have I been preoccupied with this stock? Because it has been working on getting listed on the
Nasdaq
. Well,
the listing is finally happening, and as of today, Uranium Resources is legit.
As I see it, two things could happen: The stock will either succumb to profit-taking or be strong due to all the money looking for a home in uranium stocks. As a rule, I do not trade stocks that aren't listed on a major exchange, so I am not long this stock. Now that may change, if the stock continues to move higher.
The dividend on Duke Energy is more than 4%, which makes this an attractive stock. But the uptrend is even nicer. The stock has been continually trading between the middle and upper Bollinger Bands for almost a year. The stock is not that volatile, but I'd still wait for a pullback to current support around $20 before buying. And the declining volume during this recent advance is a good indication that a pullback is right around the corner.
Be careful out there.
Please note that due to factors including low market capitalization and/or insufficient public float, we consider Uranium Resources to be a small-cap stock. You should be aware that such stocks are subject to more risk than stocks of larger companies, including greater volatility, lower liquidity and less publicly available information, and that postings such as this one can have an effect on their stock prices.
At the time of publication, Fitzpatrick had no positions in any of the stocks mentioned in this column, though positions may change at any time.
Dan Fitzpatrick is the publisher of
, an advisory newsletter and educational forum dedicated to teaching effective risk management and trading methodologies to aspiring traders and investors. He is a former hedge fund manager and a member of the Market Technicians Association, and he now trades from his home in San Diego, Calif. While Fitzpatrick holds various securities licenses, he does not give recommendations to buy or sell stocks. Under no circumstances does the information in this column represent a recommendation to buy or sell stocks. He appreciates your feedback;
to send him an email.