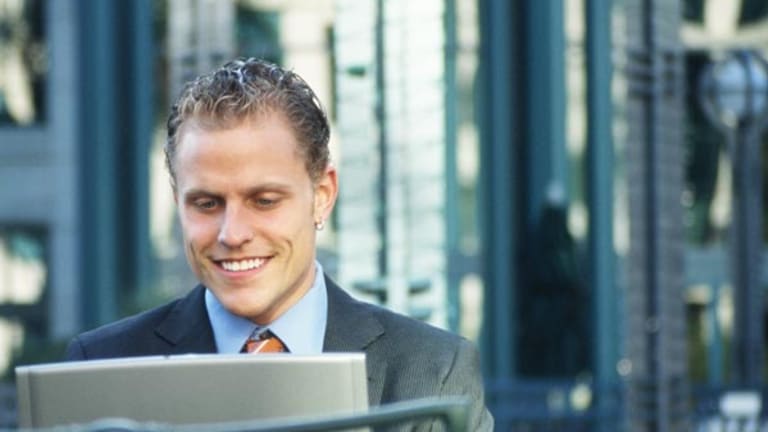 Long-Term Potential at Crocs
Look beyond the short-term story cited by the analysts.
This column was originally published on RealMoney on April 11 at 3:45 p.m. EDT. It's being republished as a bonus for TheStreet.com readers. For more information about subscribing to RealMoney, please click here.
Controversial
Crocs
(CROX) - Get Crocs, Inc. Report
may be heading higher again, but even bullish analysts don't seem to understand its real long-term story.
This shoemaker's stock, which is up about 95% over the past year, is on the rise again today, gaining more than 2% to about $53. That's on the heels of a bullish note released this morning by analysts at Piper Jaffray, who raised their 2007 estimates and detailed a number of positive catalysts for the company this year. Piper also hiked its price target on Crocs by $3 to $73, based on its estimates and its assumption that shares should trade at a price-to-earnings multiple of 30.
In addition, backlog and retail checks suggest that Crocs will post solid first-quarter results when it reports next month, while international sales are coming in ahead of plan. Piper reiterated its outperform rating on the stock, saying investors should own Crocs for its growth visibility and global distribution.
I give Piper credit for having been bullish on the company since over a year ago, when the stock traded in the low $20s. The handful of analysts who cover Crocs recognize the company's impressive growth profile, but in this name, there has also been a large contingent of vocal bears who were shorting the stock.
That's why, when it comes to making an investment decision about Crocs, it makes sense to look past the short-term story provided by Piper Jaffray. While the near-term thesis is important, sell-side analysts can be short-sighted and don't often provide a concise, common-sense analysis of why to own a stock.
The story of Crocs is more than a simple projection of how the summer season will play out. Everyone knows that the company has had astounding sales momentum in an industry where growth is hard to find. Analysts are also keenly aware of the company's plans for continued international expansion, growing capacity to meet the demand for its popular, funny-looking and, by all accounts, incredibly comfortable clogs.
Analysts, however, barely mention the significant opportunity for longer-term upside in Crocs if the company can successfully launch new products that appeal to the many people (like me) who view its standard line as ugly. Continuing strength in sales of its traditional clogs is obviously a plus, as is the opportunity for growth from international expansion, but the real potential lies in Crocs' ability to introduce "normal-looking" shoes that follow in the company's tradition of comfort.
If the company can accomplish this feat, there's a potential double benefit: Those who already love the shoes will buy more to replace the styles they now buy from other brands, and those who don't own any Crocs clogs yet will be brought into the mix. You won't read anything that simplistic in an analyst report; sometimes common sense isn't as common as it should be.
The other major issue that the analysts haven't highlighted is the significance of the large short position in Crocs' stock. As I've
written about for
months now, Crocs remains a favorite short candidate among traders, with shares shorted as a percentage of float standing at 28.7% as of March 15. But it looks like the steady stream of money moving against the stock is beginning to let up.
When the stock recently retreated to the mid-$40s, the short position dropped to 28.7%. That figure, while notable, is significantly below the 36.3% reading in January, when shares were trading around $47 to $48. It looks as if the shorts are becoming more willing to accept the stock in the $45-to-$50 range, which I believe reduces the risk profile.
That said, I would expect the short position as a percentage of float to increase as shares trade up to $60. Of course, this just increases the possibility for a short squeeze and a repeat of the same setups that occurred as the stock made its way up from $25 in July to $55 in February, going against the rising short position the whole way.
Investors should also note that the days-to-cover number has come down a lot this year, owing to a combination of less shorting and increased trading volumes. The days-to-cover number indicates how long it would take to unwind the
total short position in a stock, based on the average daily trading volume.
Ahead of Crocs' expected earnings report about a month from now, I wouldn't be surprised to see shares trade higher on expectations for above-consensus earnings and for management updates on the second-half release of diversified product lines aimed at reducing the seasonality of sales.
Naturally, investors should probably expect to see any gains shadowed by a rising short position on hopes for an earnings stumble and valuation concerns, but that hasn't stopped shares of Crocs from pushing higher over the past year.
In keeping with TSC's editorial policy, Larsen Kusick doesn't own or short individual stocks. He also doesn't invest in hedge funds or other private investment partnerships. Kusick is a research associate at TheStreet.com, where he works closely with Jim Cramer and works on TheStreet.com Stocks Under $10. Prior to joining TheStreet.com, he worked in options trading and management consulting. He appreciates your feedback;
to send him an email.
Interested in more writings from Larsen Kusick? Check out
.