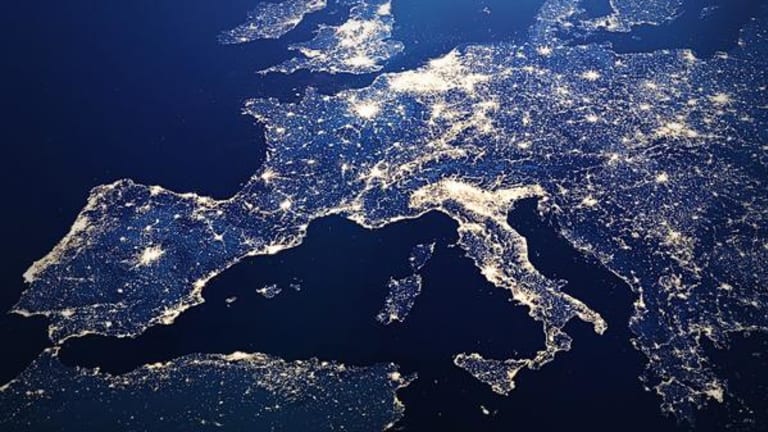 London Stocks Lead Europe Lower Ahead of Election
European stocks were mixed at the close of Wednesday's session ahead of a key date for both the U.K. and eurozone.
European stocks were lower by the close Wednesday ahead of a key date for both the U.K. and eurozone.
Thursday sees British voters head to the polls in a hotly contested and highly uncertain general election while the European Central Bank will also take center stage with its latest interest rate announcement and press conference.
The FTSE 100 dropped 0.62% to 7,478 while, in Frankfurt, the blue chip DAX index slipped 0.14% to 12,672. The CAC 40 index edged 0.07% lower to close 5,265 in Paris. Over in southern Europe, the FTSE MIB and IBEX both printed losses for the session.
At the company level, the headline news item for the day was the forced sale, or so-called resolution, of Spain's Banco Popular (BPESF) at the hands of European regulators. 
Santander (SAN) - Get Banco Santander SA Report has bought the bank for a nominal sum of €1 and will issue €7 billion of new shares in order to strengthen the combined balance sheet and facilitate the write down of Popular's mammoth NPL pile.
Popular has a non-performing loan ratio of nearly 40% of gross loans, which has been made difficult to address by weak profitability, as bad loan sales will likely have meant write downs that reduce regulatory capital, which is then difficult to replace due to a flimsy bottom line. The ECB said last year that it will come down hard on banks who fail to deal with their NPLs.
In recent weeks, a sudden increase in depositor withdrawals had left the bank with diminishing capacity for new loan issuance, which will have been the only other route through which Popular could have chipped away at its bad loan ratio.
Oil stocks were also a weight on markets at the back end after Energy Information Administration data showed U.S. commercial crude inventories building sharply during the recent week.
Inventories rose by 3.3 million barrels, when forecasters had been expecting them to have been drawn down by around 3.1 million barrels.
The EIA data comes at a time when a diplomatic spat in the middle east, threatens to derail the OPEC oil production freeze agreement, with various Gulf states now shunning the Qataris over its alleged financing of terrorism.
In London, BP (BP) - Get BP Plc Reportand Royal Dutch Shell (undefined) stock dipped more than 1% in late trading as traders bet on a minor deterioration of sentiment toward the sector.
Shire (SHP) stock was the top faller on the FTSE 100, with a loss of around 3%, after the drug maker said that it has a study into its GvHD candidate for Alpha-1 Antitrypsin due to slower than expected recruitment for the trial.
Advertising agency WPP's (WPPGY) stock slipped after the advertising agency said in its AGM statement that organic sales growth came in at 0.7% in the second quarter, down from 0.8% in the previous period. The shares dropped close just more than 2% for the session.
Over in Frankfurt both E.ON (EONGY) and RWE (RWEOY) stock rose 5% and 6% respectively Wednesday, making them the top gainers on the DAX index.
Germany's top court said that taxes levied by the government on nuclear energy since the Fukushima disaster in 2011 were unconstitutional and void, setting both E.ON and RWE up to collect a reimbursement of around 4 billion from the German government.