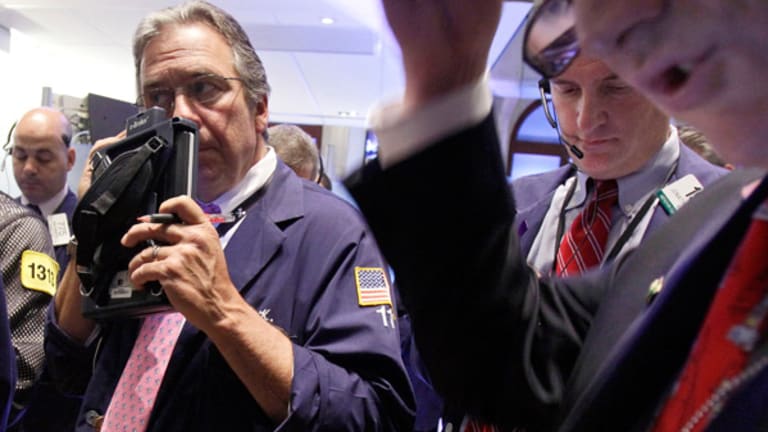 Lockheed Martin Walks the Line
Watch for a move back above its 50-day moving average.
This column was originally published on RealMoney on April 10 at 11:00 a.m. EDT. It's being republished as a bonus for TheStreet.com readers. For more information about subscribing to RealMoney, please click here.
One of the biggest differences between experienced and inexperienced traders is the ability to deal with uncertainty. Nobody likes uncertainty; I know I don't. But experienced traders learn to embrace uncertainty because they understand its place in the market.
Those who are new to the game are uncomfortable with uncertainty and view it as a reason to stay on the sidelines. Simply put, in an uncertain environment, inexperienced traders equate inaction with discipline.
How many times have you waited with bated breath for that next data point that will make everything clear? You have a good handle on the present situation, but things are still a bit murky. You have digested that last piece of critical economic data, yet there are still a few questions you need answered before you can act. So you wait for the next data point -- a jobs report, a price index number, some home-sales figures. Either way, you just don't feel that it's prudent to do anything until you have that data.
But here's what always seems to happen: That data point appears ... and creates yet more uncertainty. So you decide to wait again, and again, and again.
Experienced traders understand that uncertainty is a necessary ingredient in the financial markets. The water is always murky. There must be two sides to every story to create a market. If the story were crystal clear, stocks would not trade, because everyone would be on the same side of the trade. We'd all want to own a stock, or none of us would want to own it. It's the uncertainty that creates the market.
You will see a dramatic reduction in the amount of time you spend on the sidelines when you learn to trade in an uncertain environment. Learn to take action on the basis of the information you have, and to manage the risk created by that action with discipline and consistency.
Let's get to some reader requests:
Garmin
(GRMN) - Get Garmin Ltd. Report
,
Carrizo
(CRZO) - Get Carrizo Oil & Gas, Inc. Report
,
Lockheed Martin
(LMT) - Get Lockheed Martin Corporation Report
,
Tata Motors
(TTM) - Get Tata Motors Ltd. Report
and
Cleveland-Cliffs
(CLF) - Get Cleveland-Cliffs Inc Report
.
This weekly chart shows Garmin in a well-defined uptrend. Its relative strength index is bouncing along the midline but never falling into bear territory. The stock price continues to oscillate between the middle and upper Bollinger Bands. If you like Garmin -- and given its multimonth uptrend, liking it is understandable -- this could be yet another great buying opportunity. If the stock falls below support by just a couple of bucks, you can sell at a small loss.
Carrizo has had a nice 2007 so far. After running from $29 up to $35 in less than a month, the stock has been consolidating for the past week. But last Thursday, it broke out of this flag pattern and began moving higher. If you're long, try keeping a stop just below $35. Carrizo should fall that low only if insufficient buying interest exists to start the next leg higher.
Lockheed Martin is still recovering from the late-February correction but is showing some promise. If you've ever wondered whether moving averages matter, check out Lockheed's stock price during the first half of March. The stock literally walked along the 50-day moving average for most of the month before slipping lower. I like this stock, but I'd be interested in buying only on a move back above the benchmark 50-day moving average.
A reader wanted my take on Tata Motors on Monday, noting that the stock appeared to be at an excellent buying opportunity. As I look at the chart, I understand what he's saying, but I can't agree with the conclusion. I see a stock that is still making a series of lower highs and lower lows within a multiweek uptrend. A lot of trading activity took place between $18 and $18.50. I would still look at that level as a source of latent selling pressure, because those who bought at that level are waiting for an opportunity to sell where they bought. If you like Tata, why not wait for the stock to print a higher low before dipping a toe in?
Cleveland-Cliffs is moving higher along a well-defined trendline. Notice how much time the stock has spent moving along the upper Bollinger Band; this is what strong stocks do. While I don't see anything that makes me doubt the viability of the uptrend, I do recognize the monster move that the stock has made in a short period of time. Since the March low, Cleveland-Cliffs has run more than 30%, creating a pretty steep trendline. With a trendline this steep, I think it pays to take a bit off the table into this strength and then wait patiently for the stock to pull back before reloading.
Be careful out there.
At the time of publication, Fitzpatrick had no positions in any of the stocks mentioned in this column, though positions may change at any time.
Dan Fitzpatrick is the publisher of
, an advisory newsletter and educational forum dedicated to teaching effective risk management and trading methodologies to aspiring traders and investors. He is a former hedge fund manager and a member of the Market Technicians Association, and he now trades from his home in San Diego, Calif. While Fitzpatrick holds various securities licenses, he does not give recommendations to buy or sell stocks. Under no circumstances does the information in this column represent a recommendation to buy or sell stocks. He appreciates your feedback;
to send him an email.