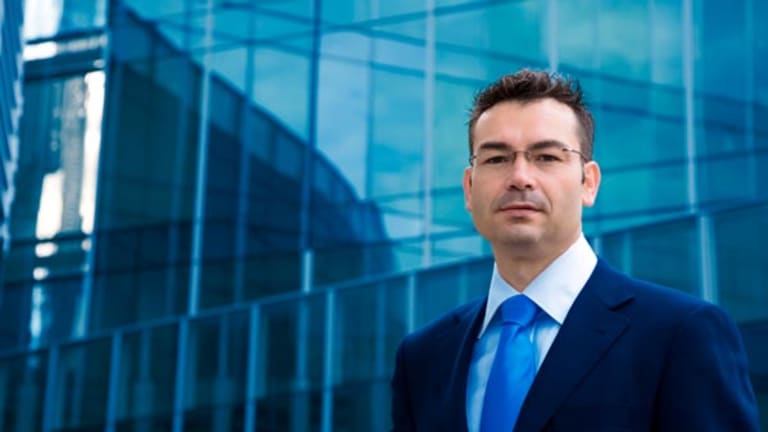 Lilly Deserves a Gilding
It lagged the sector's run, but now is poised to outperform the group as it impresses investors again.
This column was originally published on RealMoney on Nov. 7 at 6:58 a.m. EST. It's being republished as a bonus for TheStreet.com readers.
Shares of drugmaker
Eli Lilly
(LLY) - Get Eli Lilly and Company (LLY) Report
have largely sat out this year's big pharma rally. The Amex Pharmaceutical Index (DRG) has advanced about 9%, led by double-digit gains in
Merck
(MRK) - Get Merck & Co., Inc. (MRK) Report
and
Pfizer
(PFE) - Get Pfizer Inc. Report
. In fact, Lilly is the only one of the major pharma players to have a negative year-to-date return.
But the performance of the entire group has downshifted over the past month during the broader market rally and as caution develops toward the general industry ahead of this week's midterm elections. I expect short-term election concerns to fade quickly, but believe the best gains from sector rotation are largely behind the group.
Eli Lilly shares have been held back by earnings concerns generated by weakness in its large Zyprexa franchise and a few recent pipeline setbacks. Investors also have been underwhelmed by the recently announced $2.1 billion acquisition of its Cialis marketing partner, Icos. As a result, I believe Lilly has the best opportunity among the major pharma players to improve investor sentiment over the next few months.
In third-quarter results, the company showed an improvement in its key Zyprexa franchise with 5% growth overall and a 3% gain in the U.S. Many critics continued to downplay these gains, which were largely driven by price increases. In my opinion, this represents a healthy turnaround from the negative trends in recent quarters, as pricing is a viable driver for many large and mature pharmaceutical franchises.
In addition, Lilly appears to have another strong driver, antidepressant Cymbalta, back on track. The line is showing 91% growth and $349 million in quarterly sales. This product line is benefiting from a less competitive antidepressant environment, with generics cutting into Pfizer's Zoloft and Wyeth's Effexor XR franchises. Lilly was also successful in driving growth through its own direct-to-consumer ad campaign last quarter.
Lilly management continues to keep expectations in check for this year. On the third-quarter call, the company talked down full-year sales growth toward the low end of its 7% to 9% range. Meanwhile the company has announced some ambitious restructuring programs that include shutting several manufacturing and research facilities. I expect that these cost-cutting gains and synergies from the Icos consolidation will improve the company's operating leverage going forward.
Besides relatively low market expectations, the main attractions Lilly shares hold are the company's low generic risk profile -- there aren't likely to be any off-brand competitors for Lilly's drugs soon -- and the potential of its pipeline. The company has faced some setbacks on this front with the regulatory failure of Arxxant, a treatment for diabetes related vision damage, and the discontinuation of its PPAR program, which was hoped to yield new treatments for diabetes and metabolic diseases. I believe the company's pipeline continues to look good, with both line extensions and new therapeutic opportunities.
The main program for Lilly is its Prasugrel, an anti-platelet product. Prasugrel is believed to have activity similar to
Bristol's
(BMY) - Get Bristol-Myers Squibb Company Report
Plavix, but utilizes an alternative pathway. This is likely to improve activity among a wider range of non-responding Plavix patients. Lilly has even greater ambitions for this product, with the results of a head-to-head trial vs. Plavix likely by late 2007. Favorable trial results would greatly expand market expectations for Prasugrel. This market opportunity may reach the $10 billion level by the end of this decade with increasing global penetration and rising safety concerns toward drug-eluting stents (DES). Anti-platelet treatments are expected to show solid growth over the next few years as adverse safety events following DES procedures are likely to keep patients on this therapy for longer periods.
Prasugrel is likely to be the highlight of Lilly's early December research and development meeting with investors, but there are other opportunities for the company. These include the early '07 European market launch of diabetes treatment Byetta. Lilly and
Amylin
(AMLN)
have enjoyed success co-promoting this product in the U.S., but Lilly is entitled to a larger 80% profit split from Byetta in Europe.
I have even greater expectations for the follow-on exenatide LAR formulation, which is an improved once-weekly therapy. Byetta is currently dosed twice a day. I also expect further data releases on the exenatide LAR project during the course of '07.
In addition, Lilly has an AIR Insulin program in development with Alkermes that could alleviate market concerns over its existing insulin franchise if Pfizer's Exubera starts to gain market share. This project is further away from coming to market, with a possible '09 launch.
Finally, the Icos deal not only brings the $700 million Cialis franchise in-house, it also provides additional pipeline options. Lilly intends to continue Phase 2 programs for Cialis in both the benign prostate hyperplasia (BPH) and pulmonary arterial hypertension (PAH) segments. Cialis is likely to follow the lead of Pfizer's Viagra and gain a new growth platform in PAH.
Regular followers of Lilly will notice I haven't discussed the company's cancer lines or Strattera ADD treatment; that's because I don't feel there's much chance for a big surprise to come from them. I like the growth outlook for the Alimta and Gemzar cancer franchises, but I don't have a non-consensus view. Similarly, I think the difficulties for the Evista and Strattera lines are already well-known and reflected in the share valuation.
From a valuation perspective, Lilly typically has traded at a premium to the group on the basis of its pipeline promise. Following two years of sideways action in Lilly shares, this relative valuation premium has faded, with the stock in line with the group averages at 17.8 times 2006 earnings estimates, and 16.6 times 2007 earnings estimates.
I believe Lilly shares have a great opportunity to repair investor sentiment and rebuild a 10% valuation premium to the group. I'm looking for the stock to reach the $65 level as key franchises continue to deliver and market perceptions toward the company's pipeline improve.
At the time of publication, Michael Latwis had no positions in any of the stocks mentioned, although positions may change at any time.
Michael Latwis has directed health care content at TheStreet.com Professional Products. He also has worked at Barclays Wealth management division and was previously associated with Lazard Freres and Fiduciary Trust. Latwis covered companies in the pharmaceutical and specialty pharmaceutical sectors as well as biotech, medical technology, healthcare services, retail and media stocks. Under no circumstances does the information in this column represent a recommendation to buy or sell stocks. Latwis appreciates your feedback;
to send him an email.