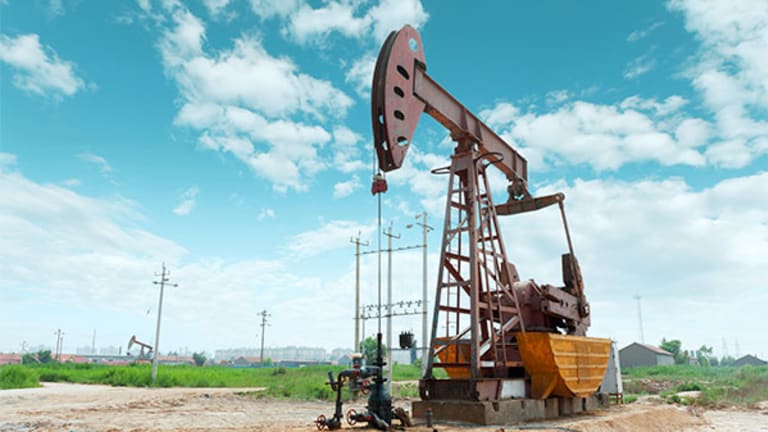 Light Sweet Crude Oil (OIL) is Today's 'Chart of the Day'
Light Sweet Crude Oil (OIL) is not a flat-out buy yet, Trifecta Stocks' Chris Versace and Bob Lang said in today's 'Chart of the Day.'
Light Sweet Crude Oil (OIL) is not a flat-out buy yet, Trifecta Stocks' Chris Versace and Bob Lang said in today's 'Chart of the Day.'
NEW YORK (TheStreet) -- iPath S&P GSCI Crude Oil Total Return  (OIL) - Get Report is up by 3.29% to $5.34 in early-afternoon trading on Monday.
Oil prices are rising on Monday on expectations that OPEC members will enact a freeze on oil production, the Wall Street Journal reports. 
Crude oil (WTI) is up by 2.92% to $36.97 per barrel and Brent oil is rising by 2.76% to $39.79 per barrel this morning.
TheStreet's Chris Versace and Bob Lang of Trifecta Stocks have identified Light Sweet Crude Oil as the "Chart of the Day." Here is what Versace and Lang had to say about the company:
Last week was a very strong one for crude oil. In fact, any commodities ripped higher, to end the week at some multi-week highs. Notable was the strength in smaller crude oil-related names, ones that had been tossed overboard after the crushing blow to the commodity.

The price of crude still is in the lower end of the range, but as I noted midweek, if we saw a weekly close over $35 a barrel, then that would turn the chart intermediate bullish.

Now, this is a snapshot of previous trends and current price action. The caveat is news, of course, and if the production of crude continues to beat demand, then the chart read is irrelevant.
This weekly chart is quite constructive and bodes well for more upside. However, we must remember the time it takes to turn charts around. This one has taken well over a year, and it is not a flat-out buy as of yet.

The last three candles are bullish and were made with strong volume, so there's been institutional accumulation. The moving average convergence divergence (MACD) has turned up and confirmed. Relative strength has also improved a bit.

We see the downtrend line from September has been broken and confirmed. Tons of resistance ahead in the mid-$40 range, but from here there may be a nice 28% move up to that level.

Sentiment is still poor on crude, but with the positive chart that could be a nice "wall of worry" for the commodity to climb.
- Chris Versace and Bob Lang "Chart of the Day: OIL" originally published on 03/07/16 on Trifecta Stocks.
Want more like this from Chris Versace and Bob Lang BEFORE your stock moves? Learn more about Trifecta Stocks now!