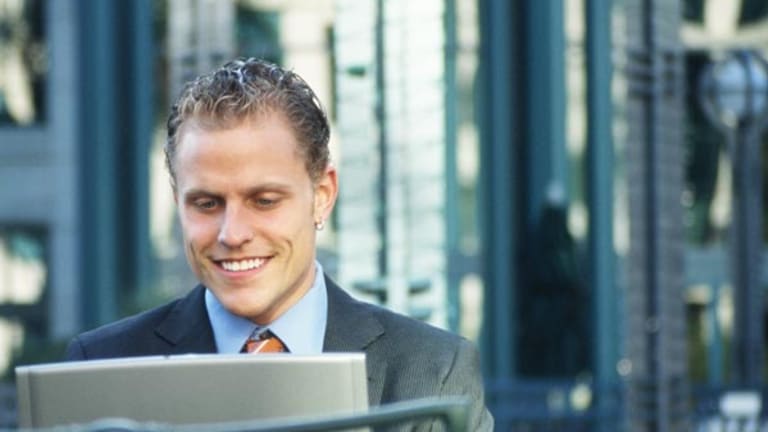 Light Bulb Goes On at GE
After a rather ugly pullback, it is now positioned for an excellent entry.
This column was originally published on RealMoney on Feb. 1 at 12:00 p.m. EST. It's being republished as a bonus for TheStreet.com readers. For more information about subscribing to RealMoney, please click here.
General Electric
(GE) - Get General Electric Company (GE) Report
has been acting poorly lately, but it may be time to start thinking about bottom-fishing for a trade. The stock has some good divergences on the 60-minute chart in conjunction with being violently oversold on the daily. This is a nice combination that doesn't come around too often. Again, I'm not necessarily talking longer-term here. This is set up for a short-term trade opportunity.
GE is involved, it seems, in almost every aspect of the economy's health, from commercial finance to making plastics. It makes transportation equipment. It's in television broadcasting. The list goes on and on, and thus it's very important to watch the health of this stock to get a good feel for what the economy is doing currently and, more importantly, what it may do in the future.
When I scour the world of stocks, I get excited when I see opportunity. I'm excited here, because the near term looks very good. Keep in mind that GE is a lower-beta stock. This means there's less movement in it because of the high number of shares outstanding. It takes a lot to move this stock up or down, but there's no question there is a real opportunity here, so let's explore both the 60-minute and daily charts to understand why this stock looks so good even though the charts look so bad.
First let's look at the daily chart. This stock, like most stocks since July, has participated nicely in the move upward off the lows, a strong steady move that peaked out in early October. It based for two months, and as you can see on the chart, it retested that high in mid-November only to pull back once again. Nothing wrong with that behavior, as it can frequently take three or four tries before making a new breakout. The third time was the charm, as it made the move up and out about one-third of the way through December.
Quite often, and I have spoken about this frequently in the past, stocks will pull back over time to retest a breakout, and if a stock is truly powerful, it'll blast back up off that retest area. From mid-December through mid-January, GE made a slightly higher high, but look at how much weaker MACD was on the new high. The retest was on in full force with the stock dropping hard to where it is now, right at the retest level. You can't get a much better entry point than there, because the risk/reward is so powerfully in your favor.
If you enter here near $36, your stop would be just below the 200-day at $34.92, thus you could make your stop at $34.50, risking about $1.50. If the stock holds here, the move up could get back to at least the old highs, if not further over time.
Now let's look at the message from the 60-minute chart. You can see how MACD continues to put in a series of higher lows on this move lower. This is what you're looking for when trying to find a good bottom area to buy off of. The positive divergence is also there on the RSI, thus you have two indicators saying it's getting ready to turn from the down side to the up side.
There is never a guarantee that with a combination as strong as this -- buy signals in two time frames -- that the stock will move the way we want it to. But the whole idea of buying or shorting stocks is to look at the risk/reward and ask if the odds are in your favor and if it's fine to pull the trigger. I think the answer here is yes.
Do keep in mind that you should use your stop here at $34.50 to keep losses to a minimum. If the stock holds here and can move over the old highs, then this could move from a short-term play to a longer-term one as well, but we can discuss that at another time if it becomes a reality.
At the time of publication, Steiman had no position in the stocks mentioned, although positions may change at any time.
Jack Steiman is president of TheInformedTrader.com, for which he also conducts live seminars, and Steiman New Research Group, LLC. Under no circumstances does the information in this column represent a recommendation to buy or sell stocks. Steiman appreciates your feedback;
to send him an email.