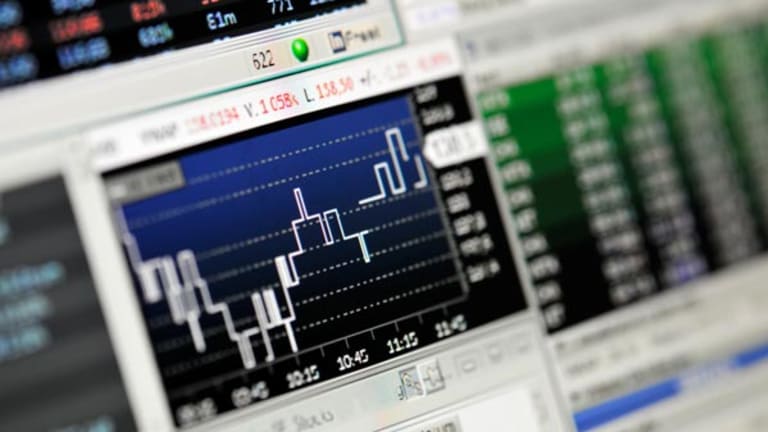 Let There Be Q Indeed
Motorola's new device has hardware that lets you look past the software.
This column was originally published on RealMoney on June 21 at 2:36 p.m. EDT. It's being republished as a bonus for TheStreet.com readers.
"Q might have done the right thing for the wrong reason, perhaps we needa good kick in our complacency to get us ready for what's ahead"
--Captain Picard, to Guinan (Q Who?)
Last week I mentioned in the comments section below that I had boughtMotorola's (MOT) Q, and I've received dozens of inquiries asking for a review. I knew there was some good buzz around the phone when I saw it positively mentioned in a teen trend newsletter that I was reading on the phone itself in a cab this morning.
Well, long story short, I've been playing with my new Q for about a week, and I rate it three and half rock stars out of four. (I rate things in terms of rock stars, not just any kind of star, because you want to buy a stock before a gadget becomes its own rock star, such as
Apple's
(AAPL) - Get Apple Inc. Report
iPod.)
The Q is the first Windows PocketPC-based phone without a touch screen, and I for one am thankful to Moto for replacing it with a one-hand controllable roll wheel. I've owned and loved four different Treos over the years, but I don't think I've ever been able to keep the stylus, no matter how many replacements I buy, for more than a few days at a time. So I always learn to use it stylus-free anyway. It's good thinking to design that way ahead of time, and it helps that the roll wheel is intuitive and would be familiar to any BlackBerry user.
The keyboard on the Q is wide, and though I hesitate to gush, it is simply the easiest to type on of any keyboard I've used. Oh, and it's the first device that I've felt like types as well a week into it as it did the first day I tried it. (I've already dropped the unit onto the sidewalk and street several times.)
The screen is easy to read and bright.
The camera takes pictures that aren't completely horrible, and that means it's about three times better than most camera phones. It even comes with a silly flash, but I think it's really better for reading or looking for the right key in the dark than it is for capturing that Kodak moment. (Does that term exist anymore, or did it go they way of
?)
The Web-browsing ability on the phone is rather good, and I actually typed the comment last week about having the phone from the phone while in a car. Fun and, more importantly, productive stuff.
I also set up the
Microsoft
(MSFT) - Get Microsoft Corporation Report
Outlook synching all by myself by just copying the information manually from my now-retired Treo 700w to the Q. Only took 20 minutes and three grunts of frustration from beginning to end.
One of my very favorite developments of the last few years as innovation has been trying to catch up to the waste of the bubble is how Microsoft has enabled me to answer an email from my cell phone using a QWERTY keyboard and that I'll have a record of that email transaction (including the little purple arrow graphic that let's you know you answered an email without opening it) on my Dell PC Outlook email program, on my MacBook Pro Entourage email program, and on any browser that I use to pull up my email exchange server. Convergence does exist, you know.
The battery life has also held up very well, which makes it much better than the juice-sucking 700w and not quite as good as the juice-preserving 700p.
Walter Mossberg and a few other reviewers have rightly noted that it requires a couple extra steps here and there to send a photo or to text a friend. Certainly, it's frustrating that the unit doesn't seach its own contact list when you type in a name in the "To" section when sending a picture. But it's pretty fantastic when you just quickly scroll, select the option to add recipients and then type in three letters of the name with your thumb and get the picture sent off with two easy wheel clicks. I mean, the sheer user-friendliness of the hardware design more than makes up for some of the user unfriendliness of the software design (I know, it's always so easy to blame Microsoft -- and this is from Microsoft's biggest bull!)
So all in all, I am very pleased with my new Motorola Q phone. That the phone is being priced at relatively cheap $199 (with contract or whatever) vs. the $300 to $500 that Treo and high-end other smart phones and BlackBerries go for is really the biggest story of the Q. It's going to be a hot, hot seller. Maybe even rock star status if Verizon can get the price of wireless broadband Internet down low enough to make it resonate with the youth masses like
has.
At the time of publication, the firm in which Willard is a partner was net long AAPL and MSFT, although positions can change at any time and without notice.
P.S. from TheStreet.com Editor-in-Chief, Dave Morrow:
It's always been my opinion that it pays to have more -- not fewer -- expert market views and analyses when you're making investing or trading decisions. That's why I recommend you take advantage of our
to TheStreet.com's
RealMoney
premium Web site, where you'll get in-depth commentary
and
money-making strategies from over 50 Wall Street pros, including Jim Cramer. Take my advice --
Cody Willard is the manager of a hedge fund, author of
The Telecom Connection
, a newsletter published by
TheStreet.com
and a contributor to the
Financial Times
and
VON Magazine
. He is also a regular guest on CNBC's
Kudlow & Company
and an adjunct professor at Seton Hall.
He earned a bachelor's degree in economics at the University of New Mexico. Willard appreciates your feedback --
to send him an email.