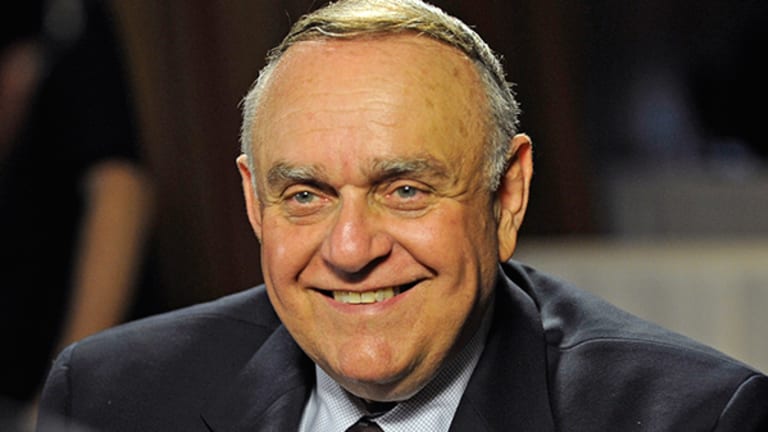 Leon Cooperman Explains The Four Reasons He Sells a Stock, on CNBC
Omega Advisors Chairman and CEO Leon Cooperman discussed four main reasons he sells a stock on Wednesday afternoon's CNBC 'Fast Money Halftime Report.'
Your Money, Your Retirement, and the 2016 Presidential Election - What changes will you need to make to your portfolio should Hillary Clinton become president? What happens to your investments should Donald Trump become president? Join us on Sept. 12 as our panel of the world's top financial experts provide trusted information on the investment risks and opportunities that arise with the upcoming presidential election in November. [Learn more about the event and RSVP.]
NEW YORK (TheStreet) --Omega Advisors Chairman and CEO Leon Cooperman joined CNBC's "Fast Money Halftime Report" on Wednesday and explained the four reasons he sells a stock.
"The highest quality reason we sell a stock is that we bought a it at X, we thought it was worth Y, it went to Y, nothing has changed and we sell it," Cooperman said.
The second reason is predicated on having a dedicated team observe and analyze a company thoroughly to garner any and all information.
"Talk to competition, talk to suppliers, talk to the company, and try to see what you can understand and learn. If things aren't unfolding like you anticipated, let's get out before we get murdered," Cooperman emphasized.
The third reason Cooperman sells a stock is simply because you cannot keep buying without selling.
"We develop an idea that has a ratio of reward to risk more attractive than something in the portfolio, and we might rotate out of one name and go into another name," Cooperman noted.
Finally, Cooperman's fourth reason for selling a stock is rooted in investor intuition.
"If you change your mind about the market and become defensive, you have to reduce your exposure. You can start by selling futures or options, but at the end of the day you need to sell physical; inventory," Cooperman said.