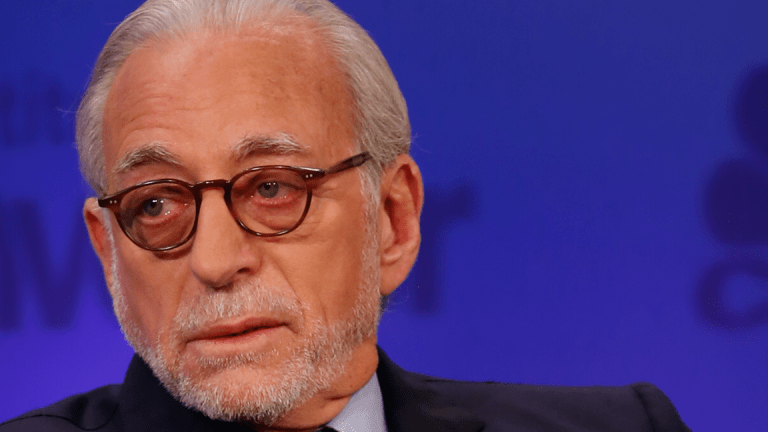 Legg Mason to Cut 120 Jobs as Reality Bites With Activist Peltz on Board
An announcement on job cuts comes just days after legendary corporate raider Nelson Peltz and his investment firm, Trian Fund Management, won two seats on Legg Mason's board of directors.
Here's what happens when a big U.S. mutual-fund manager, beseiged by the growing popularity of exchange-traded funds, suddenly has to confront a legendary corporate raider in its own board room: job cuts.
Legg Mason (LM) , a mutual-fund firm founded over a century ago and now with $758 billion under management, plans to cut 120 positions as part of a cost-cutting effort, according to an internal memo sent to staff by CEO Joseph Sullivan. A copy of the memo was forwarded to TheStreet by company spokeswoman Mary Athridge.    
"Today's staff reductions reflect the necessity, in this evolving industry, to rethink how we deliver on our mission of investing to improve the lives of our clients and other stakeholders," Sullivan wrote in the memo which was sent on Thursday. 
The announcement came just days after Baltimore-based Legg Mason disclosed that Trian Partners CEO Nelson Peltz, who made a fortune during the junk-bond era of the 1980s, had joined its board of directors, along with his longtime chief investment officer Ed Garden.
Peltz previously had served on Legg Mason's board from 2009-2014, and according to the Baltimore Business Journal he played a role in selecting Sullivan as CEO. 
Trian Fund Management owns about 4.5% of Legg Mason's outstanding shares. Peltz has taken stakes in companies from Wendy's (WEN) to Kraft Heinz (KHC) and then pressured executives to announce actions that would immediately boost their share price, such as cost cuts. 
Peltz said his top priorities for Legg Mason include cost-cutting and potentially making acquisitions to increase revenue.  
The latest workforce reduction won't affect the firm's investment staff, according to Athridge. Instead, the roles being eliminated represent about 12% of the roughly 1,000 employees in the corporate and administrative segment, such as human resources, legal and operations, she said.    
Legg Mason, like other traditional mutual fund managers that specialize in picking stocks and bonds, has faced growing competition from exchange-traded funds, or ETFs, sponsored by the likes of rivals BlackRock (BLK) and State Street (STT) . Such ETFs typically offer market-matching returns in exchange for low fees, and they've prompted many investors to abandon higher-cost traditional mutual funds overseen by human stock- and bond-pickers.
Earlier this month Legg Mason posted a net loss of $28.5 million for its fiscal year ended March 31, compared with a profit of $285 million during the prior fiscal year.  
As part of a management shakeup, four senior executives will depart this year, Sullivan wrote.
He added that "our future vision includes creating new roles that will leverage technology, using new insights to drive decisions throughtout our business," and that some tasks might be outsourced. 
"Throughout our history, Legg Mason has adapted to confront tough challenges," the CEO wrote. 
Investors appear to share the optimism: Legg Mason's shares have climbed 5.3% this week, even as shares in most rival money-management firms declined in sync with the broader S&P 500 index of large U.S. stocks.