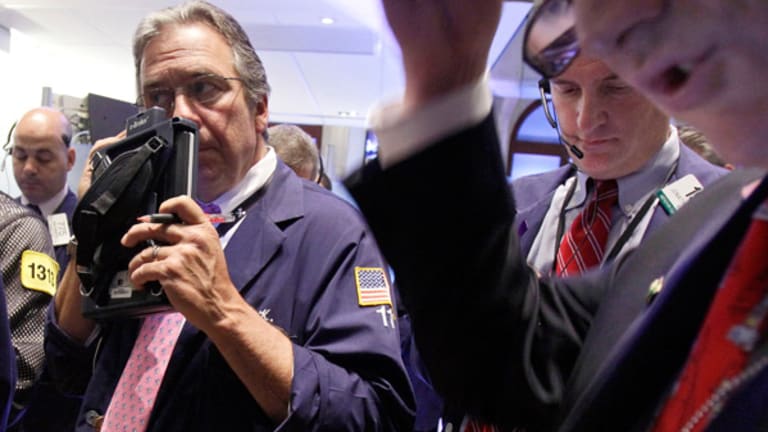 Learn to Love the Selling
Some high-quality companies are available now at a discount.
Some high-quality companies are available now at a discount.
This column was originally published on RealMoney on May 18 at 12:18 p.m. EDT. It's being republished as a bonus for TheStreet.com readers.
There is a great saying in investing that is particularly relevant, given the recent plunge: The stock market is the one place where people don't like to buy things on sale.
For some reason, investors seem to become more comfortable buying stocks the higher they go. I believe this has to do with the fear of being left behind and the psychology of comfort in numbers. This can prove to be a very dangerous game, because at some point the dynamic that pushes stocks higher will reverse.
People like to say that best-of-breed stocks deserve a premium. That may be true, but if you don't pay attention to valuation, that premium can shrink pretty fast -- think
Marvell
(MRVL) - Get Report
. It's a great company with great growth, but at $75, no one could give you a relevant historical precedent to justify the valuation. At that price, investors were paying almost 10 times revenue and 40 times earnings, hoping for a greater fool to come along. If you want to play that game, you'd better embrace the stop loss.
That is why I try so hard to find good companies selling for less than I believe they are worth. If you create a portfolio of discounted stocks, you are minimizing downside and positioning yourself for gains.
The best scenario is when a very high-quality company goes on sale. I believe the market has given us that opportunity in the recent carnage in shares of
Charles River Laboratories
(CRL) - Get Report
and
Openwave Systems
(OPWV)
.
Let's try to take some of the risk out of this game, make a realistic valuation assessment, pay a fair price and make some money. Pretend you are at Loehmann's, not Neiman's -- it's good for your pocketbook.
Charles River provides lab animals for drug and medical-device research. PETA might not like it, but Charles River's little rodents are a key element in the drug discovery process, enabling customers to reduce costs, increase speed and enhance their productivity and effectiveness. This is a highly specialized area with high barriers to entry for competitors, and Charles River is the leader in it.
It has a strong history of revenue growth, but the stock recently dropped under $40 on an earnings disappointment and a reorganization plan in which the company divested a unit to focus on its core competencies. I think this is a great opportunity to buy an industry leader, and the stock is plain cheap.
How often do you get to pay 15 times forward earnings for a company with 70% market share that has grown revenue at 26% compounded over the last three years? The company has doubled earnings and revenue over the past five years and is being punished for short-term execution issues. At these prices, there appears to be very little downside. When Charles River regains its growth footing, a 20 times P/E valuation would equate to a 12-month price target of close to $50, which I believe is more than reasonable.
Openwave's software is embedded in the majority of handsets around the world -- if you browse the Internet on your phone, you are likely using Openwave software. Its products enable a broad range of mobile services, including video, rich and secure messaging and, because of its recent acquisition of Musiwave, music downloads.
As the market share of mobiles with broadband connectivity expands, demand for services such as music and video should continue to drive demand for Openwave products and services.
Openwave was one of the darlings of the tech bubble, and it has evolved into a leader in a space poised for growth. It boasts strong partnerships with companies such as
Qualcomm
(QCOM) - Get Report
and with most of the largest mobile broadband service providers in the world, such as
SmarTone-Vodafone
in Hong Kong and
NTL
in the U.K.
The shares took a hit on a recent earnings miss, but at these prices, investors get a cheap entry to an industry leader with strong growth prospects. At $15, the company is trading at 15 times projected forward earnings on 30% growth. The company has a great balance sheet, with over $400 million in cash and minimal debt. If it hits its earnings targets, a PEG of 1 would equal a $30 stock. I have a $20 12-month target, and I'm excited about the company's long-term prospects.
I believe Charles River and Openwave are two low-priced, high-quality companies that have been for sale the last few days. Both stocks have greater upside than down, and that is the kind of situation in which I want to be. Look at a sale in the market like a happy hour at your local watering hole and add some juice to your portfolio.
P.S. from TheStreet.com Editor-in-Chief, Dave Morrow:
It's always been my opinion that it pays to have more -- not fewer -- expert market views and analyses when you're making investing or trading decisions. That's why I recommend you take advantage of our
to TheStreet.com's
RealMoney
premium Web site, where you'll get in-depth commentary
and
money-making strategies from over 50 Wall Street pros, including Jim Cramer. Take my advice --
At the time of publication, Bulwa was long Openwave and Charles River, although holdings can change at any time.
Steven Bulwa is an independent portfolio manager based in Toronto. Under no circumstances does the information in this column represent a recommendation to buy or sell stocks. Bulwa appreciates your feedback;
to send him an email.